Kootenay Lake Sticker Map
Welcome to the Kootenay Lake Sticker Map!
Explore the Nelson & Kootenay Lake region with our new sticker map. This fun adventure is perfect for the entire family - for the young and young at heart. Pick up your sticker map today and start exploring. You will be pleasantly surprised by what you discover along the way.
LET'S GET STICKING
Pick up your big Kootenay Lake Sticker Map and one mini sticker at a participating business.

Travel around the region and collect all four mini stickers and put them on your big map sticker.

Stick your completed map on your car, bike, computer, helmet, wherever you'd like.

Take a photo or tag #findingawesome and enter to win - details below.
 

WHERE CAN YOU FIND THE STICKERS?

Check out all the participating businesses on our map, or view the list below.
Balfour. Ainsworth Hot Springs & Harrop
East Shore
Kaslo & North Kootenay Lake
Nelson
Show Us Where You Stuck It
Whether it's on your water bottle, car bumper or somewhere inventive, post a picture of it and tag it with #FindingAwesome to win an awesome local prize. You can also upload your photo to our community gallery through the button below. Every upload wins a prize!
Image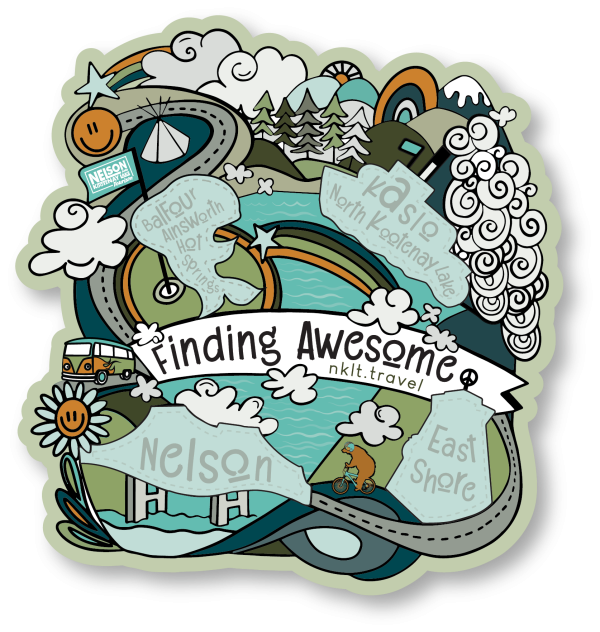 Image

Touring App 
While you're on the hunt with our sticker map, don't forget to open the Kootenay Road Trip App.
Check back for new audio tours added regularly, like the Crawford Bay Artisan Tour (coming soon)!
Find your awesome all year round, with our idyllic places to stay, nourishing food and drink, and many ways to chill and relax in the Nelson and Kootenay Lake region. 
#FindingAwesome | #ExploreKootenayLake
TRAVEL BOOK
Read our visitors guide online or order a copy of the official visitor's guide and map for our region.