Cycling
Cycling
Nelson and Kootenay Lake is Bike-Friendly. Cycle Around and Explore!
Both mountain biking and road cycling are popular sports in Nelson Kootenay Lake, so it follows that cycling as transportation is a great idea here. And it is.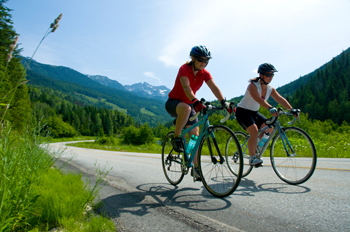 Cyclists will find ample bike parking when they are shopping downtown, many fellow cyclists (often with panniers and baskets for their shopping), and a general "bike- friendly" atmosphere here. You can rent bikes at Gericks, Sacred Ride or Kootenay Cycling Adventures in Nelson. You may notice that some of the streets in Nelson are a bit hilly. Gerick's offers electronic bike rentals, an intelligent way to travel around here, especially if you plan to see more of Nelson. For those keen to explore the region by bike on a self-supported tour, Kootenay Cycling Adventures offers high quality touring friendly bikes and gear (including panniers). 
Wide Roads and a Bike Friendly Atmosphere
We have wide, clean roads and drivers who are used to making room for cyclists, as well as very little traffic on our roads. Many of our hotels, motels, and hostels are bike friendly, and you'll find that there are enough services for cyclists, so you'll never feel stranded. All buses in our area are bike friendly. For a detailed description on how to take your bike on a bus, please see the official BC Transit website. 
Active Cycling Communities
The Nelson and Kootenay Lake area is an active community that values cycling. In Nelson we have the Nelson Cycling Club which supports and helps to organize the major mountain bike trails and events in the area, as well as the Bike Park in the Rosemont neighbourhood. 
Kaslo has a lovely, quiet road system, and Bike Park along Kaslo River Trail. We hope you and your bike enjoy your visit with us.
TRAVEL BOOK
Read our visitors guide online or order a copy of the official visitor's guide and map for our region.