Visual & Public Art
Visual & Public Art
Take a Walk on the Artistic Side
The Nelson and Kootenay Lake region of British Columbia is a hub for visual arts. With facilities including the Kootenay School of the Arts, The Nelson Museum, Archives & Gallery,  Oxygen Art Centre, and the Langham Cultural Centre, plus multiple performance venues, the region punches well above its weight when it comes to arts and culture. 
Public Art
There is public art all across the region. From the "Harvest" sculpture in Meadow Creek, to the carved Osprey in Kaslo, and permanent and changing exhibits around Nelson. By the same artists who created Harvest (Koots Artist Collective), head to the new "Hide N' Seek" installation along the Kaslo River Trail, featuring eight large reinforced concrete sculptures of seven children playing hide-and-seek and one adult watching over them. Explore these sculptures on your trip to the region. You'll be impressed. See the complete Public Art Inventory.
Visual Arts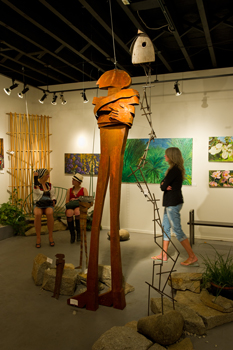 The summer months are when the area goes wild with festivals and events. Nelson and Kaslo host Art Walks during the summer months, which highlight local artists' work in local shops. The summer-long celebration features unique art for sale on the walls of participating businesses. 
Evening galas are held multiple times throughout the summer, showcasing new art, interactive performances, and a lively downtown cultural vibe. 
During the annual Nelson Internation Mural Festival national and international muralists are invited to come share their craft and beautify Nelson's alleys. View the murals on our interactive map.
The entire Kootenay Lake area attracts artisans to our area that rival those of a major centre. During the second weekend in August, the Columbia Kootenay Cultural Alliance presents the Columbia Basin Culture Tour. This is a self-guided tour of the whole Columbia Basin; the Nelson and Kootenay Lake region is always well represented with usually about 30 venues. 
Selkirk College's Fine Wood Working Program is one of the best such programs in Canada. Graduates put on a show for a weekend in late May every year, inviting visitors to discover this timeless fusion of art and craftsmanship. Oxygen Art Centre is an artist-run centre that features exhibitions, events and education opportunities.
Visit our events calendar for a listing of all the events in the area.
MURAL TOUR
Experience your own personal tour of Nelson's incredible murals! In partnership with the Nelson International Mural Festival we have created a self-guided mural tour with over 50 captivating murals tucked into alleys and side streets around Nelson. The Mural Tours are available in both French and English. To choose which language, to go Settings at the bottom of the App and choose your language of choice.
TRAVEL BOOK
Read our visitors guide online or order a copy of the official visitor's guide and map for our region.