Lake & River
Lake & River
Kootenay Lake is one of the largest lakes in British Columbia, and is perfect for sailing, kayaking, windsurfing, SUP (Stand Up Paddle), canoeing, leisurely boat rides and of course, fishing. Nearby rivers provide chill and casual floating experiences.
This massive lake is nestled between the Purcell and Selkirk Mountains, and is divided into three sections: North End, West Arm and South End. At the widest point, in the middle, it is 5kms wide.
North End runs from Lardeau to Balfour and is 64kms long, with remote beaches banked by deep evergreen and deciduous forests
West Arm runs from Balfour to Nelson and is 33kms long, winding alongside rugged cliffs, beaches and local residences
South End runs from Balfour to Kuskonook and is 63kms long, with an endless stream of beaches, on both sides of the arm
Kootenay Lake flows into Kootenay River, and at Castlegar into the Columbia River. The Columbia River Treaty, established in 1964 between Canada and the USA, coordinates flood control and optimizes hydroelectric energy production for both sides of the border. 
Marinas on Kootenay Lake
There are marinas all around Kootenay Lake of various offerings: boat rentals, fuel, boat repair and moorage. Kootenay Lake Sustainable Boating Society has a wealth of information showing marina listings, digital maps, pump outs and educational material. 
Boating
A boat cruise on Kootenay Lake is magical, with hidden coves and sandy beaches and vast open spaces. At times you'll feel like you're the only one on the lake. Jones Boys Boats, located at Woodbury, north of Balfour, has boating equipment and rentals. Kokanee Marina also has rentals throughout the summer. 
Sailing 
The local Kootenay Lake Sailing Association (KLSA) holds several annual sailing regattas each year, and offers friendly support to people learning to sail. Sailing on the lake is generally accepted to be relaxed and friendly. Sail Nelson also offers sailing tours and various courses. Gray Creek on the East Shore, at The Lakeview, hosts an annual fall regatta. Even if you don't sail, it is a spectacle of beauty and fun. 
Paddling
Kootenay Lake offers the most amazing paddling experiences from wildlife to spectacular views. If you don't have your own gear, there are rentals in Kaslo, Nelson and near Balfour. 
Fishing
Get up early and watch the sunrise on Kootenay Lake as you cast your rod into the depths of Kootenay Lake, or the shallows near one of the many rivers and tributaries. Fishing on Kootenay Lake is pretty dreamy, a getaway unlike any other. 
The Kootenay Lake Watersheds
The lake and rivers of our region don't just work by themselves. We have a diverse system of many watersheds that all work together and support so much of our ecosystem. For more info visit Friends of Kootenay Lake, they've developed a great map showing all the different watersheds around the lake.
Image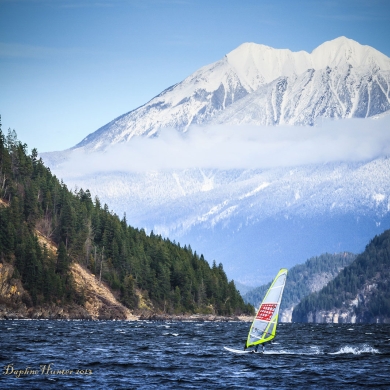 Preventing Invasive Species
We want to keep Kootenay Lake pristine and free of invasive species. If you are on a paddle board, kayak, or sailboat we remind you to CLEAN, DRAIN and DRY your watercraft and equipment. For more information of how you take action and prevent the introduction and spread of invasive species, please visit the CKISS website.
TRAVEL BOOK
Read our visitors guide online or order a copy of the official visitor's guide and map for our region.