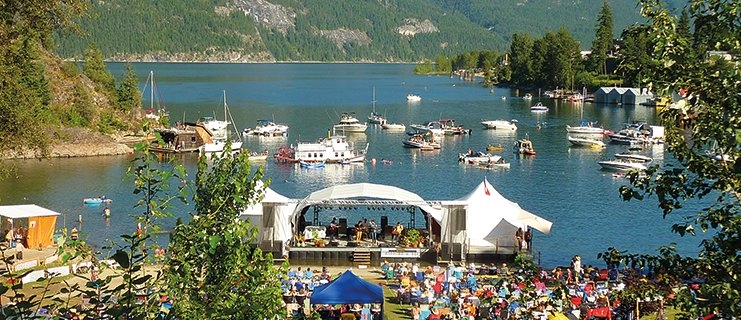 You are here
Festivals
Art, Music, Literature, Theatre and Food!
Come celebrate! From electronic music to yoga and meditation, from dance and the arts to storytelling and food, there's something for every taste. As our communities continue to grow, we attract more and more world-class artists and artisans. From July until late October, there's a festival nearly every weekend in the region.
Holiday Festivals
On the May longweekend, the famous Kaslo May Days Festival celebrates its history and culture with parades, bonfires and more. Kaslo Logger Sports happens the same weekend, and is a draw for all ages, from all over the world. Discovery Channel ran an Episode capturing the challenges of being a logger - Tougher Than You Think - 60 Feet Up.
Canada Day in Nelson's Lakeside Park is another popular event, bringing out the entire community for fireworks, booths, a sandcastle contest, and—of course—cake, to celebrate our nation's birthday.
Come the wintertime, Kaslo has two winter-themed festivals: one dedicated to Christmas, called Kaslo Lights Up, and another called Kaslo Winter in the Forest, which is exactly what it sounds like: sleigh rides, cross country skiing, outdoor hockey, hot beverages and more, all celebrating winter.
Arts and Music Festivals
The crossover between art and music brings the iconic Tiny Lights festival in Ymir, which lures incredible music talent each year, along with spokenword, poetry and more. This festival is also cutting edge in its environmental stewardship.
The Kaslo Jazz Festival is an iconic music festival, famous for its floating stage and world class performers. Each year, the festival creates its own stage, floating in the bay with breathtaking mountains in the background, as festival goers listen from the beach.
Across the lake, the family-friendly Starbelly Festival in Crawford Bay (which took a temporary pause in 2016) attracts musicians from far and wide. Camping on the beach, attending concerts day and night, and eating delicious food are all part of the Starbelly experience.
And last but certainly not least is Shambhala, the world-famous electronic music festival that transforms into the largest popup city in the West Kootenays (near Salmo) each August. Shambhala is cutting edge in its healthy modern way of creating a space for festival goers to experience music and community together.
Food Festivals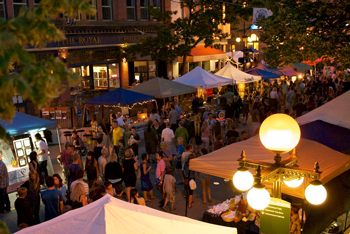 The infamous Deconstructing Dinner Film Festival celebrates food and film, while Market Fest allows the entire community to come out and party in celebration of local food and homemade crafts several times during the summer.
The Kootenay Lake region also touts its own Garlic Festival, which has grown to become a huge food, craft, and garlic festival attracting thousands of visitors to New Denver each fall.
Nelson also hosts the Taste of Nelson each year, as well as The Grand Food and Wine Festival.
Events Calendar
Visit our annual events page or our events calendar for all the upcoming festivals.