Touring App
Tips & Trips 
The Kootenay Lake Road Trip App is a new experience offering fun and informative self-guided audio tours around Kootenay Lake. You can enjoy the tours in the privacy of your car, walking or even on your bike.
 

Download the App Now!
Want a sneak peak?
If you would like a sneak peak of the Kootenay Lake Road Trip App tours, check them out now, on desktop, before you start to explore.
You can experience the Mural Tour and Crawford Bay Artisan Tour in both English and French. Click the tour below, then go to the settings button in the bottom right corner of the screen and choose the language of your choice.
Driving Tour
The Driving Tour tells the story of Kootenay Lake from forests to First Nations, and attractions to amenities. If you are curious to learn about the best things to see and do in the Kootenays you are in the right place; with over 180km of gorgeous highway driving, close to 100 sights and both sounds and stories that can be enjoyed from either direction. We have created an informative journey that fits with your travels. Start the tour from anywhere around Kootenay Lake and you can use the app for as long or as short as you'd like. 
HARROP-PROCTER TOUR - NEW
Get ready to experience the latest addition to the Driving Tour on the Kootenay Lake Road Trip App. Take the charming cable ferry across the lake where you will find yourself in the tiny lake-side communities of Harrop and Procter. Here you will learn about the fascinating history and progressive present day initiatives that these communities have to offer.
Mural Tour
In partnership with the Nelson International Mural Festival we have created a self-guided mural tour with nearly 50 of the best murals tucked into alleys and side streets around Nelson BC. The Mural Tours are available in both French and English. To choose which language, go to Settings at the bottom of the App and choose your language of choice.
The murals can be experienced starting anywhere you prefer. Meander around, stop for some food & beverage, or do some shopping, and carry-on at your own pace. Visit our Events Calendar for details about the next Nelson Mural Festival. 
Kaslo River Trail Tour
Let us take you on journey along the Kaslo River Trail that flows beside the lively Kaslo River with mossy banks, bright bridges and hidden sculptures, all unveiled to capture your curiosity. Local character Dan from KORTS (Kaslo Outdoor Recreation & Trails Society), will guide you along the path with fun facts and history about the Kaslo River Trail. Kaslo musician, Diemm, will mesmerize you with poetic meditations and music to enhance the magical experience. This unique tour can be enjoyed all-year-round. Be sure to pack your cleats and hiking poles in the winter for extra stability along the sometimes steep and slippery sections of the trail. We hope you enjoy the tour as much as we did creating it.
Meet the Musician: Diemm
Crystalline vocals. Lyrics like arrows. Ethereal folk harp. Diemm is a harp-playing singer-songwriter and spoken word poet, dreaming aloud. She plays original Chamber Folk music: mythic, hypnotic, positively entrancing. Her poetry may weave new layers between your conscious and subconscious minds. She says, "I don't write poetry, it writes me."
You can learn more about Diemm through her website, Spotify, Facebook, Instagram and Youtube.
Crawford Bay Artisan Tour 
Explore the eclectic community of Crawford Bay and discover the quirky artisans that call this place home. Enjoy this self-guided walking tour while you browse locally made goods like handmade brooms and ceramics, to intricate metalwork and textiles. Listen to the local tour guides as they share what inspires the artisans, a little local history, and their top East Shore travel tips. Who said the arts can't be both fun and informative? Learn more on our story page. 
MEET YOUR TOUR GUIDES
Ruth and Shelby are lifelong best friends and neighbours in the Kootenays. You can find them living their best lives in their tiny homes, whether it's playing with their pets or lounging on their clover lawn in their crocs. Find out more about this entertaining duo and follow along with their joyful adventures on Tiktok and Instagram at @tinyinthekootenays.
Did you enjoy the tour?
Once you've finished the Crawford Bay Artisans Tour, enter your details below to be entered to win. Entries close at the end of September 2023. You could win this awesome prize package, provided by the artisans in the tour: 
Dogpatch Pottery handmade ceramic mug
North Woven Broom artisan broom
Barefoot Handweaving hand woven teatowel 
Gala Jewelry pendant made from a stone from Kootenay Lake
Norse Arts carved wooden and stained glass ornaments
FireWorks Copper Enamel pendant
Kootenay Forge metal heart hook
How To Use The App
The Kootenay Lake Road Trip app is easy to use. Download the free app, select start, turn up the volume, and hit the road! The audio tour plays while you drive, automatically telling you about the area, and even plays local music for your driving pleasure. Follow the steps below for more details.
Download the Kootenay Lake Road Trip App from Google Play or the Apple App Store.
Allow the app to Use your Location Always (we don't collect any information on your location, this is just for GPS functionality).
Turn on Push Notifications (this is so the app is able to tell you about points of interest even if your phone is locked).
All points are Geo-fenced, therefore audio will automatically play once you reach a point.
IMPORTANT: Check for Updated Content by selecting Profile, located at the bottom of the screen, and clicking on the cog icon.
Start the tour and enjoy! Focus on the road or path ahead, we will take care of the rest.
TESTIMONIALS
What is everyone saying about the best touring app in BC?
THINGS TO DO
There is no shortage of things to do in the region, before or after your tour. Get off the bike or out of the car and go explore - shopping, dining, attractions and more. Is it looking gloomy outside? We've got you covered with our top rainy day things to do around Kootenay Lake. We've even created some itineraries based on your traveller type. Explore our trip ideas before heading out.
Image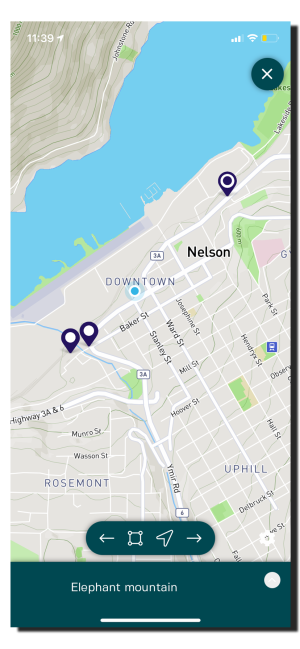 Enjoy the Tours
Let us know what you think of the tours. Your feedback will allow us to continue improving the app and develop new tours. Email marketing@nelsonkootenaylake.com
Frequently Asked Questions 
To assist you in using the App here are some quick answers to your potential questions. 
TRAVEL BOOK
Read our visitors guide online or order a copy of the official visitor's guide and map for our region.