Indoor Sports
Indoor Sports
As stunning as the outdoors are across the region, sometimes you just need to play indoors!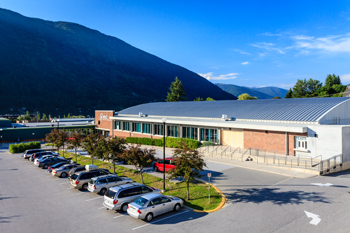 Nelson's NDCC (Nelson and District Community Complex) has a hockey arena, swimming pool (with kids pool, hot tub, waterslide and sauna), weight room, fitness classes, and more. 
Indoor skating is offered in Kaslo as well as at the NDCC in Nelson. The Civic Centre holds the title for Canada's oldest and longest running community arena. A museum for the arena resides on the upper walkway of the NDCC arena.  The Nelson Leafs are the Junior B hockey team in the region. If you're lucky, there may even be a game happening when you're in town. 
Curling clubs are popular in both Kaslo (Kaslo Curling Club) and Nelson (Nelson Curling Centre).  If you are in town and want to throw a rock or two, send them a note. They love to welcome out-of-towners.
Indoor climbing is popular in the winter with the challenging grabs and grips at The Cube, run by the Kootenay Climbing organization. It's located at the Tenth Street Campus Gymnasium at Selkirk College in Nelson.
Multi-purpose gym activities are served by Selkirk College's Mary Hall in Nelson, which also has a large fitness centre. Basketball, volleyball, floor hockey, pickleball, indoor badminton, and other indoor sports are all supported at scheduled times. 
TRAVEL BOOK
Read our visitors guide online or order a copy of the official visitor's guide and map for our region.