Responsible Travel
Responsible Travel
Responsible Travel
We are over-the-moon to be opening our doors again, but we have to do it right, with your help. Consider our Fours Ways to Awesome as you move through your trip - before, during and after - and we guarantee things will be good. Like, really, really good. 
FOUR WAYS TO AWESOME 
Now that you're Finding Awesome, know that through this pandemic we are Still Awesome, so that while you're here we can all have a blast Being Awesome, ensuring that you, us, him, her, them, and this magical place is forever Staying Awesome.
WAY #1 - FINDING AWESOME
Let's start with the big chunk of awesome that we have been aligning with for over a few years: finding awesome! With spectacular nature, deep culture and endless adventure, #FindingAwesome in the Nelson & Kootenay Lake region comes as natural as breathing in crisp mountain air. 
WELCOME: This is our home. We're very proud of it, and we're excited to share it as you travel around and appreciate what we have to offer - we love it too.
CULTURE: This place is blessed with incredible diversity in art, music, food, drink, people, business and experiences. Dive in. Live it. Breathe it. Be a part of it.
 ADVENTURE: From expansive mountain wilderness to BC's third largest lake, bustling music festivals to hidden art galleries, there's new adventures waiting just for you.
WAY #2 - STILL AWESOME
We'd like to give you a little beta on what we've been up to during the pandemic. We bubbled up, rallied, got outside, and came together as a community. Whether it's shopping locally, innovative local business ideas, or finding awesome within our own towns and cities, we made the most of it and hope we're coming out the other side a little stronger.  #StillAwesome 
RESILIENT: We're hunkering down and making our way through the challenges presented to us with dignity and integrity.
CREATIVE: We're surrounded by intense natural beauty, and that inspires us every day to think outside the box and do things a little differently.
COMMUNITY: It takes a village, or in our case, a few villages, to move forward positively through the world today. And we honour that.
WAY #3 - BE AWESOME
So now that you're here, let's be sweet, cool, kind, rad, tolerant and, of course, awesome—and let's do it together. It's what this place is all about. We know the last 18 months have been stressful, but here we are: you on vacation and us opening to the world again. So let's make sure it's a beauty, with mutual respect flowing like our craft beer or locally made kombucha.  #BeAwesome 
RESPECT: Let's treat each other like we were long lost friends - gracious, charming, understanding and full of friendliness.
BEAUTIFUL: We are all in a very special place. And extraordinarily lucky to be here. Let's take care of it, even leave it better than when we found it.
CURIOUSITY: We invite you to find out more about the region, its history, and its people. We promise to return the favour.
WAY #4 - STAY AWESOME
Put all these steps together and guess what? Everything gets to Stay Awesome. You leave feeling awesome; we say goodbye overflowing with awesome; the land looks wildly beautiful, and, well, we can't wait to have you back.  #StayAwesome
APPRECIATE: We thank you for visiting us, because we are still awesome, and for being so awesome. We can't wait to have you back. 
UNIQUE: We hope you felt a part of the quirky, quaint, sophisticated vibe of Nelson and Kootenay Lake.
STORIES: We hope you left with your fair share of tall tales. 
Travel - COVID-19
As British Columbia starts to open to travellers we want to ensure you have an incredible time exploring the Nelson and Kootenay Lake region. To do so we ask visitors to adhere to the local protocols and a reasonable code of conduct to keep our region an enjoyable experience now, and over the coming years. Remember, we operate on Kootenay Time so chill, relax and let's all continue to enjoy this little piece of paradise.
The health and safety of you, our visitors, and our community are top priority. Together, let's keep everyone safe so we can continue to enjoy this amazing destination. Know the travel restrictions and protocols across the region: BE COVID SMART.
S - STAY HOME if you are not feeling well.
M - MEASURE your physical distancing and take responsibility for your actions.
A - APPROPRIATE BEHAVIOUR is essential: stay in your vehicle when on the ferry, cough into your sleeve, wear a mask in public, wash hands regularly, and travel in small, familiar groups.
R - RESPECT the protocols and culture of our area. Accept the new ways of travelling, which are put in place to keep ALL of us safe. Be kind to other people, do not judge, do not alienate or discriminate because of their choices. You do not know their situation, and until you do, compassion will be your most valuable action.
T - TOGETHER through SMART choices, we can all enjoy this amazing region.
Visitor Code of Conduct
For generations, Kootenay locals have taken great care of the wonder that you see around you. We hope that you will help us continue to do so. By being a responsible visitor, you become a partner in our community efforts to conserve and respect the region's wonderful natural attractions, culture and heritage.
Image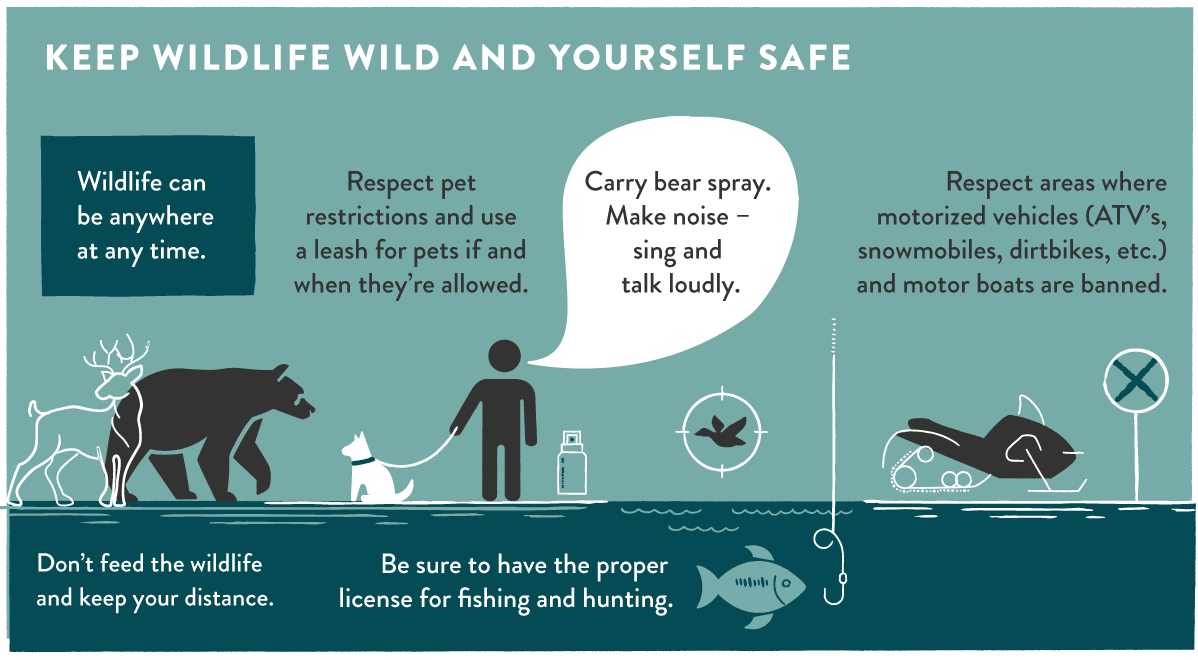 Image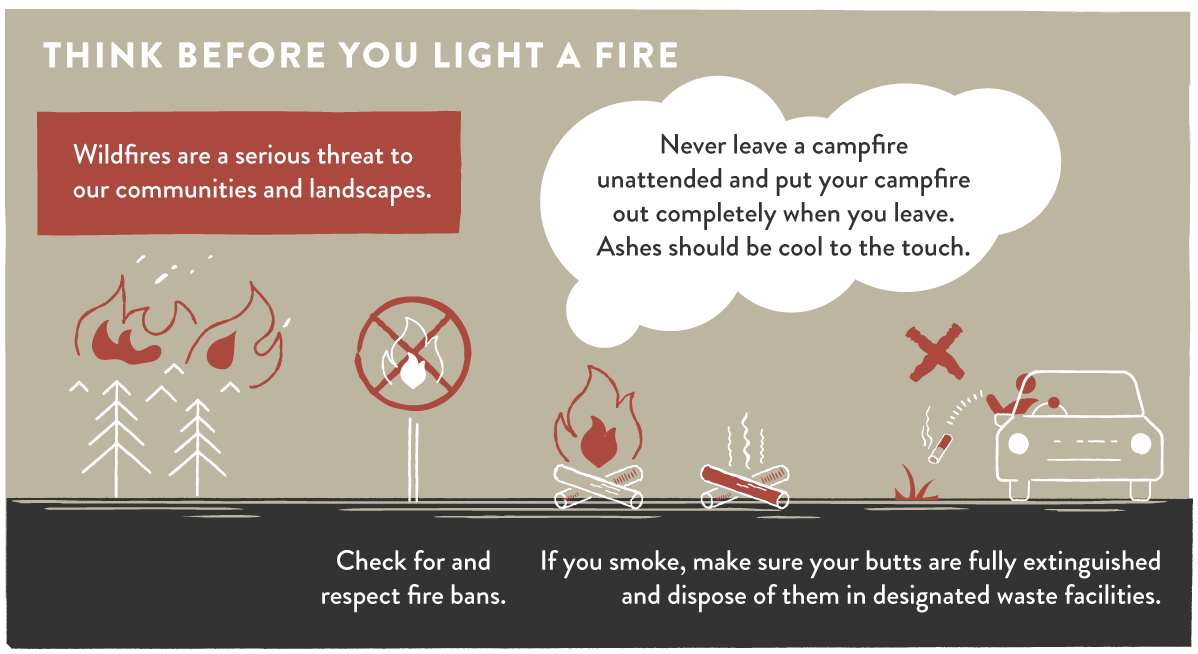 Image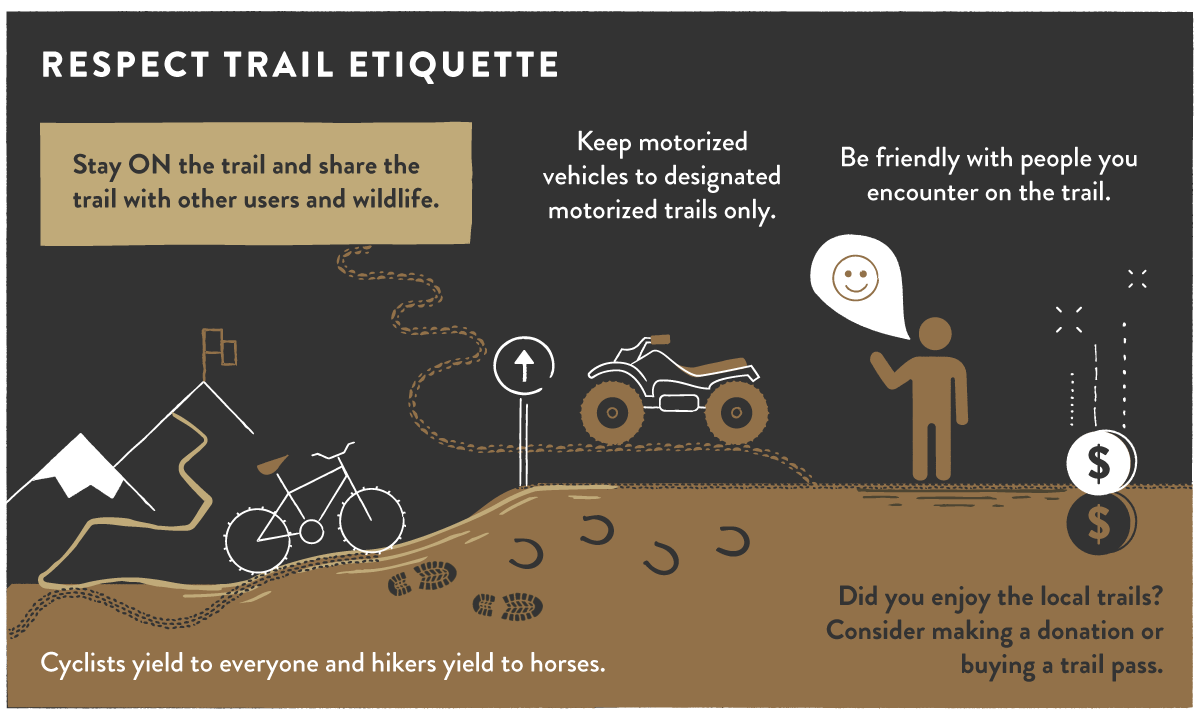 Image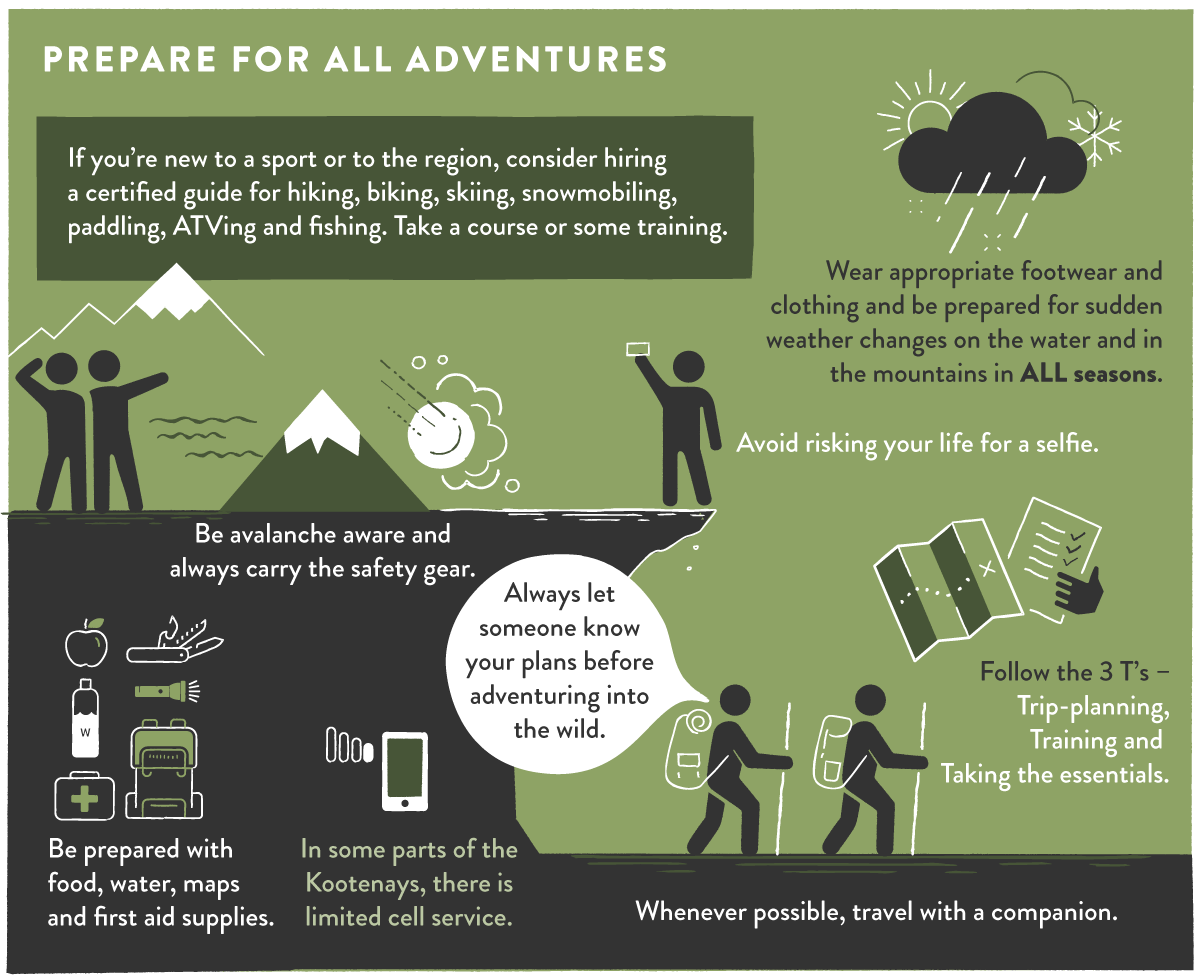 Image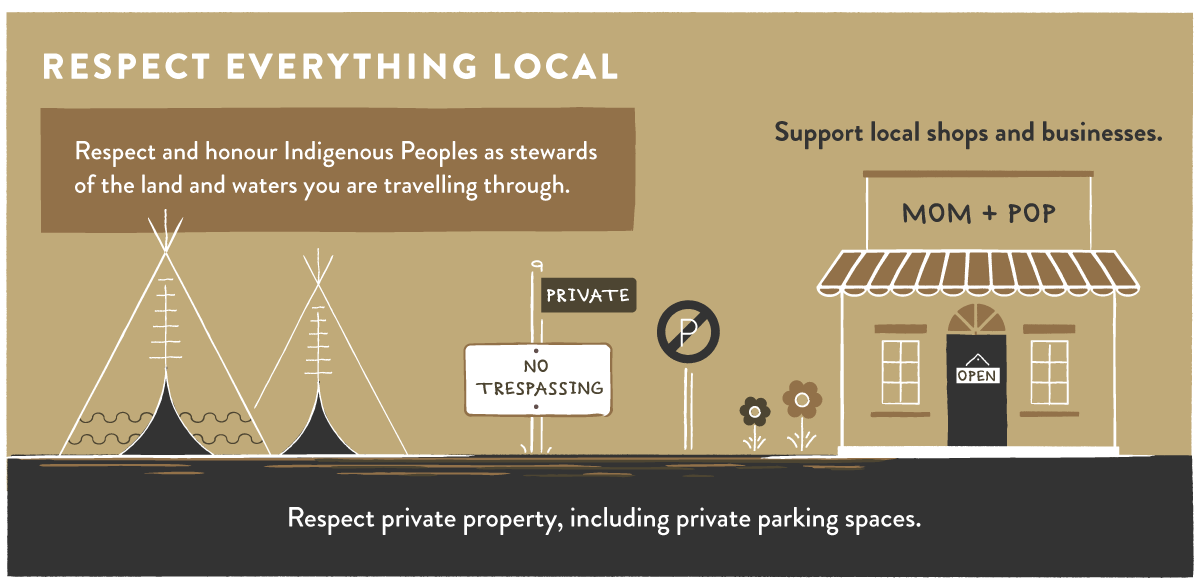 Image
Image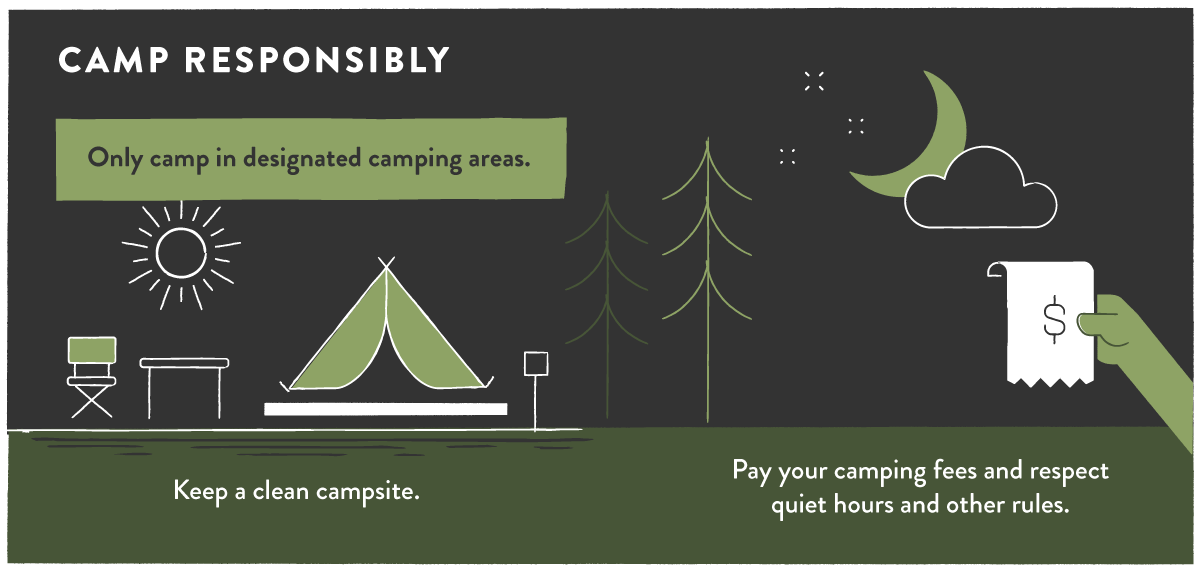 Image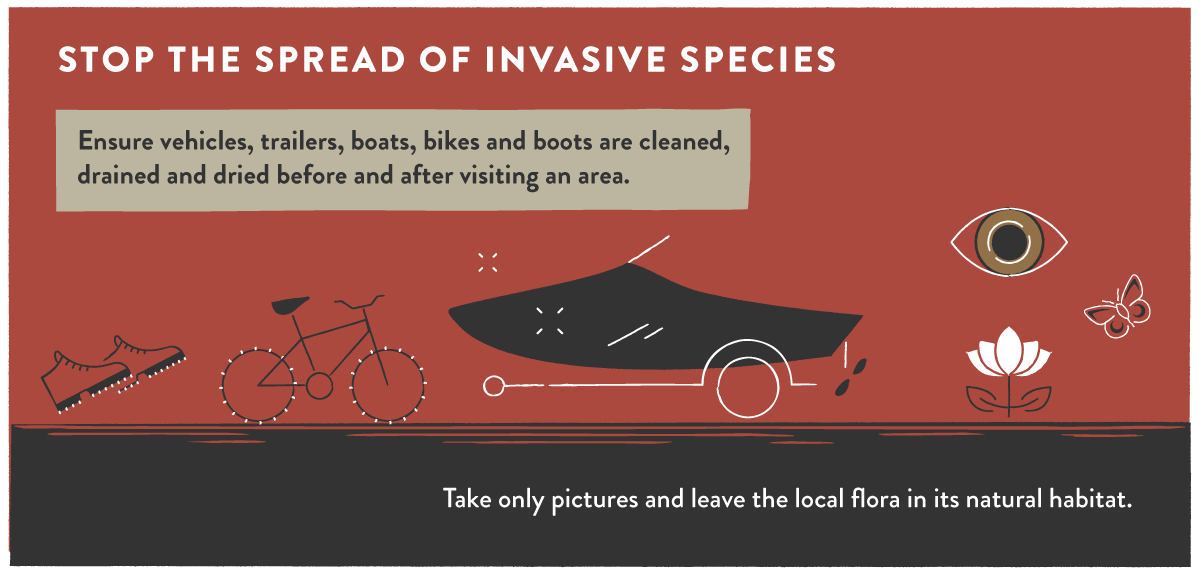 Image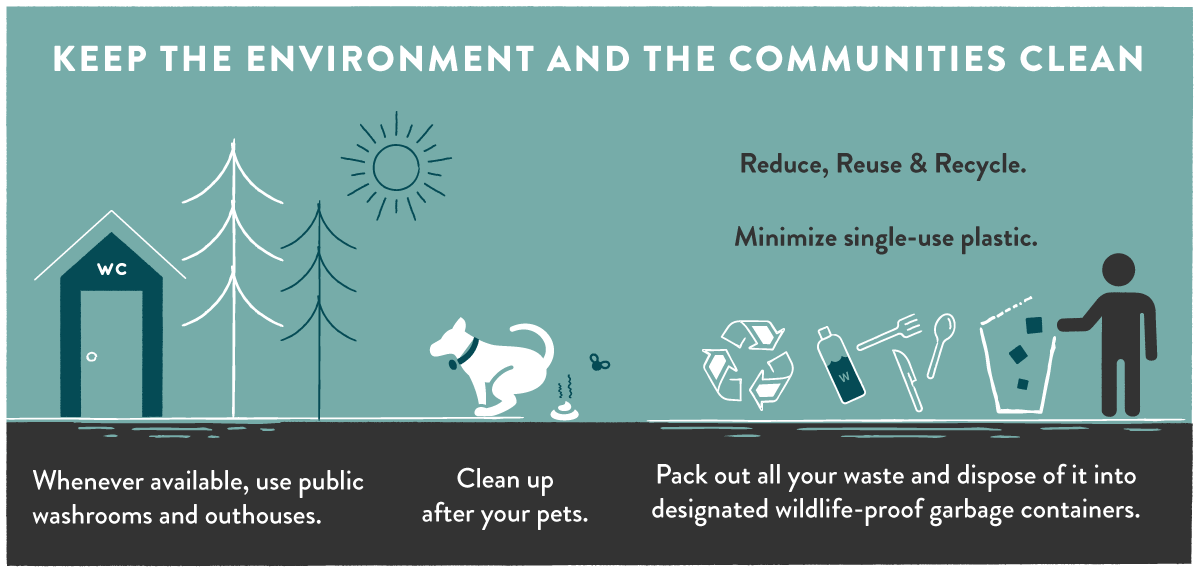 Image

Image

Thank you for being a responsible visitor!
---
RESOURCES
Kootenay Rockies Tourism Visitor Code of Conduct Poster
AdventureSmart: adventuresmart.ca
Avalanche Canada: avalanche.ca
BC Wildfire Service: gov.bc.ca/gov/content/safety/wildfire-status
Highway Conditions: drivebc.ca
Invasive Species Council of BC: bcinvasives.ca/resources/programs/play-clean-go
Leave No Trace: lnt.org
Trail Forks Trail Karma: trailforks.com/karma
Trails BC - A Trail User's Code of Ethics: trailsbc.ca/travel-tips/trail-users-code-ethics
Wild Safe BC: wildsafebc.com
Wildlife in BC, Ministry of Forest, Land and Natural Resources (fishing licence, snowmobile closures): env.gov.be.ca/fw/wiIdlife
Discover more related to this story
TRAVEL BOOK
Read our visitors guide online or order a copy of the official visitor's guide and map for our region.