Getting Here
Despite our rural location, there are many ways to get here - ferries, airports, vehicles and shuttles. Nelson, Kaslo, East Shore and Balfour are the main access points that lead you to a magical destination of beauty, culture and activities.
By Car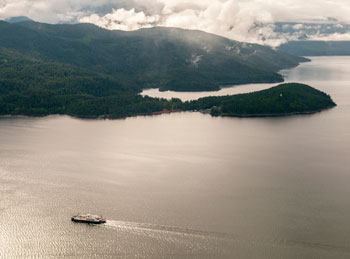 Offering spectacular mountain scenery, driving is a popular option for many visitors. The approach is easy by car, RV or motorcycle, with access from several well maintained highways.
Winter brings a note of caution: driving conditions can change quickly at higher elevations. Winter tires are required, carrying chains is advisable, and delays for avalanche control and snow removal may be possible.
If you don't have your own vehicle, you can find rides to, from, and around the region using Kootenay Rideshare.
Visit DriveBC for up-to-date road information across British Columbia.
There are several ferries in the region, which adds to the magic of travel as you journey across big and beautiful Kootenay Lake. 
USA BORDER CROSSING POINTS
The border crossings have changed their hours of operation as of April 1, 2023. Please be sure to confirm hours on the USA and Canada border crossing websites to ensure they are open when you plan to cross. (See updated hours news release - March 31, 2023)
Here is a summary document created by the International Selkirk Loop.
Image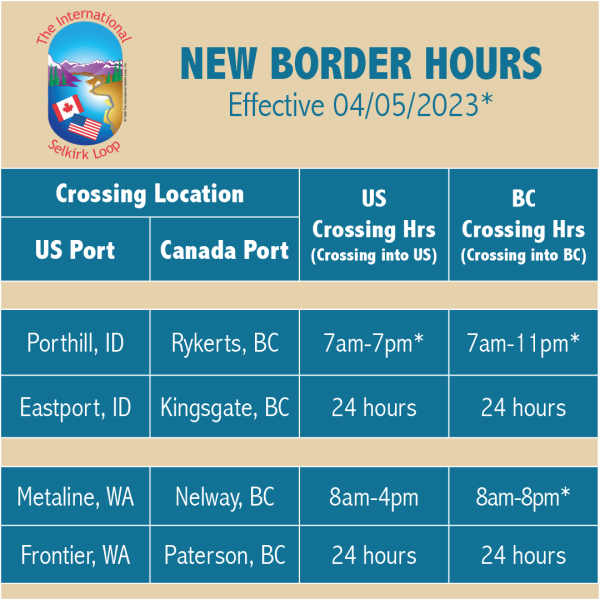 Hours of operation vary at each crossing so please reference the border websites to confirm details close to your date of travel. 
Electric Vehicles
There are electric plugins across the region, and more coming all the time. In addition, there are recharging stations in nearby Salmo and Castlegar. Check out the map below for all EV charging stations in our region.
Distance and Driving Times
To Nelson
|   CITY |   DISTANCE |   TIME |
| --- | --- | --- |
|   Castlegar |   44km |   35 mins |
|   Calgary |   618km |   6.5 hrs |
|   Revelstoke |   252km |   3.5 hrs |
|   Spokane |   239km |   3 hrs |
|   Trail |   69km |   55 mins |
|   Vancouver |   658km |   8 hrs |
To Balfour
|   CITY |   DISTANCE |   TIME |
| --- | --- | --- |
|   Castlegar |   77km |   1 hr |
|   Calgary |   584km |   7 hrs |
|   Revelstoke |   234km |   3.5 hrs |
|   Spokane |   271km |   3.5 hrs |
|   Trail |   100km |   1.5 hrs |
|   Vancouver |   691km |   8.5 hrs |
To Kaslo
|   CITY |   DISTANCE |   TIME |
| --- | --- | --- |
|   Castlegar |   114km |   1.5 hrs |
|   Calgary |   606km |   7.5 hrs |
|   Revelstoke |   198km |   3 hrs |
|   Spokane |   308km |   4 hrs |
|   Trail |   139km |   2 hrs |
|   Vancouver |   754km |   9 hrs |
To Kootenay Bay
|   CITY |   DISTANCE |   TIME |
| --- | --- | --- |
|   Cranbrook |   182km |   2.5 hrs |
|   Crawford Bay |   4.5km |   5 min |
|   Creston |   81km |   1.25 hrs |
|   Fernie |   278km |   3.5 hrs |
Shuttles
Taxis
Glaicer Cab Company shuttles people around Nelson and up and down Kootenay Lake. They can be reached at 250-354-1111.
By Plane
Kaslo and Nelson each have a local airport. Castlegar, Trail, and Cranbrook have regional airports which can reach international airports in Vancouver, Calgary and more.  
For more information on each airport and the services they provide please visit our page dedicated to Airports.
Castlegar Airport to Nelson
There are several ways you can get from the Castlegar Airport to Nelson. 
By Bus
Kelowna
Kaslo/Nelson to Vancouver
Kaslo/Nelson to Calgary
Whitewater Ski Resort Shuttle
The Whitewater Ski Resort Shuttle offers slopefront service every day! With daily operation throughout the season, multiple pick up/drop off points throughout Nelson, and pickups timed to get you to the mountain on time for first chair, getting to Whitewater has never been so easy! Visit Whitewater's website for details on rates, shuttle times and pickup locations.
Spokane Airport Shuttle (Winter Only)
Spokane International Airport is located 250km south of Nelson and services a variety of airlines with daily flights to major US cities. Driving from Spokane airport to Nelson takes approx 3.5 to 4.5 hrs depending on driving conditions, route, and border crossing times. Kootenay Gateway runs charters, as well as daily winter service. 
International Selkirk Loop 
Travelling between the USA and Canada is welcomed by all travellers. The International Selkirk Loop hosts a website, mobile app, and travel guide to help you travel around Washington, Idaho and British Columbia. If you want to just travel in Canada, they have lots of information on travel loops.
By Rideshare
Poparide is a reputable rideshare service that connects drivers with passengers looking for an affordable, easy and convenient way of travelling between cities throughout Canada. Check out their website for more information.
TRAVEL BOOK
Read our visitors guide online or order a copy of the official visitor's guide and map for our region.