Gerick Cycle & Ski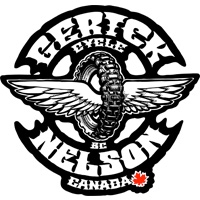 Gerick Cycle & Ski
702 Baker Street, Nelson, BC
info@gericks.com
At Gerick Cycle and Ski our mission is to energize people with our passion for cycling and skiing both in and outside our business. Through locally appropriate quality products, friendly customer service and unique opportunities we aim to be the hub of the cycling and skiing community.
Heritage Tour Info
1898 - The original building was two separate units, one being a funeral home. The original roofs are still visible in the attic of the present building. The building has been home to many businesses over the years including: A funeral home, Vic Graves Plumbing and Heating, a chainsaw & power equipment store, a Yamaha motor store, and Kootenay Coop until 1991. Currently the building is owned and operated by Gerick Cycle and Ski.
Category
Heritage
Recreation
Mountain
Mountain Biking
Road
Road Biking
Snow
Shop
Retail
Sports Gear
TRAVEL BOOK
Read our visitors guide online or order a copy of the official visitor's guide and map for our region.