Balfour Golf & Recreation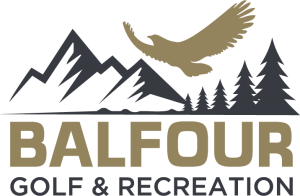 Balfour Golf & Recreation
602 Queens Bay Road, Balfour, BC
golfshop@balfourgr.com
One of Nature's most scenic golf courses.
Carved out of the forested upland above Kootenay Lake, our unique 18-hole layout offers well-maintained fairways and undulating greens to challenge any skill level. A warm and welcoming atmosphere greets you upon arrival and when your round is complete, scores are totalled and refreshments are ordered, it will occur to you that you have just had one unforgettable golfing experience.
Created by Canada's foremost golf course architect, Les Furber, the Balfour Golf & Recreation course boasts a 6,800 yard, 18-hole layout with features you would expect only from a premium-rated golf experience while maintaining its small town feel that is so coveted in the Kootenay region.
Winter Recreation
Here you can experience cross country skiing, winter walking, tobogganing, and snowshoeing. Dogs are welcome, but please bring a bag to pick up after your pets. As of December 29, 2022, Balfour Golf & Recreation will no longer have a liability issue surrounding winter activities on their golf course, however, ice skating is still prohibited. By introducing this additional winter liability coverage, Balfour Golf & Recreation has taken on a significant increase to its annual insurance premium and has introduced a Winter Recreation Pass that will help support them. The pass will be a $50 per household purchase and will ensure that in future years they can continue to facilitate winter recreation. Click here to learn more.
Stay & Play Packages
Visit the Balfour Golf & Recreation website for the most up to date info on Stay & Play packages.
The restaurant is currently not operating. Do confirm with the golf course of what food and beverages are available before you arrive.
Family Dining,
Grab n Go,
Pub Fare
Category
Recreation
Mountain
Golfing
Cross Country Skiing BC
Trip Ideas
Adventure
Like a Local
TRAVEL BOOK
Read our visitors guide online or order a copy of the official visitor's guide and map for our region.