5 Best Things To Do Near Nelson, BC
5 Best Things To Do Near Nelson, BC
5 Best Things To Do Near Nelson, BC
Photos and Story by: Leigh McAdam of HikeBikeTravel.com
Although Nelson, British Columbia is a destination in its own right, the area around Nelson – especially up and down Kootenay Lake is also a great place to visit. In theory you can use Nelson as a base and do day trips but if you've got the time, stay in some of the historical small towns like Kaslo and explore at a slower pace.
This is my take on 5 of the best things to do near Nelson.
Soak in the Ainsworth Hot Springs
Who would think that a soak in the hot springs in the height of summer would be a great thing to do? Recently I'd checked out Miette Hot Springs in Jasper National Park – a hopping spot on a warm summer evening. I found the same thing at Ainsworth Hot Springs – lots of happy people of all ages taking in the view of the Purcell Mountains. Located about 50 kms northeast of Nelson right on Kootenay Lake, the hot springs are extremely popular and seemingly the sort of place that families return to year after year judging from the people I spoke with. And yes, even in summer they're a lovely place for a soak.
The Ainsworth Hot Springs have an added feature I haven't seen anywhere else. You can swim (I use this term very loosely) through caves found immediately adjacent to the main pool. You'll feel like you're in a sauna – because you practically are with the average temperature at 42°C. The humidity is higher, the water hotter and the mineral deposits interesting to see. Keep your time in the caves to a maximum of 10 – 15 minutes and drink lots of water.
Most of your time will be spent in the main pool. Luxuriate in water that naturally changes six times a day. You can have the pool practically to yourself from 8 AM – 10 AM if you're a hotel guest at Ainsworth Hot Springs Resort. 
If you need a quick bite to eat walk to the yellow school bus just past the edge of the parking lot. You'll find delicious breakfast and lunch food at Betty-O's.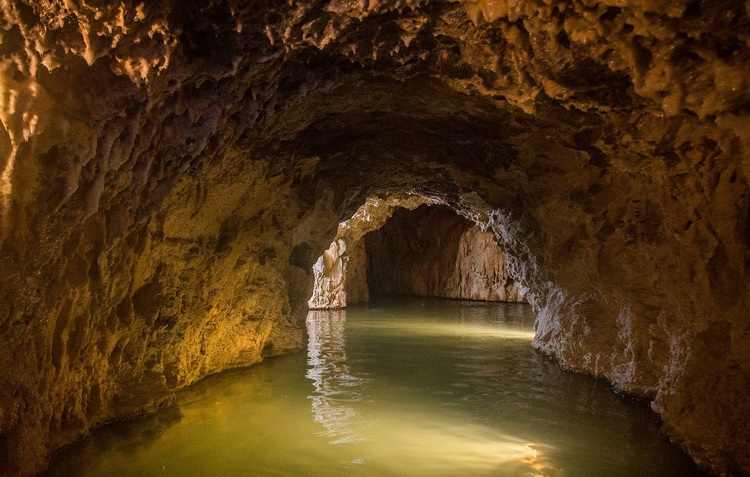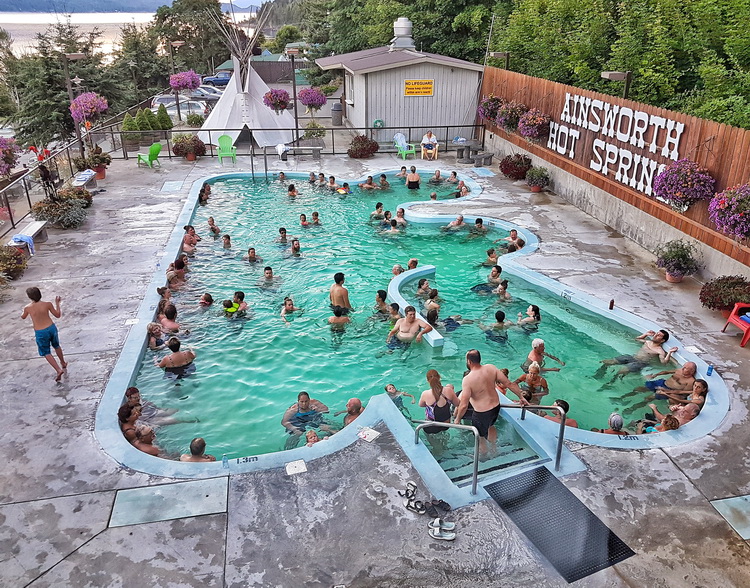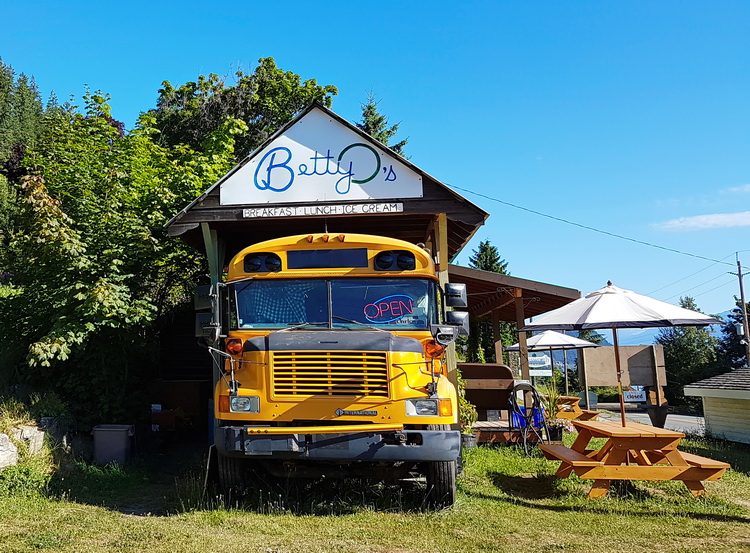 Ride the ferry between Balfour Bay and Kootenay Bay
It wasn't until I was well into the planning of my Nelson trip that I found out there was even a ferry across Kootenay Lake. It's the world's longest FREE ferry and it runs year-round between Kootenay Bay on the east side and Balfour on the west side. When you're driving from Calgary it's a beautiful drive up the east shore of Kootenay Lake and then it's a treat to take a 35 minute break from driving. Once you reach Balfour, it's only a 30 minute drive on Highway 3A to reach Nelson.
Take the ferry just to see what Kootenay Lake looks like from the water. Once you're on the Kootenay Bay side drive 5 kms and check out the hamlet of Crawford Bay, home to a variety of artisans including Fireworks Copper and Glass, Barefoot Handweaving and North Woven Broom. All artisans are open every day between May and Labour Day.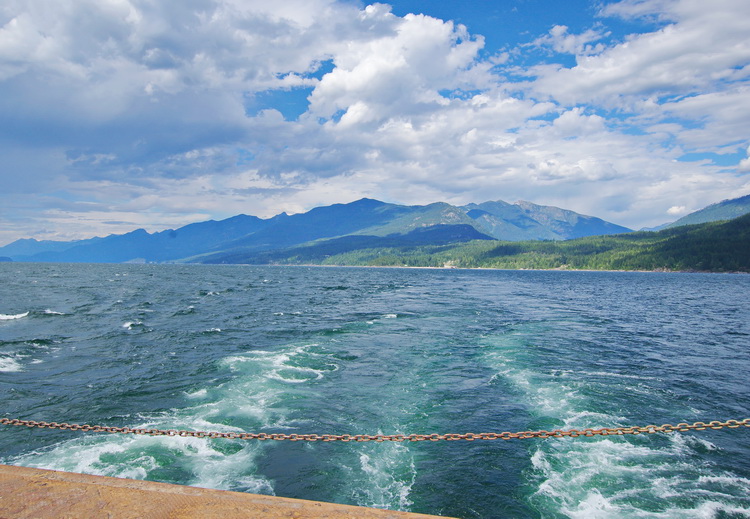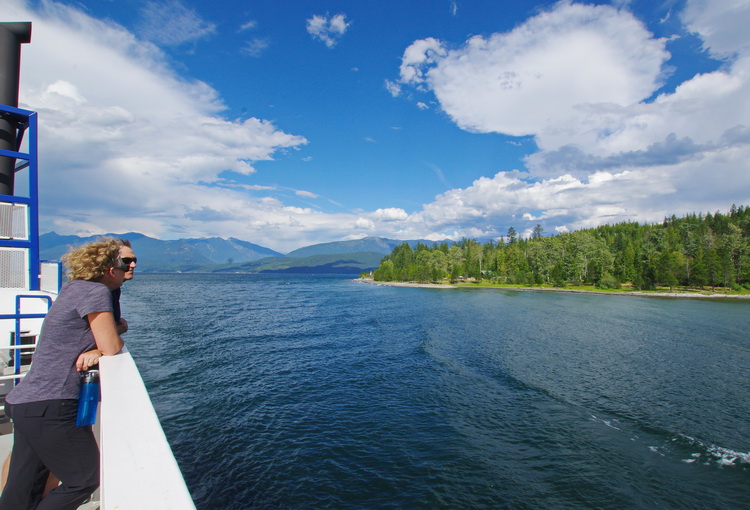 Stand up paddleboarding or kayaking on Kootenay Lake
Kootenay Lake is a water-lovers dream destination. There are loads of sandy beaches up and down the 144 kilometre lake and lots of places that are great for kayaking or stand up paddleboarding (SUP). John and I were booked for a morning of SUP – and this was to be our second time ever on the boards. My original thought was why not go kayaking instead – and really what's all the fuss about SUP?
After a few hours exploring the lake and actually covering a reasonable distance I can now see the allure of the sport. You don't have to stand the entire time. You can kneel, sit and easily jump in the water for a swim. I'm not about to rush out and buy a board but I will say it was a whole lot of fun to see the lake from an upright position – and on a hot day it's way easier to cool off.
You can rent kayaks and stand up paddleboards on the beach from Kokanee Creek Paddle Sports. You'll find them at the day use area of Kokanee Creek Provincial Park.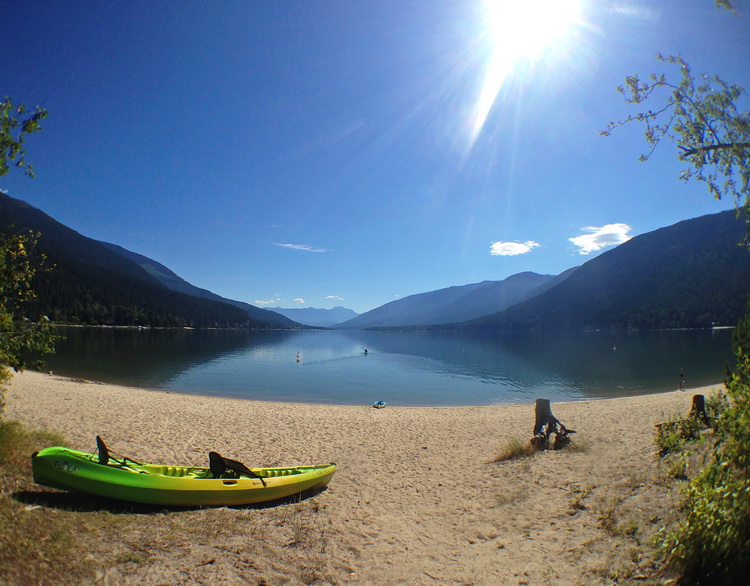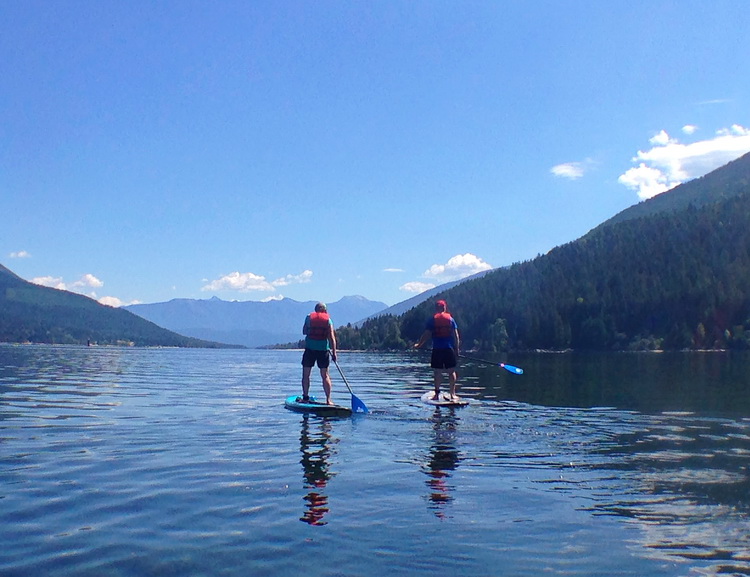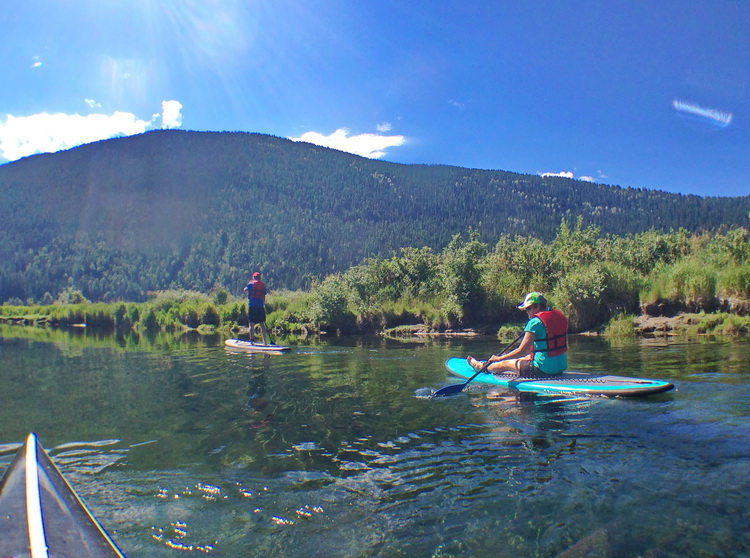 Check out Kaslo
Kaslo is an exceptionally scenic historic mining town situated on a peaceful cove 70 kilometres north of Nelson. Founded in 1893, it has endured a tumultuous history of floods, fires, riches and lost fortunes. Today it is the home of the popular Kaslo Jazz Etc Festival and Logger sports (tree climbing, log rolling, axe throwing and more) one of the most popular events that is part of Kaslo's May Days over the May long weekend.
In the summer relax on one of its long stretches of beach. Go for a swim. Walk and shop in the well-kept stores along the heritage main street. Grab a bite to eat at the Kaslo Hotel or one of the other small eateries in town. Visit the dry-docked SS Moyie – the world's oldest intact sternwheller. If you're looking for adventure explore the network of trails that are on either side of the Kaslo River. Head 20 miles north and hike in the Meadow Creek Wilderness. Or try the Whitewater Canyon Trail that gets you up into the alpine landscape. For an easier alternative walk the Galena Trail and pull yourself over a creek in a cable car. The number of nearby hiking trails could keep you busy for days. For water lovers, rent a kayak in town and poke along the shore, keeping a watchful eye out for the large number of interesting birds.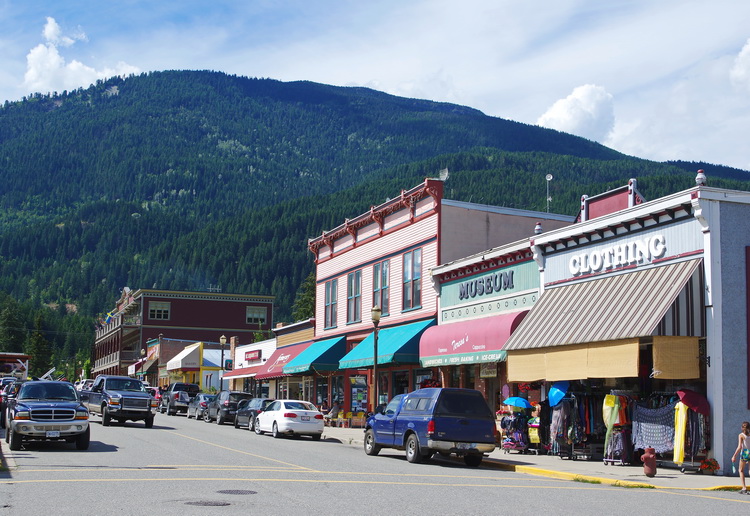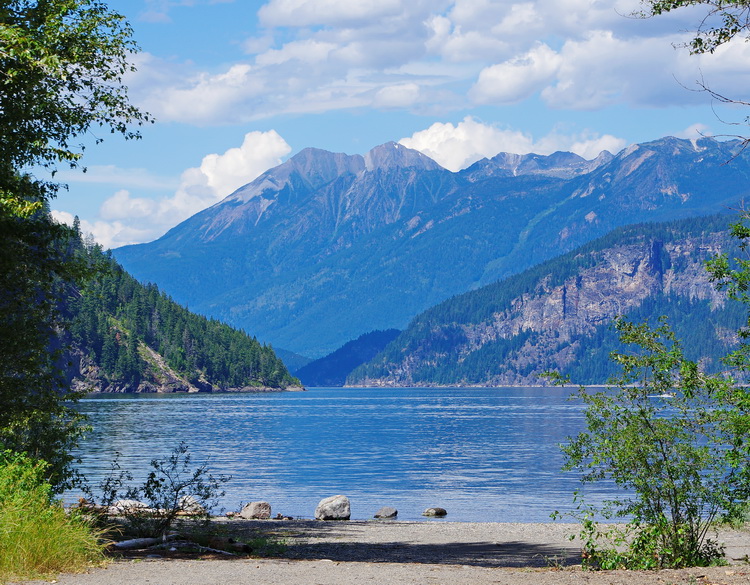 Explore the Nelson area on a (mountain) bike
Nelson is a mountain biking mecca and there are trails for all abilities. If you go to Gerick Cycle and Ski in downtown Nelson, they can set you up with a bike and offer all sorts of advice on where to go. John and I spent a few hours – albeit on an electric bike – and took off from the shop up the exceedingly steep hills until we reached the Trans-Canada Trail. From there it was an easy ride on rail-grade all the way to Cottonwood Lake. It was an excellent outing that took just two hours. Even on a regular mountain bike, it would take 2.5 hours tops, but with a lot more huffing and puffing at the start of the ride.
At the top of the town – where we started on the Trans-Canada Trail there are at least a dozen very popular mountain biking loops, all on private land. There's a map so you can choose the level of difficulty and the length of the trail you want to ride. Be prepared for wildlife as this is bear country.
For other suggestions you can pick up a copy of the Nelson Mountain Bike Guide.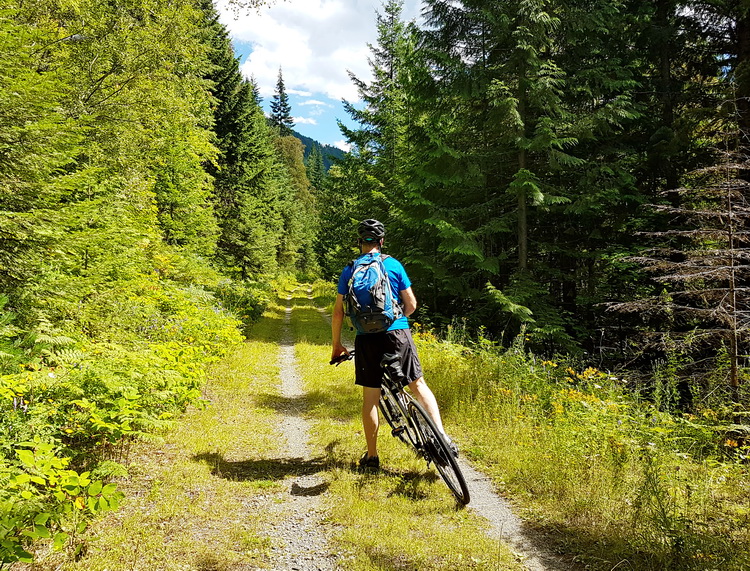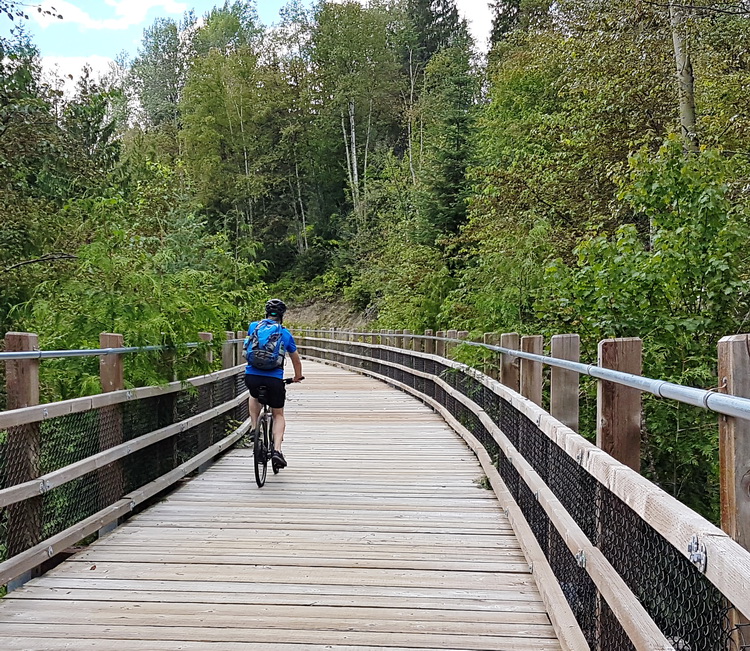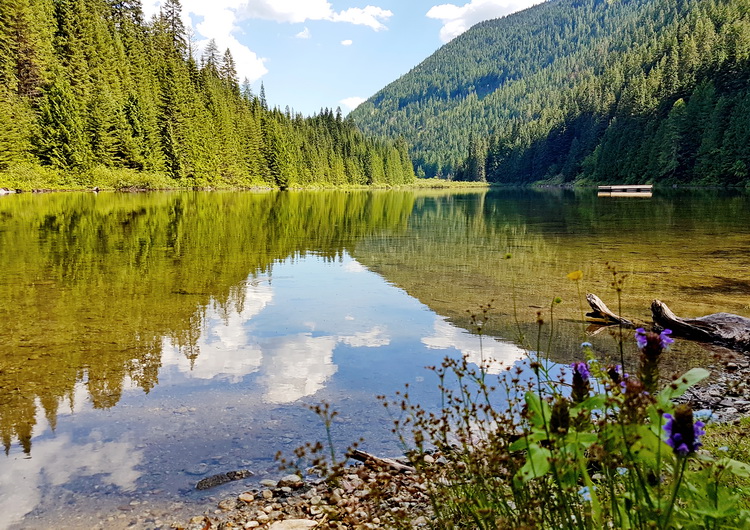 There's more than enough to keep you busy for days if not weeks in the Nelson area depending on where your interests lie.
Read the full story and more at HikeBikeTravel.com.
Discover more related to this story
Category
Trip Ideas
Family Friendly
Seasons
Summer
TRAVEL BOOK
Read our visitors guide online or order a copy of the official visitor's guide and map for our region.