You are here
Hiking
The region is a hiker's dream, from shorter family-friendly walks near the towns and villages through to multi-day adventures into the mountains.
Kootenay Mountaineering Club has groups to go hiking with, and can show you around the region. Where Locals Hike, by Kathy and Craig Copeland, is an excellent hiking book that can be purchased at the Nelson Visitor Centre and Otter Books in Nelson.
Hiking near Nelson
Pulpit Rock is across the lake from Nelson, a fairly steep 1.6km trail offering fantastic views of Nelson and Kootenay Lake. Keep hiking up and you will get to the Flagpole that has the most spectacular view of Nelson.
Rail Trail or Mountain Station, above Nelson, offers a retired railway line that is perfect for easy, flat, and beautiful walks and rides for all ages. Troup Beach, a 1.5 to 2 hour walk to the East end of the rail trail, is a great destination and can also be accessed by boat. Troup Beach was named after Captain James W. Troup, superintendent of the Columbia and Kootenay Steam Navigation Co., and later manager of the CPR's B.C. Coast Service.
Kokanee Creek Provincial Park is our most popular park in the area. Just 15 minutes from Nelson, it has numerous walking trails which depart from the Kokanee Creek Nature Centre. There are also stunning strolls along the beach at Kootenay Lake.
Kokanee Glacier Provincial Park is our beautiful, rich forested area - postcard material. 12km up Kokanee Glacier Road you will see the Old Growth walking trail that has interpretive signage and massive trees that take 10 people to hug. 16km up Kokanee Glacier Road is Gibson Lake where you can do an easy walk around the lake. This is a great walk for all ages. Kokanee Lake, Garland Lake and Kaslo Lake are located past Gibson Lake. This hike can be done in one day, or you can camp at designated sites or book a spot at the luxurious Kokanee Glacier Cabin, through the Alpine of Club of Canada. Kokanee Creek Provincial Park's online guide outlines all hiking trails and camping sites.
Morning Mountain is our newest area that caters primarily to mountain biking, but also offers hikes through the lush woods to popular look outs day or night. If you are looking for a photo opportunity, this is the place! Trail maps can be purchased at Gerick Cycle and Ski and the Nelson Visitor Centre.
Hiking near Kaslo
Kaslo is a great base for many walking trails and day hikes.
Lookout Trail, a 0.8 km switch back trail with a bench at the top and a lovely view over Kaslo Bay.
Kaslo River Walk Trail and the Beach Trail are other great options which have fantastic views of the Kaslo River.
Fletcher Falls, noted as one of Canada's top 10 waterfalls.
Mount Buchanan is accessible all year round, by car or sled in the winter. Drive up then take a hike around the meadows and forest and embrace the rich landscape.
Fry Creek Canyon hike near Meadow Creek is a popular 19km trip.
Duncan Lake, a spectacular peaceful setting.
Davis Creek hike, accessible at the Davis Creek bridge, takes you up the mountain high and steep to a glorious lookout over Kootenay Lake and deep, back into the Selkirk Mountains.
The Kaslo and Area Chamber of Commerce's walking resources has details on many local hiking trails and overnight hikes. For still more Kaslo hiking ideas, see our 108 Healthy Things to Do post.
North end of Kootenay Lake
There are three must-see trails:
Jumbo Pass is an easy round-trip day hike of 8kms. It is threatened by proposed development, so while you can, go see the magic that makes this area special. The trail begins in a giant hemlock forest before popping you out into the stunning alpine with sneak peek views of glittering alpine lakes and majestic glaciers.
Monica Meadows is in the same area. This 8.5km hike is moderate and leads you to magnificent wildflower meadows in a land of a thousand glaciers. The road leading up to this area is rough but offers you solitude, powerful rivers and towering peaks.
Macbeth Ice fields trek is the most challenging hike of the three, being 12kms with some technical terrain. The trail is gnarly and rugged, taking you past raging rivers and leading you through mossy forests up past tumbling waterfalls to end close enough to touch the grand Macbeth Glacier.
Towards Castlegar from Nelson
Sproule Creek is a delightful trail that follows a year-round bubbling creek. Providing great hiking, biking or snowshoeing in winter, it climbs a mellow grade for 10kms up to a historic mill. Access is off Taghum frontage road off Highway 3.
Slocan Pools is an interpretive loop trail that winds through open forest, eventually popping you out on a wide bend of the Kootenay River. Hikers will be rewarded with spectacular beachfront views and great fishing and paddling. It is also a good option for bikers and snowshoeing. To find this one, turn at the Dam Inn and go straight down the hill to the trailhead.
Bonnington Traverse. This route is off trail and requires some map and compass skills. It can take 3-6 days. There are a series of huts along the way that are well maintained by the Kootenay Mountaineering Club and can be reserved for a fee. The hiking follows beautiful ridges offering great views and wildlife viewing opportunities. This route is most popular in winter as a ski touring adventure.
East Shore of Kootenay Lake
Pilot Bay Provincial Park hike is an easy access 12 km trail that follows the Kootenay Lake shore, winding its way through Ponderosa Pine and Cedar forests. The trail leads to the Sawmill Bay campsite (2.5 km) and then continues to several secluded beaches and lookouts. Beautiful views of the lake and surrounding peaks with access to an additional network of recreation trails. Download a map.
The Lighthouse Trail is a short hike to a lighthouse on lakeside 1 km further along Pilot Bay road. Lovely woodland trails.
Mount Loki is a great day hike for those not faint of heart. It is a 10km return hike with rewarding panoramic views from the summit. Minimal exposed scrambling is required near the top, providing a full day of hiking.
Family Fun — Short Hike to a Well Maintained Cabin
Stagleap Provincial Park is a wonderful area for the whole family, with year-round adventures. Access this at the Salmo Creston pass. A 3.5km trail leads right from the parking lot off the highway. It climbs through dense forest to end at a well maintained cabin with a wood burning stove and sleeping loft. This area is most popular in winter for ski-touring and snowshoeing.
New Denver (and nearby, from Kaslo)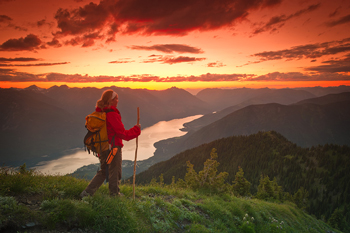 Retallack Lodge is located on the road and offers stay-and-ride mountain bike packages. At the Retallack turn off, park after the bridge and follow the beautiful trail alongside the creek. This trail is only a 20 min loop but takes you through an impressive old growth cedar forest. It is a nice stopover when driving the Slocan Valley loop.
Whitewater Canyon Trail. If you are in for a much longer more challenging hike, this 12km hike is just five minutes down the road. There is much alpine walking and boulder scrambling, with great valley views and distant peaks. At the top there is also a turquoise lake from glacier melt surrounded by interesting jade-looking rocks.
Carlyle Mountain Lodge can be accessed via the Sandon logging roads or by flying in from Kaslo. The peaks, valleys and lakes that surround the lodge are endless. In winter the lodge operates a fly-in ski touring business where lucky guests stay in the cozy lodge complete with full kitchen and sauna. In summer it is a 3.5 hour hike from Cody to the lodge over Carpenter Pass. There are multiple peaks to explore using the lodge as a base. There is also an option of hiking 4 hours from the lodge to a beautiful alpine lake where there is a cache of all the camping and cooking you would need. From this campsite it is possible to hike an enticing ridge walk for two more days that takes you to Idaho Peak.
Preventing Invasive Species
The Kootenay region is an outdoor enthusiast's paradise, with endless recreation opportunities. While enjoying all that the Kootenay Lake region has to offer please keep in mind that invasive species can act as hitchhikers and latch onto your clothing and gear. Stopping the spread of invasive species is as easy as PLAY CLEAN GO. For more details on your can take action visit the CKISS website.