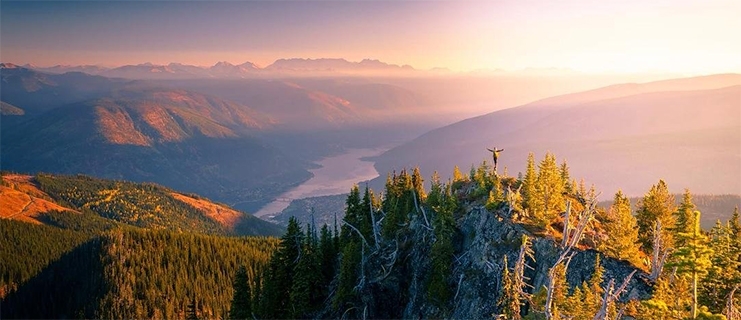 You are here
Hiking
This region is a hiker's paradise, with excursions for families to the outrageous adventurerers. Explore near the towns and villages or venture on multi-day hikes deep into the Selkirk mountains.
Connect with locals through the Kootenay Mountaineering Club, they're happy to show you around. Or if you want to do it on your own, Where Locals Hike, by Kathy and Craig Copeland, is an excellent hiking book that can be purchased at the Nelson Visitor Centre and Otter Books in Nelson. Take your hiking to the next level on a guided life changing experience, which is much more than a hike, at Mountain Trek.
We are thankful for the content provided by local hikers. Much of the hiking information below was created in partnership with West Kootenay Hiking - a great resource to find trail reviews, tips, photos, and maps of West Kootenay hikes.
Nelson
Kokanee
Kokanee Creek Provincial Park | 9.5km | Spring/Summer/Fall
This provincial park and campground have 9.5km of easy walking trails which depart from the Kokanee Creek Nature Centre. You can also stroll along the beach and check out the Kokanee Salmon spawning mid-August to mid-September.
Gibson Lake | 2.1km | Spring/Summer/Fall
The trail circling Gibson Lake is short and sweet, wrapping along the lakeshore and crossing streams. If you're looking for an easy and scenic hike then Gibson Lake is worth the drive!
Kokanee Old Growth Cedars | 2.4km | +100m | Spring/Summer/Fall
The old growth trail up Kokanee Creek is a short and spectacular hike. The cedars are ancient and massive, reaching up towards the sky and back across the centuries.
The Keyhole | 12.4km | +1133m | Summer
The Keyhole trail climbs way up high to bring you through a hidden notch at the edge of the Kokanee Glacier. It's a scenic route, but it's also a bit of a sufferfest with boulders and scree.
Kokanee Lake Trail | 8.9km (one way) | +578m | Summer
The main access into beautiful Kokanee Glacier Provincial Park. The Kokanee Lake Trail starts in the forest and winds up to the sub-alpine realm of meadows, lakes, waterfalls and marmots.
Sapphire Lakes | 8.9km | +352m | Summer
Shimmering turquoise lakes? Check. Meandering creeks and waterfalls? Check. Glowing fields of white granite? Check. Peaks all around? Oh yeah!
Smuggler's Ridge | 6.5km | +601m | Summer
If you're staying in Kokanee Glacier Provincial Park, Smuggler's Ridge is a short day hike that wanders high above the park to look down on the glacier and surrounding landmarks.
Kokanee Creek Provincial Park's online guide outlines all hiking trails and camping sites.
Kaslo
Kaslo River Trail | 3.2km | +66m | Spring/Summer/Fall
Kaslo River is a fairy tale of a trail, winding along the burbling river and mossy banks. The main loop arcs over the river on two covered bridges, both painted an enchanting shade of red.
Fletcher Falls | 0.5km | Spring/Summer/Fall
Just a short walk down a well-established trail will lead you to a spectacular waterfall and moss-lined grotto on Fletcher Creek. There is also beach access.
Kaslo Lookout Trail | 0.8km | +176m | Spring/Summer/Fall
A short switchback trail with a bench at the top and lovely view over Kaslo Bay.
True Blue Trails | All Year
A varying network of trails located just minutes from downtown Kaslo. Wind through mossy forests on foot or bike in the warmer months or on cross-country skis in the winter.
Lyle Lakes/Brennan | 10-17km | +710-1574m | Summer
Cradled beneath Mount Brennan's flanks are three subalpine lakes, glowing mineral-blue and suspended between braided waterfalls. The trail beyond to Mount Brennan's 2900m summit offers a challenging hike with staggering views.
Retallack Old Growth Cedars | 1km | +25m | Summer
A short, winding loop through a scenic old growth cedar grove! Some of the trees are hundreds of years old and tower up to impressive heights – it's worth the 30 minute stop to go check out this trail!
Whitewater Canyon | 12.8km | +670m | Summer
Whitewater is a wonderful and challenging hike that brings you along the canyon edge to a high alpine pass surrounded by peaks and tarns.
Mount Buchanan | 11.9km (driving on dirt road) | Spring/Summer/Fall
This old fire lookout is accessible by car. You can drive right to the top for breathtaking views of Kootenay Lake or follow the 2km loop trail below the lookout for more viewpoints.
Kaslo & area trail maps can be purchased for $2 at the Nelson or Kaslo Visitor Centre.
North Kootenay Lake / Duncan Lake
Kootenay Pass
Cornice Ridge | 5.8km | + 480m | Summer
Cornice Ridge is a great off-trail hike exploring ridges and peaks in Stagleap Park. The area has good landmarks and easy access. And once you get up to the ridge, the alpine wandering is spectacular!
Lightning Strike | 9.4km | +393m | Summer
Stagleap Provincial Park is renowned for backcountry skiing, but there is also a summer trail that dips along Lightning Strike. Take in ridgeline hiking with panoramic views of Kootenay Pass.
Lost Mountain | 10.6km | +1109m | Summer
The Lost Mountain trail offers highway access and a steady workout. Most of this hike is done in the forest, but the final ridge and summit are worth the effort!
Beyond
The West Kootenays are a wonderful place to explore with nearly endless hiking opportunities - to find more hikes in the East Shore of Kootenay Lake, Valhalla Range, New Denver, Castlegar, and more visit westkootenayhiking.ca.
Preventing Invasive Species
The Kootenay region is an outdoor enthusiast's paradise, with endless recreation opportunities. While enjoying all that the Kootenay Lake region has to offer please keep in mind that invasive species can act as hitchhikers and latch onto your clothing and gear. Stopping the spread of invasive species is as easy as PLAY CLEAN GO. For more details on your can take action visit the CKISS website.