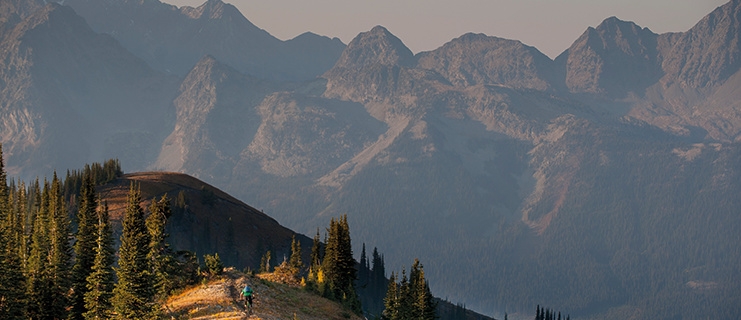 You are here
Mountain Biking
We Love Sharing Our Mountain Bike Culture With You!
In keeping with the Nelson and Kootenay Lake culture, our mountain bike trails appeal to the spirit of mountain biking. We've got lovely, gentle railway grades that start minutes from downtown and take you for kilometer after kilometer along forest trails, over restored trestle bridges and into some of the most peaceful country you'll ever encounter.
For those of you who need to feel their heart beating and love the surge of adrenaline pumping through their veins, we've got what you need, too: steep, rocky technical tracks and enough stunts, ladders and big drops to keep you coming back and calling out for more.
For professional backcountry mountain biking excursions visit Kaslo Bike Tours and Retallack for details on their wicked terrain and variety of programs.
An overview of our mountain bike trails in Nelson, Balfour and Kaslo is available online, or pick up a brochure at the Nelson or Kaslo Visitor Centres, or local bike shops.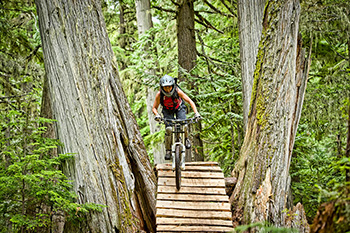 Nelson Mountain Biking
The Nelson Cycling Club website has up-to-date information on events and trails in the area. Nelson maintains trails in eight differnt areas, from Morning Mountain to Mountain Station, and over to the North Shore near Balfour and Kokanee Glacier Provincial Park. The comprehensive and updated Nelson Mountain Bike Guide is now in its fourth edition and lists over 105 trails, with maps and descriptions, and is available at:
All proceeds from sales of this Bike Guide go directly into ongoing trail maintenance costs that help keep the trails rolling.
Local group rides happen at Gericks Cycle and Ski on Tuesdays and Sacred Ride Wednesdays.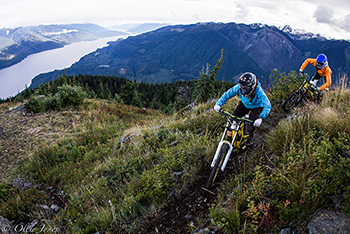 Kaslo Mountain Biking
Kaslo is well-known to adrenaline enthusiasts as well as those who are out for a gentle ride. Trails range from extreme to gentle, but all are in gorgeous country that'll reel you in and leave you breathless. The Wagon Road Trail, which travels from Kaslo to Sandon is a great 20-kilometre trail for beginners. Experienced riders should give The Monster a go, an 11-kilometre round trip filled with steep jumps and technical sections that'll remind you why you love this sport.
Kaslo has a Trail Map, only $2 and folds up nice and small to fit in your pocket. It is available at:
Cornucopia

Kaslo Building Supply,

Kaslo Pharmacy
Mountain Biking Events
If you're visiting in August, check out Nelson's Fat Tire Festival, an annual event for any age that celebrates all things bicycle! Races, group rides, parades and creative competitions make up the three-day event. At the end of August, iDIDaRide features mountain biking and running races to test every skill level and age category.
Galena and Slocan Valley Trails
If you are looking for even more areas to explore by bike there are a couple more family friendly routes close by. The Galena Trail in between Kaslo and New Denver is a wide, shady trail that can be ridden in both directions. This trail is frequently used by hikers and families so remember to ride respectfully and in control. One of the highlights of this great trail is the cable car that crosses Carpenter Creek, it holds one bike at a time so it provides a nice opportunity to stop and take some pictures. Out in the Slocan Valley, another trail leads you along the river and both are lots of fun for those who want to get outside, perhaps with the family, and enjoy the fresh air.
Kootenay Dirt
8 Towns. 600+ Trails. 3 Bike Parks. Real Mountain Culture.
Experience the Kootenay Dirt Epic 8. Built by the hands of local riders. Weaving through epic mountain and valley landscapes. The mountain bike trails in the Kootenay Rockies of British Columbia are hands down the best. Experience it yourself. Plan the trip. Tackle the Epic 8 in one grand adventure or tackle it at your own pace. View Feature Story & Video by Pinkbike.
#kootenaydirt
Preventing Invasive Species
The Kootenay region is an outdoor enthusiast paradise, with endless recreation opportunities. While enjoying all that the Kootenay lake region has to offer please keep in mind that invasive species can act as hitchhikers and latch onto your clothing and gear. Stopping the spread of invasive species is as easy as PLAY CLEAN GO. For more details on your can take action visit the CKISS website.