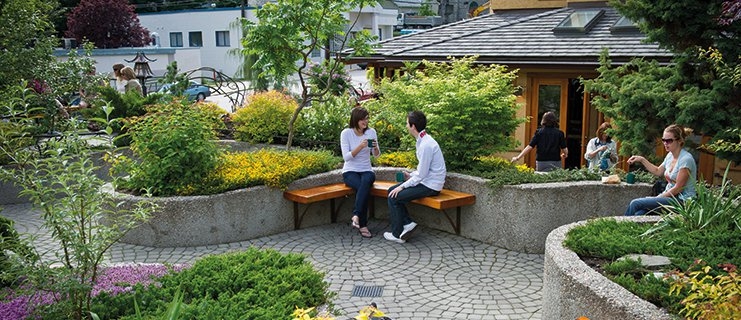 You are here
Cafes
Take a break with us
There's a reason we have more cafes per capita than anywhere else in BC! Coffee (and tea) is taken seriously, and the great cafes reflect that.
Cafes in Nelson
The famous Oso Negro cafe, home to our own home-roasted coffee, is Nelson's informal meeting house. It has an intimate cafe, as well as a welcoming garden to sit in during the warmer months.
Downtown has several other high quality options. Ward Coffee, named after historic Nelsonite John Ward, is on the corner of Ward and Baker Streets. They have a large selection of organic coffee and teas (including Josephine Teas, named after John Ward's wife), and is home to our own Lucky Cupcakes. Dominion Cafe is a classic style cafe located in a heritage building on Baker Street, and serves up delicious, fresh muffins, as well as raw sweets and teas and coffees.
Tea options continue: Cloud Mountain Tea House, also on Ward Street, serves a diverse selection of teas from around the world, while at the Kootenay Co-op, Two Hills Teas, which are organic and fair trade and originated in Nelson, are sold in bulk.
Pairing organic coffees and drinks with bakery treats, the Kootenay Bakery Co-op is a co-operative bakery and cafe, all made in-house.
And for an intimate setting with an artistic vibe, the Blue Mule is located off Baker Street, in a quiet space near the Civic Theatre.
Cafes in Kaslo
Kaslo also has some fine cafe experiences. Visit the Blue Bell Cafe or the Landmark Bakery—both are community meeting places as well as great places to grab a beautifully made drink.