You are here
Nelson
Heritage, Adventure and Community Spirit Welcome You
Nelson has a diverse population of close to 10,000 people, a hidden gem in the Kootenays. Nestled in the Selkirk Mountains along the West Arm of Kootenay Lake, it's just 35 minutes from Castlegar Airport, and an hour's flight from Vancouver or Calgary.
It has a vibrant and carefully restored downtown shopping area, and a busy social scene with live performances, arts and music nearly every night of the week.
The legacy of the past, evident in the more than 350 preserved heritage buildings, mixes with a dynamic arts and culture scene. The variety attracts outdoor enthusiasts, creatives, entrepreneurs, and urban refugees year round.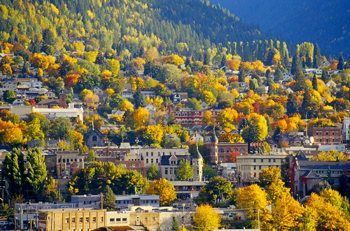 Known as the "Queen City" for over one hundred years, Nelson has more lovingly restored heritage buildings per capita than anywhere else in the province.
History and Heritage
With over 350 heritage buildings, Nelson has earned a reputation as one of the finest heritage cities in Canada. Dating back to the late 1800s, most historical buildings are within walking distance of each other, so strolling through town is like opening the history books.
There are two self-guided heritage tours available, including a walking tour and a driving tour. Details and maps are available at the Nelson Visitor Centre.
Touchstones Nelson Museum of Art and History is also well worth the visit. The changing exhibition offers visitors a range of themes including contemporary art and pop culture, craft and human history. Learn about the region's rich cultural heritage in an afternoon or visit the revolving art exhibit in the downstairs gallery. Locally made art and crafts are also available for sale in the gift shop.
Dining in Nelson BC
Yes, Nelson has more restaurants per capita than Manhattan or San Francisco! It's also home to a well-loved coffee roaster, Oso Negro, and there is a cafe or coffee house on nearly every corner downtown.
There is an organic brewery (Nelson Brewing Company), local food at the summer markets, and many local wines from nearby vineyards.
Check out our Nelson restaurant guide to find what you're after.
Shopping in Nelson
Specialty stores, farmer's markets and clothing shops are just a few of the stores on offer in Nelson's heritage downtown core. There are antiques, boutiques and art stores so you can find that 'one of a kind' Canadian gift. Several outdoor stores also sell an array of sports gear for adventure seekers.
Take a look at our Nelson shopping guide.
Get Outdoors
The sky's the limit when it comes to outdoor activities in and around Nelson.
Winter brings impressive snowfall, earning Nelson the crown as the Best Ski Town in North America. And whether you're kayaking on the lake, cycling a pine-topped ridge or hiking our lush forests, Nelson is an open gateway to the backcountry.
Take a look at our activities guide for a comprehensive list of things to do. If you are intersted in Living Here, we have lots of great links on our website to answer your needs. The City of Nelson also provides municipal regulations and information about Nelson.