My Extraordinary Ebike Tour in Nelson BC
My Extraordinary Ebike Tour in Nelson BC
My Extraordinary Ebike Tour in Nelson BC
You miss something when you view things through a car window. You don't realize it until you're on a bike or in a convertible, then everything becomes a different experience. That's why my good friend Anna and I decided we would rent electric bikes in Nelson, BC to see the town, and holy smokes was that fun!
We're both fairly active but the idea of sweating all day to see the sights seems unappealing for vacation. Ebikes are simply the best way to get around that I've experienced in a long time. It's like cheating without the guilt. When that little boost kicks in everyone has the same reaction, like the joy you experienced as a child on a bike for the first time. You can't not smile.
We started at Gerick Cycle and Ski on Baker Street to rent the Ebikes, after we grabbed our Self Guided Tour Maps from the Nelson Visitor Centre, in the old railway building that recently opened after a massive renovation.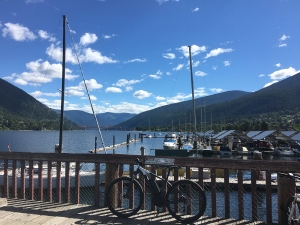 The cemetery might seem like an odd start to a bike tour; normally one would think it would be the end (rim shot). It's at the very top of town and provides some amazing views and a peaceful setting. From there we bumped over to the top of Ward Street and got up onto the Rails to Trails path. The name says it all, this old railway route has been renovated and now incorporates some of the best views in town and beautiful foot bridges. You can follow it all the way down to the lake and Troup beach if you have time. We dropped back in around the Fairview district in town and rode down to the beautiful Rotary Lakeside Park.
This stunning park and beach by the iconic Big Orange Bridge (locally referred to as BOB) welcomed us along with an ice cream from Rose Garden Restaurant located in the park. Kids were playing in the park along with families and couples and singles spending time on the massive lawn. Yes, it's really that storybook.
We hopped back on the bikes and headed down the lake and came across the Electric Streetcar, a beauty of a machine that has been running since 1924. We chatted with the driver Ray, a lovely fellow, and made a plan to return and experience the lakefront from that historic perspective. 
We shot up the lake towards The Prestige Lakeside Resort before heading back uptown to The Nelson Museum, Archives & Gallery. We grabbed a couple locally made gifts for friends and family, and checked out an exhibit from the inspiring Jack Shadbolt.
We had one last stop after that. Mike's Place Pub in the historic Hume Hotel and Spa for a tasty pint while we went over just how much we saw in the course of a day. Looking at the map and online it feels like we just scratched the surface. The sights and the people we met are memories we'll carry for a very long time. It's crazy what a little boost from an electric bike will do for ya. 
By Chad Hanson
Make your own e-bike tour
Explore a number of Nelson or Kaslo parks and attractions all in one go! Use our map as your starting point but we recommending making stops (including snack breaks of course) wherever catches your attention along the way. You can also get the printed brochure at the Nelson or Kaslo Visitor Centres.
Discover more related to this story
Category
Trip Ideas
Family Friendly
Chill and Relax
Spring
Summer
TRAVEL BOOK
Read our visitors guide online or order a copy of the official visitor's guide and map for our region.