You are here
Weather
Embrace our four season destination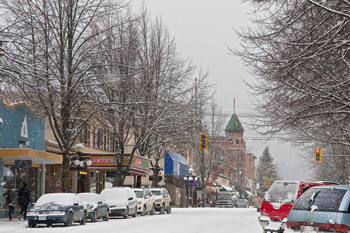 The weather forecast in Nelson, Kaslo, Balfour and the entire Kootenay Lake region changes notably with the four seasons. Summers tend to be hot and dry, while winters are snowy.
Spring
Spring temperature averages 8.3C (46F). We receive a total of 170 mm (6.8 in) of rain and see 643 hours of sunshine.
Up into the mountains we also get an average snowfall of 12 m (40 ft), so spring skiing can last well into April, even May.
At lower altitudes and near the lake, spring is a great season to play golf, and to start road cycling and mountain biking.
Summer
In summer we are graced with 817 hours of sunshine and an average temperature of 18.9C (66F).
Mid-July through September are far warmer, averaging closer to 25C (82F). It rains 150 mm (5.8 in), mostly in June.
Summer season is full of outdoor markets, festivals and, of course, sports like fishing, hiking, biking, and camping.
Fall
There is a quick transition from a typically warm September and early October to a much colder November. So even though the average temperature is 8C (46F), there's lots of variation.
Expect a total of 33 cm (12.6 in) of snow in Nelson and 370 hours of sun. Up in the mountains, fall brings copious amounts of eary season powder. Because of that snow, for the eager skiers, there can sometimes be some fine early-season skiing before December arrives.
Winter
Snow. Lots of glorious, white, puffy snow. Winter here isn't a season, as much as a celebration. On city streets and local hillsides, look forward to frolicking in an average of 172 cm (64 in) of snow. In the mountains, at the region's many alpine skiing and snowboarding, cat skiing, heli-skiing and snowmobiling areas, it can snow far, far more. Whitewater enjoys up to 40 feet! (Over 1,200 centimetres.)
With the snow comes cooler temperatures too, but not deepfreeze chills. The average winter temperature is just -2.1C (28F), with 148 hours of sunshine.
Winter in the region is a great time for skiing, backcountry touring, snowmobiling, ice skating, and ice fishing.