You are here
Roads, Ferries, & Borders
All Roads (and Ferries) Lead to Nelson Kootenay Lake
Nelson and the Kootenay Lake area is a short hop north of the US border, making it an easy trip to take for those in and near Montana, Idaho and eastern Washington. The International Selkirk Loop is one partnership between the USA/Kootenay effort to encourage cross border tourism.
Crossing an international border requires you to have the proper identification, know their hours of operation, and know the regulations around what you can and can't bring into each country. Make sure to check the detailed information provided by both governments.
Border Crossing Points
There are three main border crossing points into the United States:
Metaline Falls/Nelway is open from 8am to 12am. Phone: 509-446-4421
Boundary/Waneta is open from 9am to 5pm.
Frontier/Paterson is open 24 hours all year round.
Ferries on and around Kootenay Lake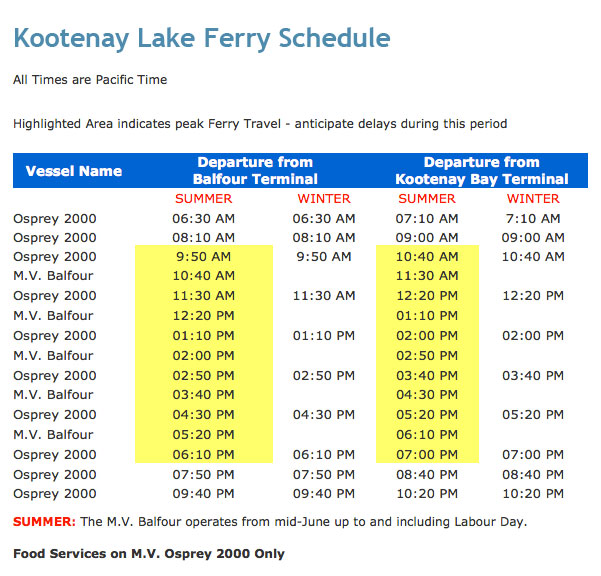 The highway system in British Columbia includes a series of ferries. Webcams through DriveBC are available for the Harrop, Balfour and Kootenay Bay landings.
The ferries in our region are free, including the tourist attraction, the Kootenay Lake Ferry, which is the longest free ferry in the world. Take a Google Tour!
Dangerous Goods Travel Restrictions
Transport Canada Safety Regulations restrict the transport of dangerous goods on inland ferries.
Driving the Roads to and from Kootenay Lake
Driving conditions vary with the season and with the weather. Always check before you head out, especially in inclement weather - www.drivebc.ca is a great resource. There are webcams of the Southern Interior that provide an accurate visual of ferry lineups, highway traffic and closures.
Roads are well maintained and traffic is normally light on our highways. Nelson is located at the cross section of Highways 3 and 6, with Highway 3 leading directly through downtown and continuing on along Kootenay Lake toward Kaslo.
Train
CP Rail runs through Nelson daily, transporting cargo, and unfortunately not passengers. The train is a Canadian icon, symbolizing travel across our vast nation, connecting communities, recognizing the past and the years of growth and prosperity that came along with the rail lines. You can find out more about CP Rail on their Community website. Learn things like: Why do they blow the horn so many times at each crossing?