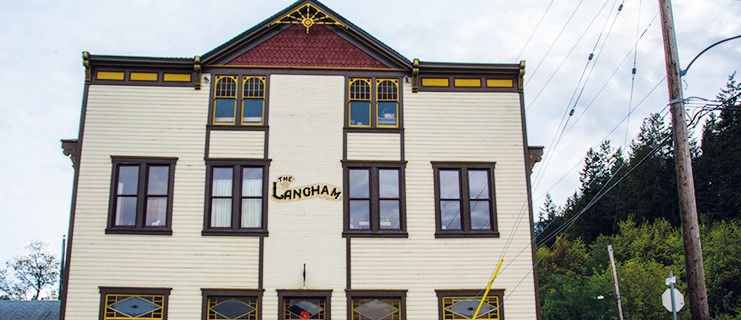 You are here
Heritage
The Nelson and Kootenay Lake region is alive with history and heritage. Discover its past and why it continues to be a remarkably lively destination.
Self-Guided Tours
Our Self-guided Tours brochure can be viewed online or grab your copy from the Nelson or Kaslo Visitor Centres or Gerick Cycle and Ski or Sacred Ride. You can also do a self-guided tour using our digital map while walking or riding around.
Nelson
With over 350 heritage buildings and sites, Nelson is known as the heritage capital of British Columbia. Wander the colourful downtown or step inside one of our many heritage sites to discover it for yourself.
Experience Nelson's stunning lakefront in the beautifully restored Streetcar #23 with a dedicated team of volunteers who bring history to life each summer and fall.
The Touchstones Museum in Nelson recreates our history in a gorgeous interactive exhibit that pays tribute to our past. Frequently changing exhibits showcase local artists who are contributing to our celebrated cultural heritage.
The Chamber of Mines offers a taste of our mining history and some inspiration (did you know that you can still stake a claim and try your luck at gold panning in the region?).
Our meticulously and lovingly restored downtown makes shopping a fun experience, devoid of large box stores and full of local curiosities and shops.
Kaslo
The lakefront town of Kaslo offers an incredible combination of scenery and heritage.
Step inside the lovingly restored SS Moyie in Kaslo for a tour of the oldest intact sternwheeler in the world.
The Langham Cultural Centre is a hub of history and creativity not to be missed.
Kaslo's City Hall, a National Historic Site, is just one of many characterful downtown buildings.
Head up the road towards New Denver and step back in time at the ghost town of Sandon.
Meadow Creek & Lardeau
The entire Lardeau Valley and Meadow Creek area is a place steeped in natural beauty and heritage.
Take a drive past the north end of Kootenay Lake and along the Lardeau River and experience the area as it may have been seen long ago.
Lardeau Valley Museum will take you on a journey into times gone by. The museum highlights the history of the area and its mining, logging, agriculture and homesteading. In addition, a small collection of prehistoric artifacts from the early Aboriginal inhabitants of the region is displayed.
John Mitchell has created an informative video about the Ghost Towns of Lardeau It's worth a watch if you're planning a road trip and want to take in the historic ghost towns in the area.
There is so much history in the Nelson and Kootenay Lake region, and our community loves to restore and share it with visitors. Local historian Greg Nesteroff writes a very intriguing blog capturing stories of the Kootenays. Take some time to explore our region and see for yourself why we're known as the heritage capital of British Columbia.