The Procter Cinnamon Bun Ride
The Procter Cinnamon Bun Ride
The Procter Cinnamon Bun Ride
There are some experiences that are iconic, memorable and sweet. The Procter Village Café is a popular tourist destination in the small community of Procter, British Columbia. Over the years, cyclists have congregated in Nelson, usually on a Friday morning, for some delicious homemade baked goods, namely the cinnamon buns. This ride may be the perfect combination of cycling and cinnamon rolls in Canada.
A local secret
What we are sharing is a guarded secret in the interior of British Columbia, akin to how they get the caramel into the caramilk bar. It's the kind of clandestine knowledge usually only reserved for those who inhabit these parts of the Kootenays. But it's just too good to keep privy to those living in Nelson, Kaslo and surrounding areas. 
The ridiculously charming town of Nelson is pretty far off the beaten path itself. Nelson is located in a mystical place where the scenery is only equalled by the artsy and independent vibe that so many mountain towns seek to emulate. And it's a starting point for the "bun ride" in question. You could start in Kaslo or Balfour too, but those rides haven't caught-on as much, yet.
The Iconic Cinnamon Bun Ride Is Back - May 2023
May 26, 27, 28  |  RIDE - REFUEL - WIN
Image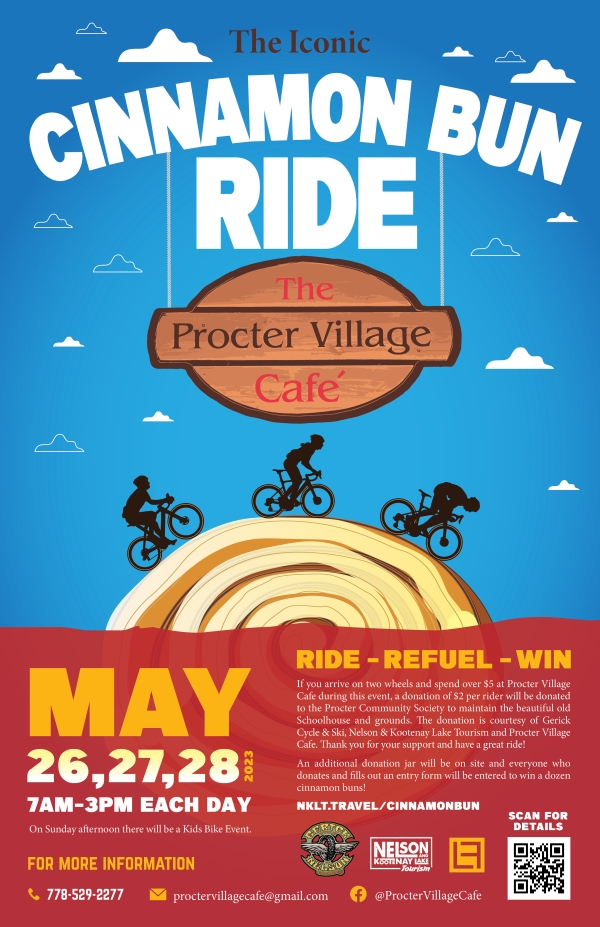 During this event, plan a ride to the Procter Village Cafe, spend over $5, and a donation of $2 per rider will be donated to the Procter Community Society to maintain the beautiful old Schoolhouse and grounds. The donation is courtesy of Gerick Cycle & Ski, Nelson & Kootenay Lake Tourism and Procter Village Cafe. This event is from 7am to 3pm all three days. We hope you can make it the trip. 
Donations
An additional donation jar will be on site May 26 to 28, and everyone who donates and fills out an entry form will be entered to win a dozen cinnamon buns!
If you want to make a donation but unable to get to the Cafe, no worries, you can still donate by contacting Lisa at the Cafe and she will provide you the details. Call 778-529-2277. There has already been a match-fund donation (thank you). Want to do one too, or something else creative?
Thank you for your support and have a great ride.
Roll with it
The 70km out and back is an ideal half-day ride with expansive lake views and quiet roads. Heading out of Nelson on the iconic Big Orange Bridge, follow the 3A for the first 27km to the ferry crossing of Harrop/Procter and ride along the Harrop Procter Road.
A short detour at "6 mile", just past Hellman Canoes & Kayaks, is a scenic and quieter alternative to the main road for 1km. It's also a window into some of the most incredible properties in BC. Rejoin the 3A as it hugs the water and passes by Kokanee Glacier Provincial Park to your right.

Other than this mini optional diversion, part of the beauty of this ride is that no route finding is necessary. Just follow the yellow brick road all the way to what might just be the world's shortest free ferry.
The Harrop-Procter ferry is unique in that it operates on a cable. Don't worry if you just missed the boat – the three minute crossing operates 365 days a year, 24/7. The views on the water are worth the trip alone, but the best is still yet to come.
The southern side of Kootenay Lake's west arm is where the real cycling fun begins. Letting the small cadre of vehicles speed past, follow the Harrop Procter Road east for 8km. There's nothing but open road ahead until the next automobile release from the ferry.
By then, chances are you'll be arriving in the tiny town of Procter anyways, where the "bun run" gets its name. Turn right off the "main" road on 3rd Ave and you'll come to the bustling Procter Village Café on your left in less than a minute (284 - 3 Ave).
Got (cinnamon) buns, hun?
The intoxicating smell of icing sugar and cinnamon lovingly nestled into a yard's worth of freshly baked wrapped dough awaits. The Café is usually open Wednesday to Sunday, 7am-3pm, and also on special holiday Mondays. Check them out on facebook to see confirm hours of operation and more inspiring content. 
In Procter there is also a library, playground, chiropractor, Hall, General Store and other businesses all nestled together.
Although we wish we could tell you that the ride back to Nelson is all downhill and you could savour your edibles while coasting on two wheels, it's probably a good thing to work off a few of those calories. Just so you can justify a return trip as soon as possible, of course.
#findingawesome  | #explorekootenaylake
Discover more related to this story
TRAVEL BOOK
Read our visitors guide online or order a copy of the official visitor's guide and map for our region.