You are here
Baked in the Kootenays
By John Bowden
Wake and bake, the flavours of Nelson and Kootenay Lake are calling. Careful though, you might just get hooked on the selection of hand-crafted varieties. That sweet aroma is tough to resist.
Yes, this place is a haven for artisan bakeries and fresh breads.
I'm not talking Wonder Bread. I'm talking the real-deal, handmade by independent bakeries, with equal parts pure ingredients and a passion for the craft. Little suprise that sourdough, the most natural of breads, is the focus for bakeries here.
A step inside Nelson's well-known Kootenay Co-op grocery store reveals shelves overflowing with locally baked bread from the region. I found myself wondering how so many bakeries are able to thrive here. What follows is a little (written) taste of some of Nelson and Kootenay Lake's favourite bread makers.
The venerable Kaslo Sourdough Bakery has been creating traditional bread for over 20 years. What started out as a small summer-only enterprise on the town's lakeside main street has grown to become a year-round business. The family-run bakery currently crafts over a dozen different varieties of hearty bread, and has recently pioneered sourdough pasta.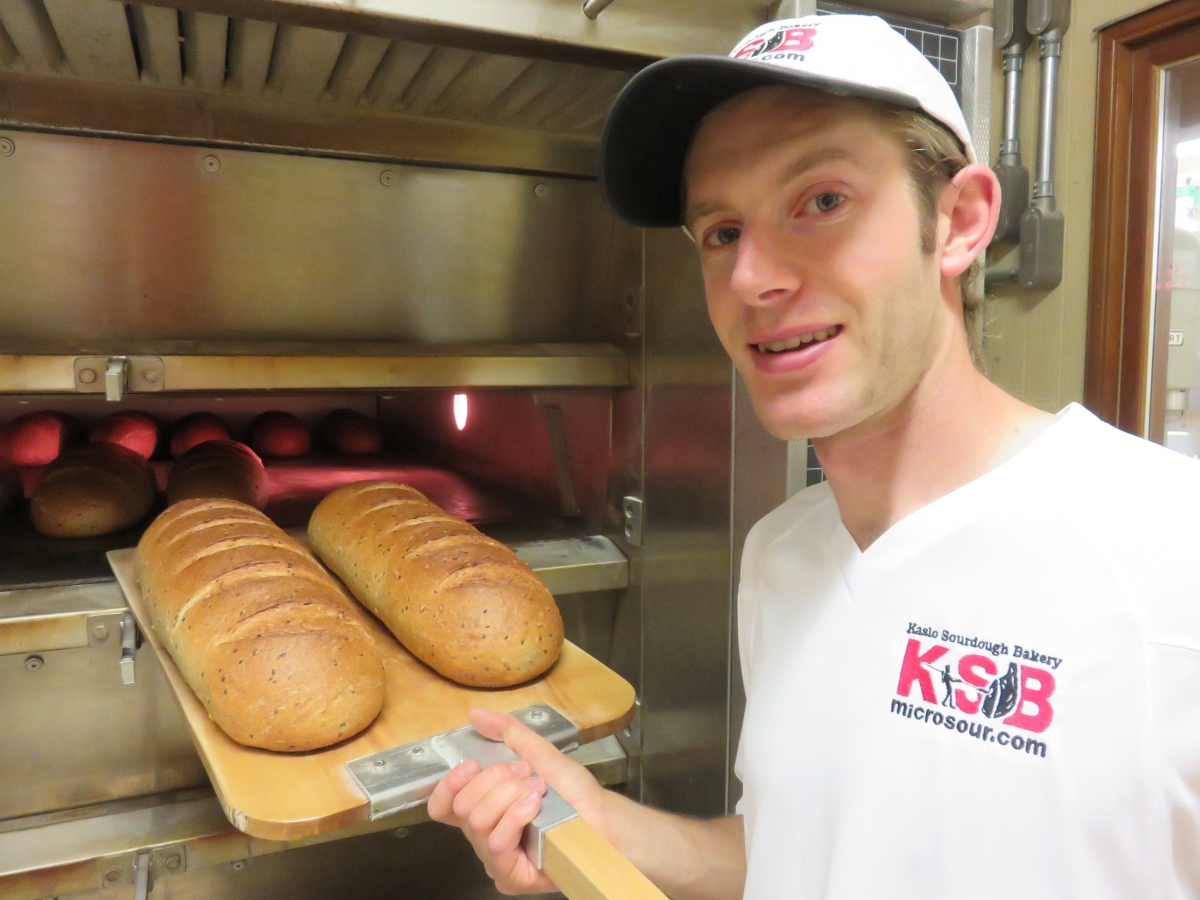 I asked Heide Lettrari what makes her family's bakery distinctive. "Over the years that my parents have been baking, they've developed a large variety of different kinds of breads, in part as a response to customer requests, but also because of wanting to stay relevant and ahead of the curve for bread-making. So that is reflected not only in our various regular sourdough breads, but also in our rye and pumpernickel loaves, and our wheat-free breads like Ryelander, Hobo, and Rebel."
She also mentioned that the remoteness of the Kootenays leads to unique opportunities, including taking risks and trying something different. Baking sourdough bread made sense for KSB, as it aligns with local demand for healthy and nutritious food.
I got a similar feeling from David Berringer, owner of Uphill Bakery in Nelson. David refers to his company as an organic "micro-bakery", with his limited production featured in only a handful of restaurants and grocery stores in town. "People here like buying locally, and appreciate the diversity of small local businesses." Hot tip – Oso Negro makes their killer sandwiches with his bread, while gourmet restaurant Bibo features it too.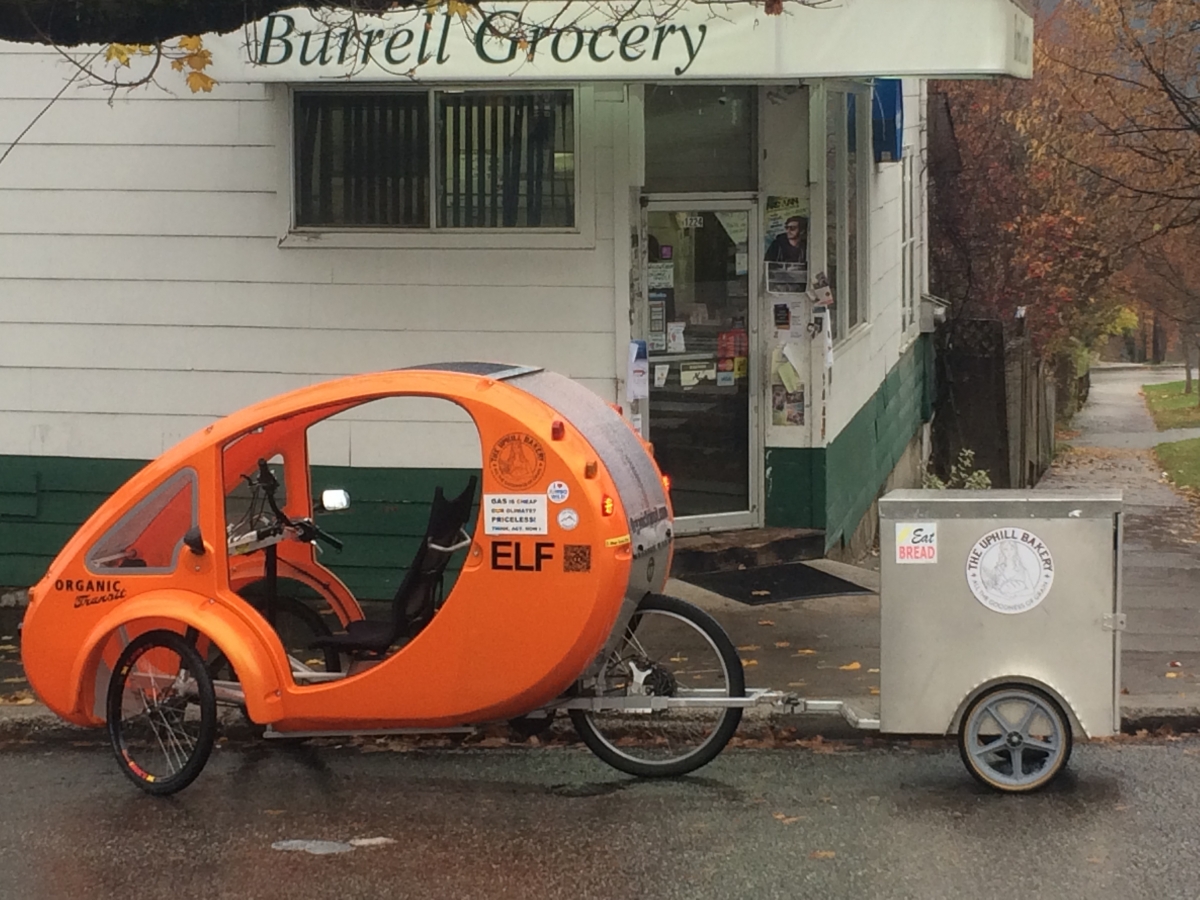 During the warmer months, David can be seen in Uphill Bakery's signature bright orange "ELF" tricycle making deliveries around town. Perhaps tricycle is a bit of a misnomer; it's more like a three-wheeled pod, complete with a trailer for his freshly baked goods. Does it get any better than handcrafted bread delivered by environmentally friendly transportation?
"People here like buying locally, and appreciate the diversity of small local businesses."

David Berringer, Uphill Bakery
Located on Nelson's bustling Baker Street, the Kootenay Bakery Cafe Cooperative has been a community fixture since 1991. It offers a recently renovated, family-friendly place to enjoy wholesome, organic and delicious foods. KBCC also supports local farmers and producers. "People feel good knowing that while they enjoy a delicious treat they are supporting our worker owned business and in turn the greater community."
"Kootenay communities are strong supporters of local farmers, artisans, and craftspeople, and bakeries are no exception. People in the Kootenays are lovers of healthy and flavourful foods."

Kootenay Bakery Cafe
Locals particularly embrace the freshly baked sourdough varieties. "Kootenay communities are strong supporters of local farmers, artisans, and craftspeople, and bakeries are no exception. People in the Kootenays are lovers of healthy and flavourful foods. Sourdough bread has the combined benefits of increased digestibility, complex flavours, and a wonderful crumb texture and crust that yeasted breads do not. Sourdough breads are labour intensive and take up to 24 hours to produce and people really appreciate the artistry and time put into making such wonderful bread."
If you spend any time in Nelson, you might be surprised to hear locals conversing in French, despite Quebec being five provinces away. (That's about the equivalent of Madrid to Moscow. Canada is ridiculously big. But I digress). The mountain town boasts a significant French Canadian population, and is also home to the European influenced Au Soleil Levant bakery.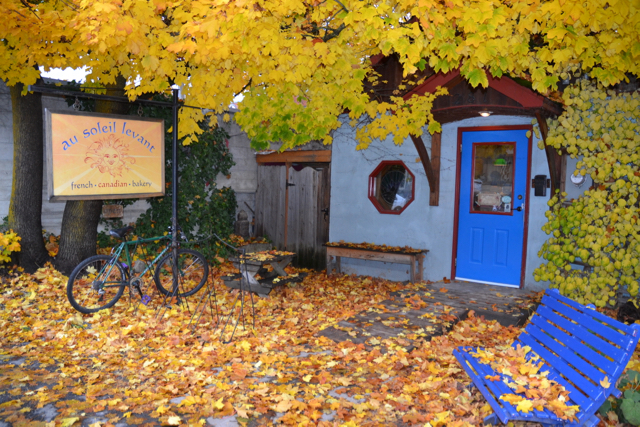 Tucked away off busy Baker Street, it can be a bit of treasure hunt to find. But the reward is well worth the effort. Stepping inside the swing door of the tiny bakery is a feast for the senses. There's nothing to hide here; everything is right in front of you.
The mouthwatering aroma of fresh baked bread complements the sight of artistic loaves and baked goods for sale. Each day features a selection of seven different breads (if you're there on a Friday you're in luck! The egg bread, or challah, is superb).
Like the other local bakeries, Au Soleil Levant has been a community fixture for quite some time. Both the business and the sourdough starter have been going strong for 17 years!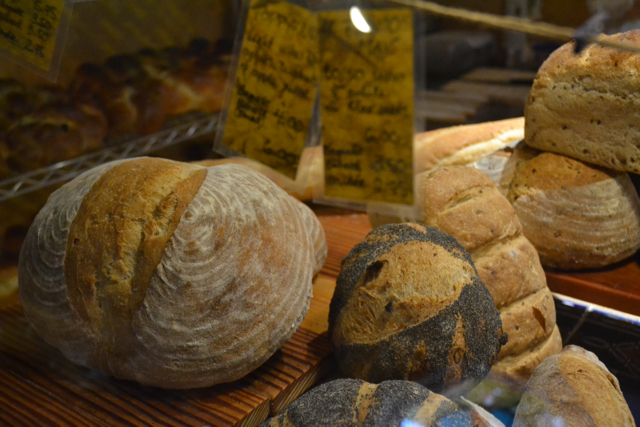 This sustainability is a testament to the community's desire to support local businesses, and particularly those that create healthy and fresh food. It also means that as a visitor, you can trust that the locally baked bread in Nelson and Kootenay Lake region is worth seeking out.
Although Nelson continues to develop a well-deserved reputation for serious coffee, it's bakery scene is also worthy of any visitor's attention. Empire Coffee is a great example, combining top-notch coffee with fresh baked goods from their fancy new pastry kitchen. Kaslo's Landmark Bakery also serves up freshly baked goods in a cozy small town atmosphere.
Healthy, wholesome, and delicious, locally baked goods are a culinary delight sans comparaison. Bon appetit!