You are here
Ainsworth Hot Springs
Breathtaking and Inviting
Tiny Ainsworth BC, with a population of only 50, overlooks Kootenay Lake and is known for its incredible hot springs. About 45 minutes' drive from Nelson or 15 minutes from Kaslo, it also has amazing limestone caves, and many fishing and boating opportunities.
Hot Springs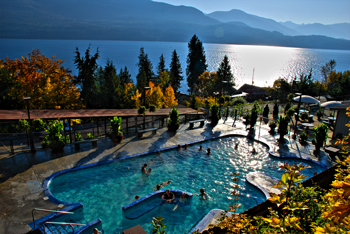 Ainsworth Hot Springs Resort is the focus of the village. The hot springs themselves are open year round, 365 days a year, and feature a natural 150-foot horseshoe cave, a large lounging pool, and a stream-fed cold plunge. Renovated in 2012, the resort also features accommodation, a restaurant, and the Sprit Water Spa. Book online or for specific inquiries call 1-800-668-1171.
The hot springs have been healing visitors with its mineral waters for hundreds of years, and the cave experience is worth a visit in itself. It should definitely be on your bucket list.
Ainsworth Motel is an annual destination for many travellers, offering a clean, cozy room witha view of the lake.
Cody Caves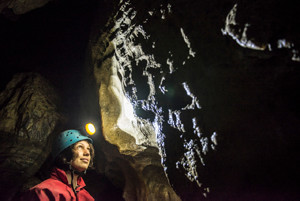 Located just north of Ainsworth, Cody Caves Provincial Park has an impressive array of limestone caves. The result of 170 million years of flowing water and dissolved rock, the caves continue to evolve and change.
Guided caving tours run in the spring, summer and fall months, from shorter family tours to multi-day alpine adventures.
Fishing and Boating
An angling and boaters favourite, world-class Rainbow Trout fishing is also on offer any time of year. Woodbury Resort & Marina is 5km north of Ainsworth Hot Springs and offers boat rentals, boat launching and charters. Cabin accommodation, RV and camp sites are also available.