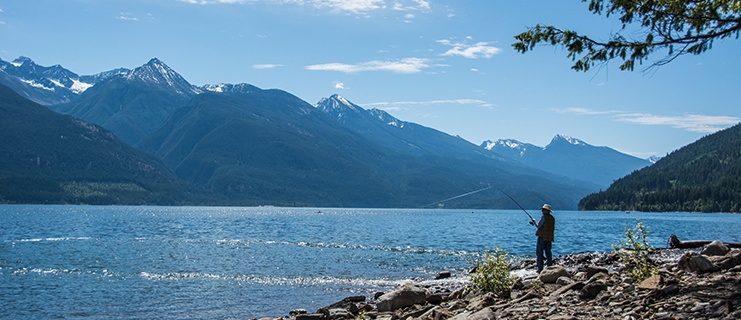 You are here
Fishing
Year-round fishing! Numerous marinas on Kootenay Lake provide access, and there are charters and fishing guides as desired. Fishing derbies take place in the spring and fall, while winter is a favorite season in itself as big fish come up from the depths to eat.
For background information and history, Kootenay Mountain Culture has written an article summarizing the history of the beautiful trout, while Friends of Kootenay Lake is a local organization with lots of information on Kootenay Lake and the fish within it.
Important: Kokanee ban. There is currently a ban on catching any Kokanee due to the low numbers in the lake over the past few years. To find out what you can fish and when, and for licensing information, visit the government website.
Fishing Derbies
The spring and fall fishing derbies are run by our local organizers:
Charters and fishing guides
Fishing Licenses
Licenses need to be purchased before you fish, and you can get them at sporting stores and fishing retailers. A separate license is also required to fish in national parks, which can be purchased at park headquarters at each park site.
See Travel British Columbia's travel resources for up-to-date licensing information.
Winter Fishing on Kootenay Lake
Because Kootenay Lake does not freeze-over in winter, you can still fish during the colder months here. The bigger fish come up from the cold depths (152m/500ft) in the winter, and if you slow down and stay patient, you can catch a 20 pound Dolly Varden or that elusive Gerrard Rainbow Trout.
Preventing Invasive Species
We want to keep Kootenay Lake pristine and free of invasive species, we ask all anglers to please CLEAN, DRAIN and DRY their boat and equipment. For more information of how you take action and prevent the introduction and spread of invasive species visit the CKISS website.

Reel Adventures offers premiere fishing packages for some of the best fishing in the World. Kootenay Lake does not freeze over in the winter, so it is known for our year round fishery, and winter is our prime fishing time.
250-505-4963  
Located at the Balfour Ferry Landing
Kootenay Wild - Fishing, Golf Packages and Taxidermy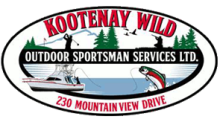 Our Charters offer guided sport-fishing tours that target Gerrard Rainbow Trout and Bull Trout. We also offer golf and fishing packages.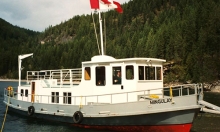 Cruise, fish and explore from the unique vantage point of a houseboat. Choose from our four cruise vessels, each fully furnished with a spacious wheelhouse, full galley, full bathroom and complete sleeping facilities.