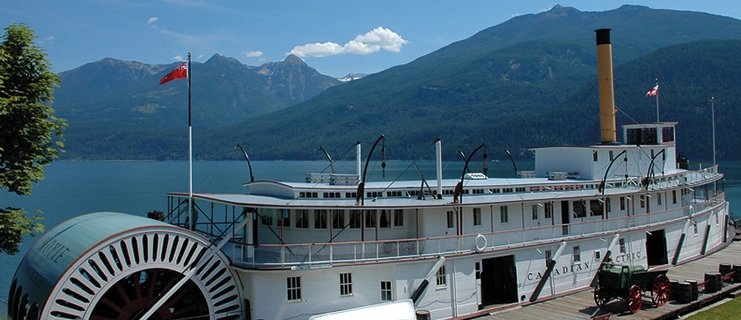 You are here
SS Moyie Sternwheeler
Take Yourself Back in Time & Enjoy a Tour on the SS Moyie
From spring to fall, the SS Moyie is open for you to relive the days when passenger sternwheelers took people up and down the Kootenay River. In fact, sternwheelers traveled all the way to Astoria, in Oregon along the Kootenay to the Columbia River. It was a time when traveling by boat was more common, and the shared history of the Portland and Astoria area with the Kootenays is a long and lively one. In fact, the first mayor of Portland was Canadian, and Ainsworth was named after a prominent Portland businessman. So come, share our unique history and see the world's oldest intact sternwheeler, carefully restored to her glory days. The SS Moyie is a truly majestic site, and great care has been taken to keep her at her best.
The SS Moyie — Downtown Kaslo Along the Waterfront
The SS Moyie had a long history along the Kootenay River, from 1898 to 1957, when she was retired. Today, she sits right in downtown Kaslo, along the waterfront park on the bay. The beach, lots of great restaurants and shopping are close by. Kaslo, the "Little Switzerland" of Canada, is a picturesque village that we love sharing with visitors.
Online Information About the SS Moyie
To help you learn more about the SS Moyie and this time in the Kootenay Lake history, there's a great online exhibition on the SS Moyie website. Take a look at the old photos and get a sense of what life was like for residents and visitors back in the days when traveling along the Kootenay and Columbia rivers was a daily occurrence. The images of Kaslo's early days will take you back to a simpler time.