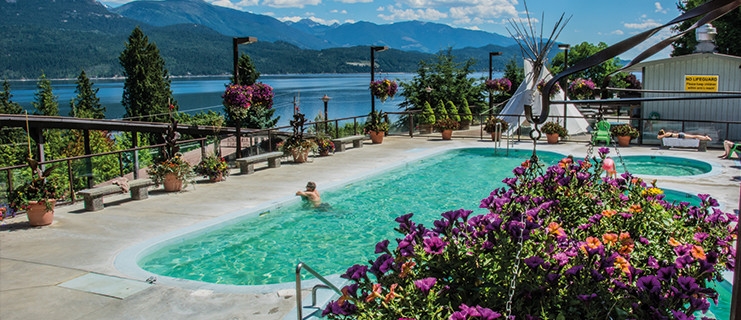 You are here
Ainsworth Hot Springs
Just 15 minutes from Kaslo or Balfour, and 40 minutes from Nelson, a visit to the world-famous Ainsworth Hot Springs is a quintessential part of any trip to our region.
Three pools, including a large, family-friendly pool, are set into the side of the mountain, each with fantastic views of Kootenay Lake.
Open year-round, the spring and fall are great times to beat the crowds, but it's worth a visit at any time—even Christmas day or New Years day, when hopefully snowflakes are fluttering down during your soak.
Natural source
Originating in the Cody Caves area, the water is naturally heated two kilometres beneath the surface as it filters through porous rock. Hydraulic pressure then forces the water upwards where it emerges at a steamy 47C.
The water is then cooled to an average of 42C before it first enters Ainsworth Hot Springs. The main lounging pool temperature averages about 35C, and there is also a stream-fed cold plunge pool.
Spectacular caves
One waist-deep pool loops through a magnificent 160-foot cave, with subtle lights to guide your way. The beauty of this experience, from the limestone stalactites to the steamy air from the hot mineral waters, is worth a visit in itself.