Living Here
Living Here
The Nelson Kootenay Lake area is a dream come true place to live. Imagine waking up to fresh air, breathtaking views, and friendly neighbours who know your name and support your local business. It's a small region, but with big possibilities. There are many avenues to pursue employment and to find the right place to live. Here is some information that we hope will get you heading in the right direction.
Canadian Immigration
Community Futures
Community Futures Central Kootenay is a not-for-profit community economic development organization. We are committed to helping people in the Central Kootenay region who are either operating or are planning to start their own business.
Imagine Kootenay
Thank you for your interest in the Kootenay area. We are confident that you will be impressed with the business and lifestyle opportunities that exist in our growing and vibrant region. Imagine Kootenay is a joint-initiative of local governments, economic development organizations & Chambers of Commerce with the aim of attracting and retaining investment. Come and discover the advantages of doing business in the Kootenay region - where opportunity meets lifestyle.
Kootenay Career Development Society
Kootenay Career Development Society is a dynamic, diverse and change-responsive centre of excellence that empowers individuals, employers and communities economically and socially through career development, employment counselling, and human resource planning.
You Can Do That Here provides weekly podcasts on innovative ideas in the area. The opportunities are endless!
Kootenay Employment Services Society
Whether you're looking for work, considering a career change, investigating retraining or thinking of starting your own business KES has something for you.
Local Media and Marketing
Real Estate and Land Development
Throughout the Nelson Kootenay Lake region there are numerous realtors as well as land developers, each helping you find or develop the perfect place to live. We are currently creating a listing of those who support tourism initiatives and promote the region.
Welcome to our region: BC and the Kootenays
AFKO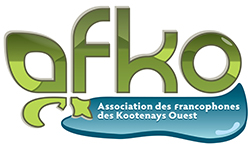 The Association des francophones des Kootenays Ouest (or AFKO, translated as the Francophone Association of West Kootenays) promotes French language and culture throughout the region.
The AFKO is a not-profit organisation which offers a variety of French-language services, among them a book and video library, weekly radio show, quarterly newsletter, summer day camp, travelling library (bibliobus), French-language directory of services, language courses, and assisted public access to computers and the internet. The AFKO also organizes a variety of events celebrating French culture and open to all Francophones and Francophiles in the region. Our community center located at 807 Baker street is open from monday to friday.
TRAVEL BOOK
Read our visitors guide online or order a copy of the official visitor's guide and map for our region.