Touring App
Tips & Trips 
The Kootenay Lake Road Trip App includes various fun and informative self-guided audio tours. You can enjoy the tours in the privacy of your car, walking or even on your bike.
 

Download App Now!
Last Chance Summer Giveaway
Download the Kootenay Lake Road Trip App and then Enter to Win the "Last Chance Summer Giveaway" valued at $1000 in prizes. For a bonus entry show us a photo or video of one of your favourite experiences while using the App. Tag @NelsonKootenayLake and use #KootenayLakeApp in your social media to be entered. Contest ends September 30, 2022, 11:59pm.
Prize: Win local gifts plus an Artcation from local potter Diane Walters at eARTh Community Clay Studios. The Artcation is valued at $700 and includes a 3 night stay at Gallery Suite and a 3 hour soap stone workshop through eARTH Studios. 
Want a sneak peak?
If you would like a sneak peak of the app, check it out now, on desktop, before you travel to our region. 
The Driving Tour features over 100 points of interest all around Kootenay Lake. Choose your preferred direction and start location: #1, #2, or #3.
The Mural Tour, in both English and French, highlights over 50 murals in Nelson.  You can start and finish wherever you like.
Driving Tours
The Driving Tours tell the story of this region from forests to First Nations, and attractions to amenities. If you are curious to learn about the region you are in the right place; with over 180km of gorgeous highway driving, close to 100 sights, sounds and stories and three different directional routes (#1, #2, #3). We have created an informative journey that fits with your travels. The tour can begin anywhere around Kootenay Lake and you can use the app as long or as short as you'd like. 
#1
#2
#3
Mural Tour
In partnership with the Nelson International Mural Festival we have created a self-guided mural tour with over 50 captivating murals tucked into alleys and side streets around Nelson. The Mural Tours are available in both French and English. To choose which language, go to Settings at the bottom of the App and choose your language of choice.
The murals can be experienced starting anywhere you prefer. Meander around, stop for some food & beverage, or do some shopping, and carry-on at your own pace.
Easy To Use 
Download the free app, select your preferred route, turn up the volume, and hit the road! The audio tour plays while you drive, automatically telling you about the area, and even plays local music for your driving pleasure. 
How To Use The App
Check out this handy instructional video from your local tour guide Darren! 
Download the Kootenay Lake Road Trip App from Google Play or the Apple App Store.
Allow the app to Use your Location Always (we don't collect any information on your location, this is just for GPS functionality).
Turn on Push Notifications (this is so the app is able to tell you about points of interest even if your phone is locked).
After downloading the app, you'll notice there are three options: #1, #2, #3. Select the tour that best matches the direction you'll be driving.
Start the tour and enjoy! Focus on the road, we will take care of the rest. No need to check your phone during the tour and while driving.
THINGS TO DO
There is no shortage of things to do in the region, before or after your tour. Get off the bike or out of the car and go explore - shopping, dining, attractions and more.  We've created some itineraries based on your traveller type. Explore our trip ideas before heading out. 
Image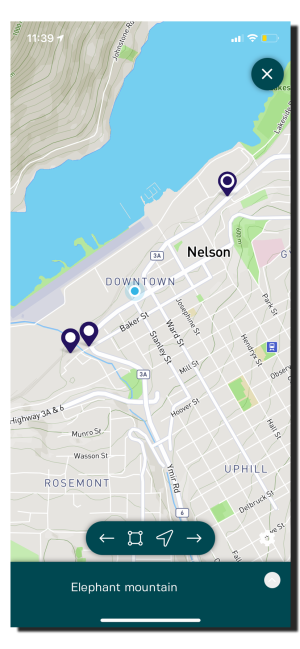 Enjoy the Tours
Let us know what you think of the tours. Your feedback will allow us to continue improving the app and develop new tours. Email marketing@nelsonkootenaylake.com
Frequently Asked Questions 
To assist you in using the App here are some quick answers to your potential questions. 
TRAVEL BOOK
Read our visitors guide online or order a copy of the official visitor's guide and map for our region.