You are here
Why We Paddle Kootenay Lake
Kootenay Lake is a quiet lake: there are no outright bans on motor boats on the lake, but our lake is not overridden by them. As Steve Kerr, of Kerr Paddleboards notes, when people go out on their motor boats on Kootenay Lake, it's often toward a destination: they're headed off toward the east shore, perhaps, or out fishing for the day.
In any case, it's notable that Kootenay Lake is a lake that co-exists peaceably with many craft, and certainly I'm not the only one to notice that many people enjoy paddling on her.
The First Paddlers: the Kootenay or Sturgeon Nosed Canoe
Of course the original craft paddled on Kootenay Lake was the Sturgeon nosed canoe, or yaksumit, used by both the Sinixt and Lower Kootenay Band (Yaqan Nukiy). This canoe is also traditionally known as the "Kootenay Canoe" and was regularly used up until the beginning of the twentieth century.
The Kootenay canoe is perfectly suited to our lake: it loves both bullrushes and turbulent waters. The willow tree used to create the craft would be felled in spring when the sap was running, according to Nancy Wynecoop, a Sinixt elder, who related her memory of making the boats in the book, "Geography of Memory" by Eileen Perkes.
Today at Selkirk College, Jessica Morin is leading a group of students in recreating a Sturgeon-nose "Kootenay" canoe, helping to keep that tradition alive.
Canoes, Kayaks and SUPS: Paddling Kootenay Lake
Why we paddle our kayaks, canoes and SUPs is tough to hone in on, but Bob Hellman of Hellman Canoes nails it: "They have become a way of defining myself, a way of connecting to nature and a way of being in touch with my spirit."
Exactly. There's a culture to paddling, especially paddle boarding, that Steve Kerr likens to the surf culture on the coast, or the snowboard culture in the alpine. Mike Kelly (full disclosure, he's my husband) is an avid skin-on-frame kayak enthusiast, and is fairly obsessed by the exhilaration he feels so close to the lake on his Aleut ikyak (Aleutian Island kayak). Whether it's witnessing a beaver dam being built or getting caught up in a sudden swell, the lake provides a way to be in the moment that rivals the best yoga retreats.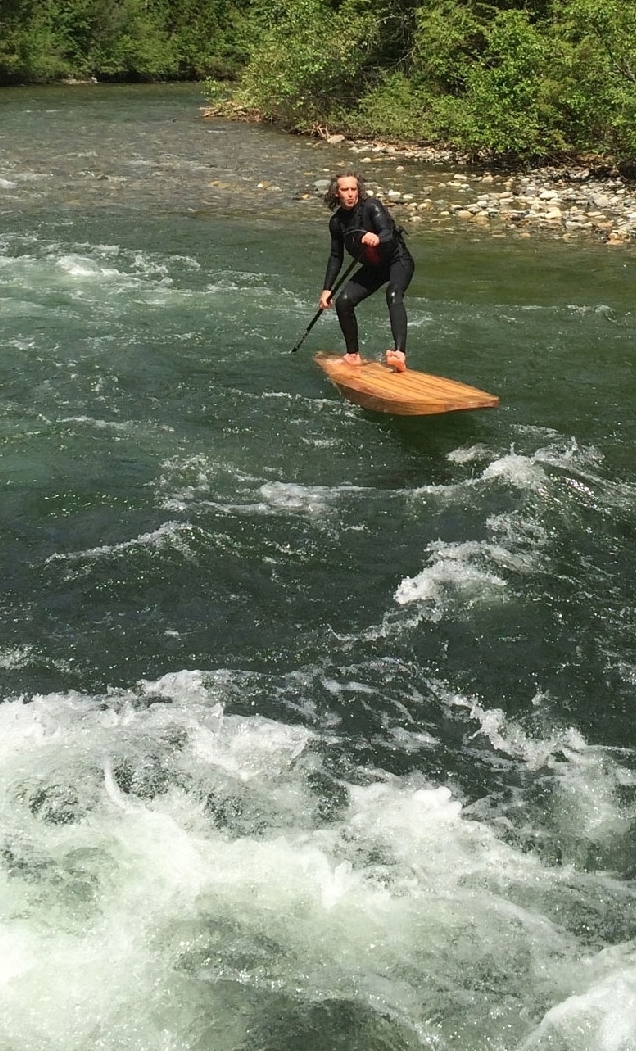 Speaking of yoga retreats: Once SUP paddlers have mastered their craft, the next step, at least on Kootenay Lake, seems to be mastering yoga on the SUP. Steve Kerr relates one memorable occasion, surfing on his SUP, where he became aware of the near-surreal timelessness as he stood on his board, doing yoga, surfing in place where the water created an eddy over a fallen tree.
As he says, "It's the mellowest thing."
And it can make your heart beat faster, too: It can be fast paced, white water, rushing, wild, windy and raw. Paddling Kootenay Lake, you can "be one the moving water in a way that is so much more exhilarating" than in a boat.
If you'd like a real thrill, of course, there's the rafting option, too. Whether with Lardeau River Adventures or Nelson Whitewater Rafting, you can experience exciting class 3+ rapids as well as quieter paddles.
Perhaps the ultimate reason why we paddle on Kootenay Lake is that it's fun: naked feet and wiggling toes on the board, wind rushing through your hair as you sit in your kayak or canoe, the river is always changing: the nooks and crannies, the infinite features as the current moves and the wind picks op or dies down. Kootenay Lake is not a still lake.
Come Paddle With Us This Summer
Kootenay Lake has many opportunities to enjoy a paddle this summer. From Lardeau to Kaslo to Balfour and Nelson, there are lots of places to rent craft or go for the day on guided tours. Take a look at our information here on Nelson Kootenay Lake Tourism for a great start to ideas for your summer paddling experience.
Experience Kootenay Lake this summer: consider yourself invited.
___________
Top photo: http://www.sturgeon-nose-creations.com/history
Second photo: http://kerrboards.com/