You are here
A Weekend of Pride for Nelson Kootenay Lake
It will have been nearly two decades (that milestone will be hit next year!) when Kootenay Pride hits the streets this Labour Day weekend, September 4 through 7.
Fringe Becomes Mainstream
What was once seen as a fringe event this year encompasses all of Nelson and her neighbours, with even school district 8 joining in — their float will be a rainbow decorated school bus, of course. Kootenay Pride celebrates that wonderful Kootenay ideal of unity and diversity. Everyone is welcome here, gay, straight, lesbian, bisexual or transgender. And over the Labour Day weekend (September 4-7, 2015), a series of events lets everyone know how very welcome they are. From the Friday night "Meet and Greet" at Finley's to the Saturday night at the Spirit Bar to the infamous parade on Sunday and Mimosa Monday at the Hume to end the weekend in style, there are events for everyone, all weekend long.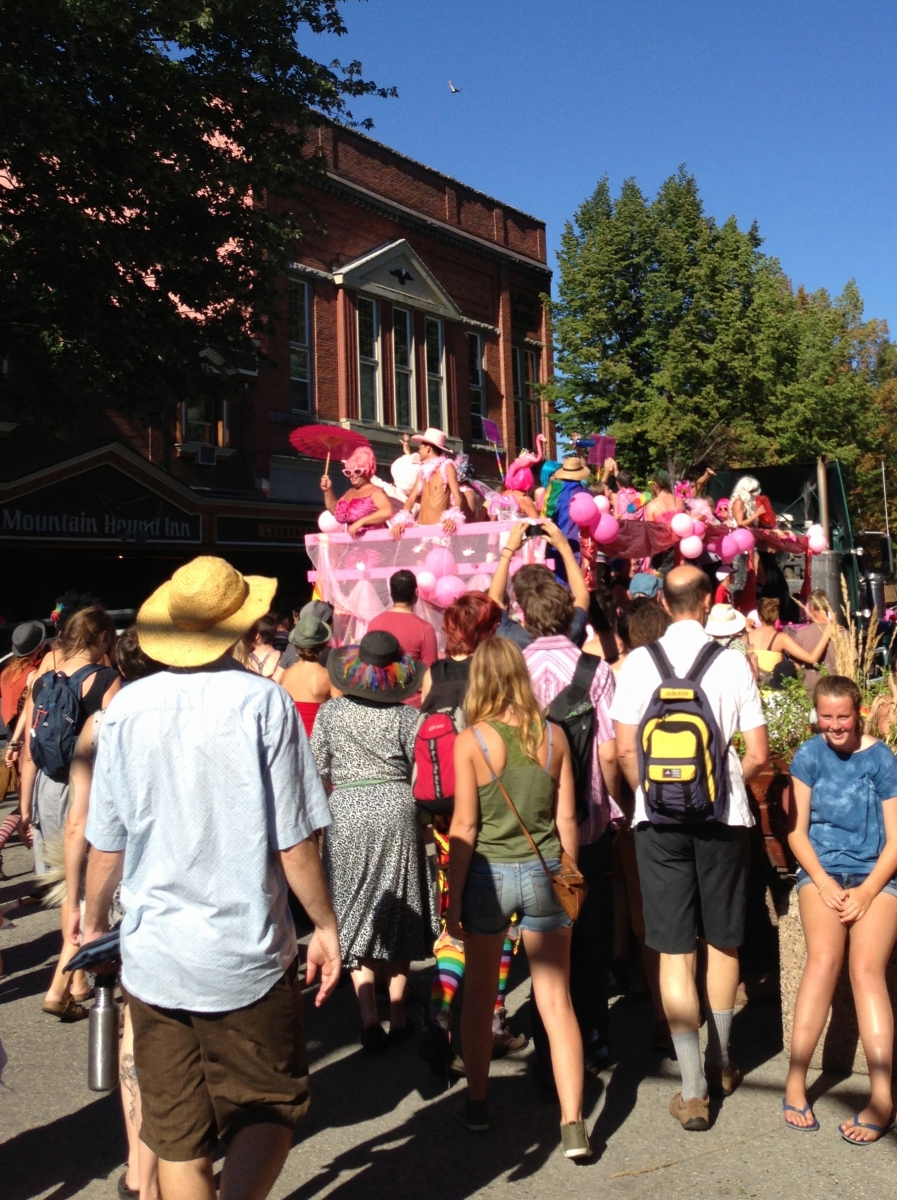 This is About Human Rights
Last year, as reported in the Nelson Star, the Nelson-Creston MLA Michelle Mungall said, "This is about human rights. Being here and calling for human rights, that everyone single person matters. Every single person has the right to love whom they choose. That's a political statement, and we make it here every year with fabulous colours, dance moves and this year I brought my new sparkle shoes," she said.
It's true.
Pride is a lot of Fun
It's also a lot of fun. With events running all weekend long, many of them family-friendly, Kootenay Pride has really come of age and, at the same time, our community has grown to more fully embrace the incredible diversity among us.
With all ages joining in on the parade, from young kids to their grandparents, the parade definitely has an inclusive feel to it. Everyone feels welcome, as they should.
The full event schedule includes:
Kootenay Pride Meet and Greet at Finley's — 6:00 Friday night
Deep Pride at Bloom — 10:00 Friday night
Coffee House at Expressions — 12:00 Saturday
Spirit of Pride Gala Drag Show and Dance — 10:00 Saturday night
Kootenay Pride Parade along Baker Street — 3:00 Sunday
Pride Wine Garden at Bibo — 4:00 Sunday
Mimosa Monday at the Hume — 11:00 Monday
Kootenay Pride, now officially nearly twenty years old, is fun. It's about celebrating the diversity within us, our families, our friends and our neighbours. Come and join in the celebration this Labour Day weekend and help us show the world why the Kootenay Lake area is home to more rainbows than anywhere outside of Ireland :)