Gary McCandlish - Artisanal Bowl Turner in Balfour
Gary McCandlish - Artisanal Bowl Turner in Balfour
Gary McCandlish - Artisanal Bowl Turner in Balfour
So, I'm going to split my firewood more thoughtfully from now on. I still don't quite believe what I saw, but I was there, in Gary McCandlish's shop, and unless he's some sort of magician (I'm a little bit convinced he may be) I witnessed the procedure he goes through to turn what I would have called a piece of firewood into a finely hewn, absolutely gorgeous, wooden bowl.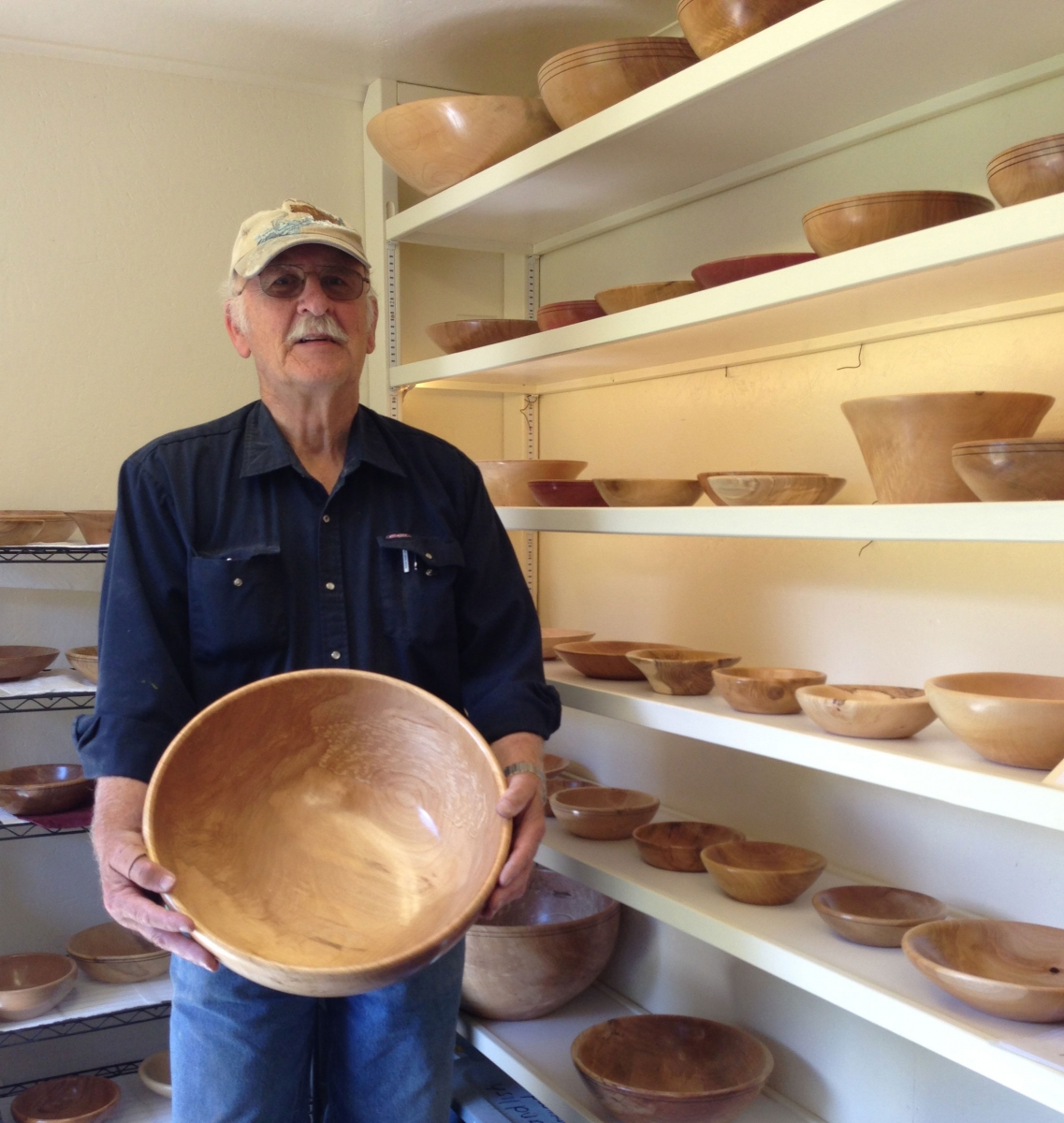 Crafting a Life in Balfour
Gary is so relaxed and at ease with the skill, the patience, the craft, the work involved in each bowl, that I at times took it for granted myself as I looked  at each piece, noticing the gorgeous swirl of the wood grain, the shine, the small detail.  As he says, "Sometimes they work. Sometimes they don't." I know little about bowl turning, except that in the world of fine woodworking, bowl turners might be the goalies of the lot. Insanely talented, a little mystical, and a breed apart. 
From a Simple Block of Wood — Art
Bowls start out as I mentioned, as a block of firewood. Sometimes taken from the knottiest, gnarliest bit of the tree, the skill is often in creating a bowl that could bring you to tears it is so beautiful — or, if you aren't lucky, it will burst and it was all for nothing. No bowl. Start again with a new piece. And so it goes. To be clear, bowls don't explode like this often. It simply struck me that this was a possibility. 
Bowl turners sometimes seek out wood that might explode, because the patterns that these bowls produce are beautiful. This is their nature. 
Becoming a Bowl Turner
Gary was a millwright before he discovered bowl turning. He was a millwright for years as he practiced bowl turning. As he put it, the day he went from millwright to bowl turner was the day when he had made bowls for all his family, all his friends, and he still had more bowls. People were asking for them. 
As I consider these bowls, the detail stays with me — a good example might be the vessels he showed me. Quite casually, as I recall, he mentioned that a recent newspaper article noted that he had vessels. Ah, he explained to me, he realized he needed to make a few vessels then. The upcoming Columbia Basin Culture Tour is fast approaching, and visitors will want vessels. 
Fair enough. But what is just occurring to me now is that these vessels are works of art. Really, it may have well have been me considering a Tupperware container for all the care I gave these vessels in that moment. But the lids fit perfectly, and the entire vessel, each one, was a lovely symmetrical piece of art that was also practical. And food safe.
The Talent in Each Piece of Wood — Cherry, Acacia, Walnut...
Gary has created bowls from the insanely hard Acacia, from the common birch (which is, in my humble opinion, the most beautiful of all the bowls) from cherry, walnut — You name it. He tells stories about the wood, stories that in some way renewed my faith in humanity. If we can create such beauty from a slab of wood, there must be good in this world. There must be a God. 
There are people who understand this, much better than I. In the recent storm, a walnut tree fell, and someone thought to call Gary. He rushed over, cutting the wood, getting it ready to haul away and make bowls from. In the meantime, another bowl turner got wind of this bounty and called. I have the impression there is a bit of an underground network involving trees and bowl turners. Gary explained that oftentimes, in cases like this, the people involved simply want the wood to go to a higher purpose.
A Higher Purpose
A higher purpose. This is why we have art. This is why it is so crucial that we make art, and if we are not making art, this is why we should support artisans and artists. They make sure that fallen wood goes to a higher purpose. 
Sometimes, too, a tree will fall or will need to be cut down, and Gary will be commissioned to create bowls for those for whom that tree was special. In one case, a walnut tree needed to be removed in order to plant more flowers. The bowls made were for the children, who had spent years collecting the walnuts from that tree. Having collected walnuts a few times, this is no small chore. I would say a gorgeous hand hewn walnut bowl might be a fair exchange in that case. 
From Tree to Bowl
Or as a memorial to someone who has passed, for whom that tree was special. Trees are like that. As Gary was talking, I thought of trees in my life that I would like bowls from. I wanted to ask him about Jacaranda bowls, as Jacaranda trees are trees from my childhood. The tree I first climbed, before the Pecan tree, before the Oak. 
What I perhaps especially loved, listening to Gary speak about the bowls, about the trees, about the wood, was the combination of matter of factedness, combined with touch of esteem. Gary creates his bowls in Balfour, off of Highway 3A in his shop, send him a note, call 250-229-5434 or just stop by. If you drive along the highway, you can't miss the gorgeous handcrafted sign proclaiming: Gary Wooden Bowls. 
Discover more related to this story
TRAVEL BOOK
Read our visitors guide online or order a copy of the official visitor's guide and map for our region.