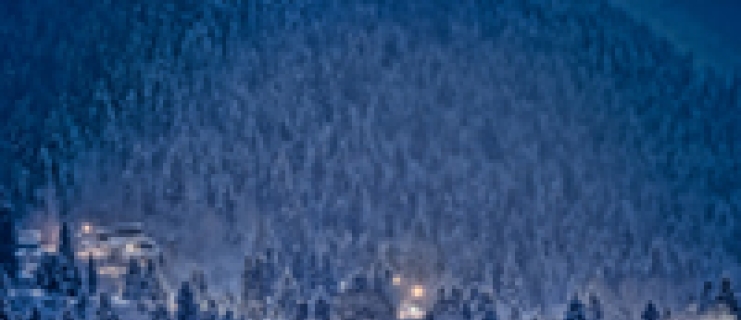 You are here
With Nelson/Rossland fresh off winning the title of Best Ski Town in North America, Nelson Kootenay Lake celebrates the region's adventure and relaxation.
What makes up the best ski town in North America? Boutique-style accommodations hidden away in the mountains? High end, unique shopping and dining? Knee deep powder on and off the slopes of Whitewater Ski Resort? World class entertainment and arts?
At the end of 2012, California-based ski enthusiasts' magazine Powder ended their search for North America's best ski town in their Ski Town Throwdown competition crowning Nelson, BC and Rossland, BC North America's best. From east to west coast, 32 ski towns across the continent faced-off in head to head battles vying for the title. Even though Nelson's competition may have offered a wonderful ski experience the powder and the culture of the area is second to none and Nelson Kootenay Lake has been celebrating its progressive diversity for years. While the community celebrates its latest accolade, John Stifter of Powder Magazine comments "Every day is cause for celebration in the Koots." The picturesque mountains are not only destinations for powder junkies; the same award winning peaks that have earned many accolades, have also created some of the world's best adventure sports athletes like Nelsonite Kurt Sorge's win at the 2012 Red Bull Rampage. Not keen on racing down hills on skis, snowboards or bikes? Nelson Kootenay Lake goes beyond adventure offering one of the best arts and culture scenes in North America. Author John Villani included Nelson in his book The 100 Best Small Art Towns in America.
Proof of Nelson's love for local, national and international arts is apparent weekly as the city's stages showcase some of the best musicians and DJs like blues legend John Mayall, Washington, DC DJs Fort Knox Five. The Capitol Theatre hosts touring productions such as Vancouver's Arts Club Theatre's Buddy Holly Story. Touchstones Nelson museum and gallery regularly displays work by local and international visual artists. You can also experience the local history and heritage through a variety of tours including the local brewery, historic homes and architecture. Nelson Kootenay Lake expands on their enthusiasm for diverse arts and culture spring, summer, fall and winter with a variety of festivals and markets.
Cottonwood Farmers' Market which runs spring through fall was on Chatelaine's list of the country's best markets. After long days in the mountains, or late nights enjoying the region's nightlife, Nelson, Ainsworth Hot Springs, Balfour and Kaslo offer options to dine, drink, relax and rejuvenate. Manchester Evening News's Seb Ramsay wrote, "Back in Nelson, there's no shortage of top independent restaurants with the sort of innovative and delicious menus that make you want to emigrate immediately." It doesn't matter if you're visiting Nelson for the powder, cycling, boating, enjoying local theatre or relaxing at the local hot springs and spas, the area is a beyond ordinary destination waiting for you to enjoy. Visit us at www.nelsonkootenaylake.com or facebook - come stay & play.