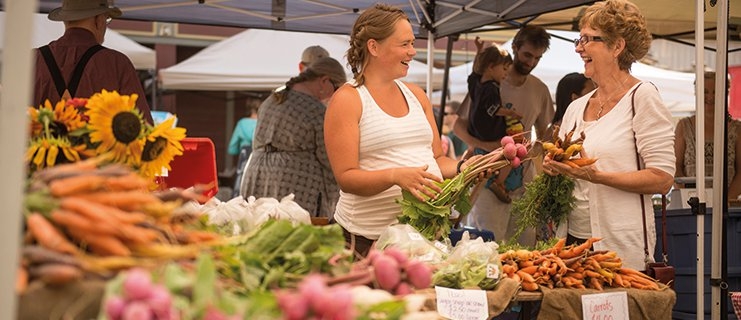 You are here
Markets
From Late Spring to Fall, Shop Nelson and Kaslo Markets
Hosted by our local Eco Society, our markets include fresh produce from local farms and unique crafts from local artisans.
Cottonwood Market and Farmers Markets
Nelson's Saturday market is the Cottonwood Market, every Saturday from May to October, 9:30 to 3:00. It's at Cottonwood Falls, a park close to downtown, and has artisans, local farms, ready-to-eat food and live music.
There is also a lively Nelson Farmers Market every Wednesday from mid June to September, 9:30 to 3:00. Situated on Baker Street, its vendors include farmers selling produce and prepared foods, as well as artisans selling soap, pottery, paintings, cards, jewellery, and more.
Kaslo's Farmers Market is held each Saturday from June to September, 10:00 to 2:00. It's on Front Street, across from the Kaslo Hotel on the green. Buy local produce, unique artisanal crafts, freshly made food, and other one-of-a-kind specialties you won't find anywhere else.
Lardeau Valley also has a Sunday market from 10am-2pm from mid-June to mid-September.
Market Fest
Summertime Market Fest events are also held by the Eco Society in Nelson, usually three times per summer on Friday evenings.
Streets are closed, and live music plays while vendors sell their wares and entertainers bring out their finest. These evenings are reminiscent of old world village festivals, with the entire town out dancing, shopping, and eating delicious food. A great chance to share our community with you, so we'd love to see you there!
Seasonal Christmas Market
In late November, The Kootenay Artisan Fair is held in Nelson to welcome the Holiday season and share our best artisanal gifts and crafts. The cost to enter the market is very low (around $3) and children enter for free.