You are here
Lardeau & Meadow Creek
Adventure Awaits at the Far End of Kootenay Lake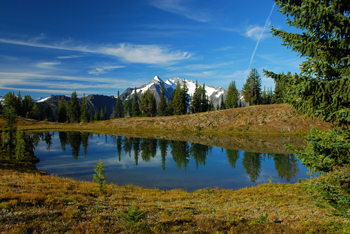 The Lardeau Valley and Meadow Creek, along with Cooper Creek, Argenta and Johnson's Landing, lie at the far end of Kootenay Lake, just north of Kaslo.
The communities are home to camping, resorts, adventure seekers—anyone who loves the outdoors and being in nature. Meadow Creek itself is a small, warm community of around 200 people, with a grocery, bank, and post office.
Steeped in heritage and charm, the area is the gateway to some of the most gorgeous and remote backcountry in the world, as well as many adventures. It's the birthplace of Cat Skiing. It hosts the Lardeau River with class 2 rapids. And it provides access to the Purcell mountain range, and many glaciers and mountain lakes beyond.
Winter skiing, snowshoeing and more
Meadow Creek is the winter home for world-class Heli and Cat ski operations. White Grizzly Cat Skiing and Selkirk Snowcat Skiing both operate out of Meadow Creek, and Stellar Heli Skiing is based in nearby Kaslo. Cross-country skiing, snowshoeing and snowmobiling are also popular.
Spring, summer and fall
The warmer months bring just as much chance for adventure: white water rapids, caving, climbing and alpine hiking. Lardeau River Adventures offers extreme whitewater as well as family-friendly raft excursions.
Hiking in the area can range from a mellow nature walk along the river, to high alpine hikes such as Monica Meadows or the Jumbo hike—an eight kilometre, three hour hike with gorgeous views of the glacier at the top, and a quaint alpine cabin available for overnight stays as well. Our hiking page has more listings.
Finally, for eco-focused travellers, there are a couple of eco-tourism operators that offer guided tours and sustainable accommodation for those in search of unspoiled wilderness.