Kokanee Springs Resort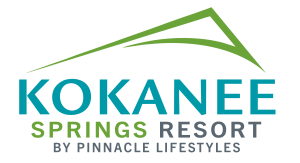 Kokanee Springs Resort
Woolgar Road, Crawford Bay, BC
info@kokaneesprings.com
Kokanee Springs Resort is one of the finest, most beloved golf courses in all of British Columbia. This gorgeous property, considered by many to be the flagship of Kootenay golf courses, is seeing a complete reimagining in 2022/2023. The resort is situated in a magnificent mountain setting a short bike ride to the local beach and the crystal shores of Kootenay Lake. It also features a beautiful walking and riding loop trail which winds through the stunning trees encircling the resort's 425-acre property.
Elevated tee decks offer cinematic views of its expansive fairways and the Kokanee Glacier, while towering old-growth cedars separate each hole, bringing a peaceful solitude that is only enhanced by relaxed, ten-minute tee intervals.
ACCOMMODATIONS
Whether you prefer a room in the lodge, a luxurious golf-side villa, a fantastic cottage beside the 12th hole or RV accommodations, you will find the best option to suit your specific needs and your budget.
In the late summer of 2022 we'll be opening new RV resort facilities with both private and rental RV sites offering full hookups and room even for the biggest rigs.
Whatever your choice you will be staying within walking distance of the first tee and the restaurant and your comfort, convenience and relaxation are assured. New amenities are also coming in 2023 including an offsite beach club and marina a short drive down the lake.
DINING
REFRESH Kitchen & Bar is the resort's new restaurant, replacing the former Woods' Pumphouse Grill. REFRESH features great atmosphere, serving contemporary, original dishes in casual comfort with warm, friendly service. We offer a wide range of choices from hand-crafted burgers to power bowls, soups including ramen, pastas, wood-fired pizzas, fresh salads, and innovative entrées with gluten-free, vegetarian, seafood and poultry choices.
Family Dining,
Fine Dining,
Pub Fare
Category
Recreation
Mountain
Golfing
Eat & Drink
Dining
Places to Stay
Hotels, Motels & Resorts
Trip Ideas
Adventure
Dog Friendly
Like a Local
TRAVEL BOOK
Read our visitors guide online or order a copy of the official visitor's guide and map for our region.