You are here
Snowmobiling
Kootenay Lake Backcountry is Waiting for You
From Nelson to Kaslo to the north end of Kootenay Lake, you can snowmobile on both groomed and ungroomed trails from early November to mid-May. With hundreds of kilometres of groomed trails, and many more ungroomed in the area, there is plenty of room for everyone to enjoy themselves and have a great time in our shared wilderness.
Trails Around Nelson and Kaslo
There are six main trail areas between Nelson and Kaslo:
The Duhamel Forest Service Road gives access to several trail areas including the groomed 6 Mile Lake trail, Giveout Creek, Lemon Creek and Crusader Creek trails. Not groomed.
Queens Bay Forest Service Road provides access to the Coffee Creek trails. Not groomed. Can be logging activity. Use caution.
Bjerkness Creek Forest Service Road leads to a sledding area with excellent views and a technical section at the top.
Nelson's Groomed Trails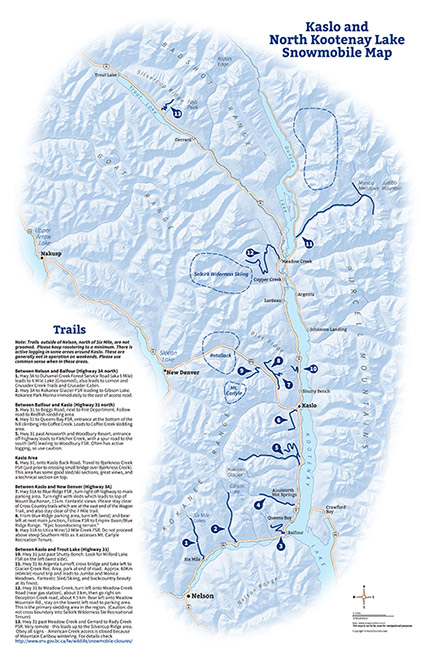 The Nelson Sno-Goers Snowmobile Club maintains several trails in the Nelson area. Trails cover the Six Mile, Crusader, Springer, Lemon Creek, Give Out Creek and Redfish Creek drainages and include maintained safety cabins at Crusader Creek, Meadow Mountain and Snowater. All cabins include wood heat and first aid kits and offer shelter as well as a warm place to simply stop for lunch while you are out enjoying the backcountry. View some of their videos to see the show and terrain.
Enjoy Your Sledding Adventure in Our Backcountry Playground
The Nelson and Kootenay Lake region is shared by many backcountry enthusiasts, from snowmobilers to backcountry skiers to cross country skiers to snowshoers. There's more than enough space for everyone to enjoy themselves, but it's important to remember to share the trails when you're out enjoying yourself. The Betties and Main Jet have lots of experience and information on the area. The videos and photos make it clear that snowmobiling in the Nelson and Kootenay Lake region is well worth the trip and not just for the boys.