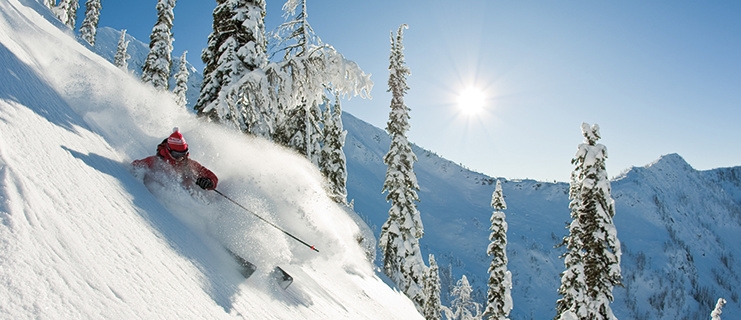 You are here
Whitewater Ski Resort
Downhill skiing resort near Nelson, BC
Just 25 minutes from downtown Nelson, Whitewater Ski Resort is a world-class ski destination that still enjoys a well-deserved laid back reputation.
Averaging 40 feet of snow annually, and with 81 runs, it's been called "one of the best powder mountains on the continent" by Powder Magazine. And with the lodge base at 5400 feet (1646 metres) and lifts up to 6700 feet (2042 metres), it is a consistent and reliable snow destination for those seeking winter ski getaways. WH2O features:
Full-service day lodge, with rental and repair shop
Fresh Tracks Café, offering some of the finest ski resort food in Canada
Range of lesson and program options from the Adventure Centre
Whitewater is supported by a range of excellent ski equipment and rental stores in Nelson, as well as numerous accommodation options that provide shuttle transfers to the resort.
More information and snow reports are available on the resort's website.
Whitewater Shuttle
The Whitewater Ski Resort Shuttle offeres slopefront service every day! With daily operation throughout the season, multiple pick up/drop off points throughout Nelson, and pickups timed to get you to the mountain on time for first chair, getting to Whitewater has never been easier!
The shuttle runs every day and has now added a second mid-day trip on weekends!
Shuttle Rates
One Way: $7.50
Return: $11.00
Purchase a book of tickets and SAVE!
For shuttle schedule and details visit the Whitewater website.
Spokane Shuttle
Daily Shuttle from Spokane Airport: Queen City offers a daily shuttle from Spokane International Airport to Nelson. Driving time is about 4 hours. Book your shuttle 48 hours in advance to confirm a seat.
Book online or call 1-250-352-9829.
For more shuttle details visit the Spokane Shuttle webpage.