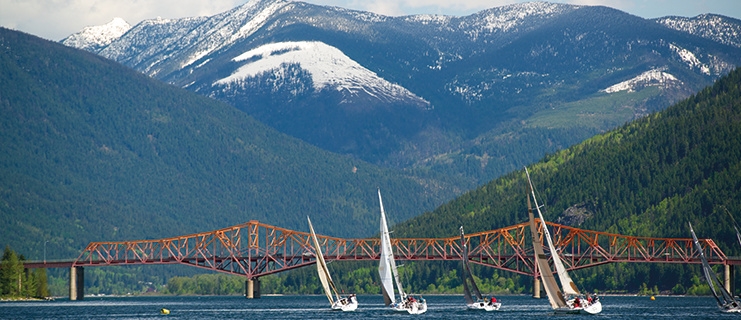 You are here
Sailing
A Sailors Paradise - Just You, the Sky, Mountains and the Water
Kootenay Lake, one of the largest lakes in British Columbia, is a perfect spot to sail. Getting out on the lake, you'll witness blue heron, otters, beavers and other wildlife as you paddle or sail along the more than 100 kilometres of lake on the west arm. The unspoiled nature of Kootenay Lake creates a very special backdrop.
Sailing on Kootenay Lake is laid back and fun! The local Sailing Association hosts regular beer can races and occasional social events. Their goal is to promote fun and friendly sailing on our lake.
If you are new to sailing, or are looking to learn to sail, you can learn through Sail Nelson, our local Sail Canada sailing school. Or, Red Sky At Night can get you out on the lake if you're just looking for a sailing tour. Kayaking, SUP and canoeing enthusiasts love Kootenay Lake and our surrounding rivers. During the calm moments of early morning and evening, you'll see enthusiasts paddling along the lake. In fact, all year long, people take their time paddling along the long, unspoiled lake.
Marinas on Kootenay Lake
A number of marinas are located along the lake offering boat rentals, boat repair and moorage. Nelson, Balfour, Woodbury and Kaslo all have marinas and facilities of various sizes.
Friends of Kootenay Lake is a wonderful organization helping to keep Kootenay Lake as pristine as it always has been. Check out their website for lots of great information about Kootenay Lake.