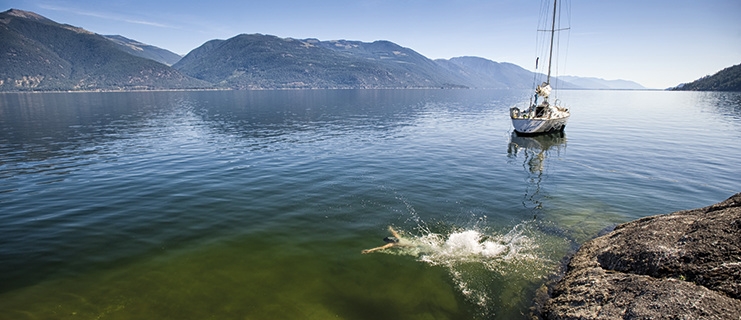 You are here
Lake Sports
Kayak, SUP, Sail and more!
Kootenay Lake, more than 120km long and one of the largest in BC, is perfect for trying out sailing, kayaking, windsurfing, SUP (Stand Up Paddle) and canoeing. We're thankful to Friends of Kootenay Lake, a wonderful organization helping keep Kootenay Lake pristine and clean for your lake adventures.
Marinas on Kootenay Lake
Nelson, Balfour, Woodbury and Kaslo all have marinas and facilities of various sizes, offering boat rentals, boat repair and moorage.
Sailing
The local sailing association, KLSA holds the annual sailing regatta each May, and offers friendly support to people learning to sail. They also hold races and other events for sailors. Sailing on the lake is generally accepted to be relaxed and friendly. Sail Nelson and Red Sky at Night also offers sailing tours.
Lake and River Sports: Rentals and More
The lake is perfect for water adventures and sports such as boating, kayaking, sailing, windsurfing, SUP and canoeing. Rentals are offered at businesses along the lake, notably in Nelson, Balfour and Kaslo. Kaslo Shipyards provides boats to see the many beaches and inlets of the lake, creating memorable experiences - watch their video.
See our listings below for more details.
Preventing Invasive Species
We want to keep Kootenay Lake pristine and free of invasive species. If you are on a paddle board, kayak, or sailboat we remind you to CLEAN, DRAIN and DRY your watercraft and equipment. For more information of how you take action and prevent the introduction and spread of invasive species, please visit the CKISS website.