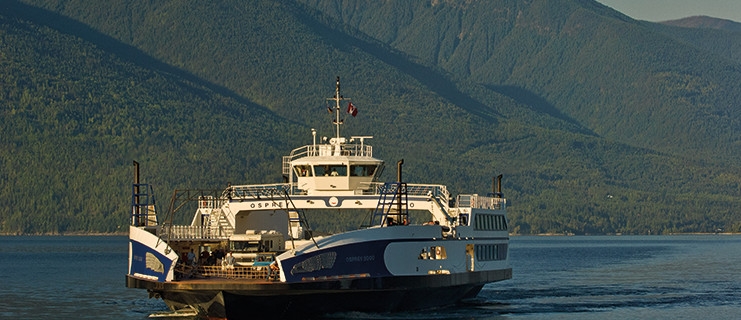 You are here
Ferries
Take a Driving Tour Along and Across Kootenay Lake
The history of the Kootenay Lake area cannot be separated from the system of ferries used to crisscross the lake. In many areas, ferries are still used to this day as the most efficient (and, frankly, fun) way to cross the lake.
Bridges have been built, most notably the Big Orange Bridge (BOB) which helps define the City of Nelson, but in other areas, for example at Balfour Bay and Harrop/Procter, ferries are still used for transportation.
Sternwheelers used to rule the lake and river system from here to Portland, Oregon, and the oldest intact sternwheeler in the world is sitting in Kaslo, waiting for your visit. The SS Moyie is a regal reminder of how travel along the Kootenay Lake used to take place.
Though sternwheelers no longer rule the lake, transporting people and produce up and down, the ferry system still harkens back to that time. Take a ride on at least one of our ferries during your stay with us and learn a bit about our heritage at Touchstones Nelson: Museum of Art and History. The history of Kootenay Lake and the Columbia River is a long one — full of twists and turns and fascinating stories.
Take some time to learn more about our long and fascinating history and make sure to visit the SS Moyie and cross the lake via a ferry as part of your stay with us. The Kootenay Lake Ferry is the longest free ferry in the world, and very easily one of the most gorgeous routes. Trip Advisor lists this ferry ride as one of the most popular things to do in our area (and not for a lack of things to do)!