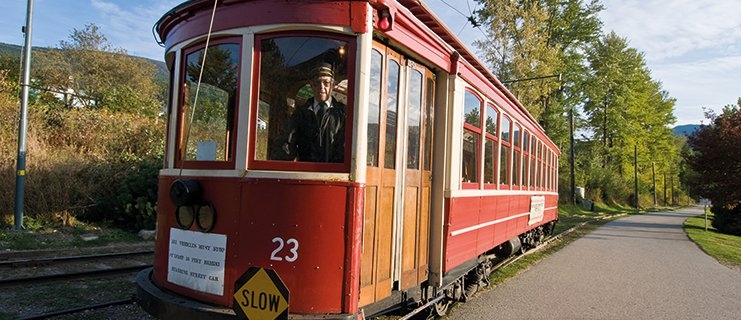 You are here
Streetcar #23
Plan Your Day Around a Tramway Ride
Nelson's Streetcar #23 has been actively working in the Kootenays since 1924. Today, you can ride the streetcar along our lovely waterfront all summer and fall long. There are future plans to extend the streetcar back into Nelson's downtown, too. At the moment, the streetcar runs from the Prestige Hotel on the waterfront along Kootenay Lake to Lakeside Park, ending at the Rose Garden Cafe.
You can see, certainly, how a lovely day plan could incorporate the tramway. The Prestige Hotel is located at the end of Hall Street, two short blocks from Nelson's downtown core. The downtown is well-known for being not only walkable, but also one of the more heritage-rich downtowns in British Columbia, full of local shops and merchants, with none of the large franchises that crowd so many small towns.
The walk downhill to the tramway stop is short, and goes right by the Nelson Visitor Centre. Continue across the railway tracks to the tramway stop, and you'll find a lovely covered waiting area. The tram ride goes through Lakeside Park, past the soccer fields and arboretum, ending at the Rose Garden Cafe, well-known for using local and organic foods to create gorgeous bistro-style lunches.
The Cafe is right near the beach and tree covered grass area and gardens, which are a lovely place to take in the gorgeous natural surroundings Nelson is famous for.
The Nelson Tramway Society
The history of the Tramway Society is another rich Nelson story of community members working hard to help create the deeply caring and diverse community we love sharing with you. From 1988 to 1992, volunteers worked diligently to get streetcar #23 back to her original glory. Finally, on July 1, 1992, after they built a 1.2 kilometre track, the streetcar was ready to carry passengers along the waterfront. Both visitors and longtime residents alike enjoy the ride each summer, with many either buying a season's pass for the tram or donating what they can to keep the tramway society strong and vibrant.
Tram Schedule & Fares
The first run starts at 11:10 a.m. at the Wray Suffredine station on Hall Street, and proceeds eastbound past Chahko Mika Mall and along the waterfront to Lakeside Park Station, adjacent to the Big Orange Bridge (BOB). Westbound service departs Lakeside Park station at 11:30 a.m. and every half hour until 4:30 p.m. Routine stops include Hall Street, Chahko Mika Mall and Lakeside, with flag stops available at the Lyle Ward Memorial Car Barn, the soccer fields and the power shed. Adult fare is $3.00, seniors and youth (ages 6 to 12 years) is $2.00 and under 6 years with an adult is free. Maximum family fare is $8.00.