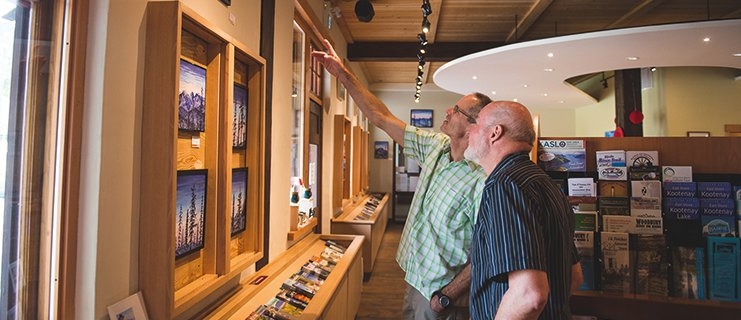 You are here
Visual Arts
Come for a Visit to See an Arts Festival This Year
The Nelson Kootenay Lake region of British Columbia is a hub for arts festivals for good reason: Nelson is the Number One Small Arts Town in Canada. We've got the Kootenay School of the Arts, Touchstone Museum of Art and Culture, Oxygen Art Centre, the Langham Cultural Centre and of course more.
We're happy to invite you to our series of visual arts events, and every year, these events seem to grow and multiply. We feel especially lucky to have such a diverse variety of visual artists who choose the Nelson Kootenay Lake area as home, and we're looking forward to showcasing the new series of events coming this year. Consider yourself invited.
Visual Arts Events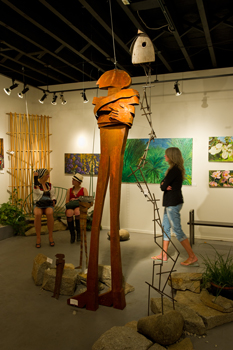 The summer months are when the area goes wild with festivals and events. Nelson and Kaslo host Art Walks during the summer months, which highlight local artists' work in local shops. The summer-long celebration allows visitors to see unique art on the walls of participating businesses, which is a great thing for both the businesses and visitors alike. Of course, all the art is for sale as well, so make sure to look for that perfect piece that would look great in your own home.
Several times throughout the summer, openings are held as well, as each participating business opens their doors late, serves aperitifs and snacks, and visitors walk from venue to venue, taking in the long, warm summer evenings and the local art while visiting with friends.
The entire Kootenay Lake area attracts artisans to our area that rival those of a major centre. During the second weekend in August, the Columbia Kootenay Cultural Alliance presents the Columbia Basin Culture Tour. This is a self-guided tour of the whole Columbia Basin and the Nelson Kootenay Lake region is always well represented with usually about 30 venues, it would be easy to create a mini-vacation around this annual Culture Tour. Luckily, we have several lovely Bed and Breakfasts and hotels along the route, and there are enough artisans represented to create a stunning and fun encounter with local artisans and craftspeople as you learn more about our area. The chance to see the artisans at work in their studios is quite special, so take advantage if you can.
Selkirk College Fine Wood Working Program is one of the best such programs in Canada. You can only imagine, then, what their year-end show is like. Stunning is one word for this visual arts event, held each May. Usually it's the last weekend in May, but the dates vary, so plan ahead to come and admire student work that will astound you in both its precision and artistic merit. The graduates of this program go on to become some of Canada's best fine woodworkers, so if you are able to attend this event, do so.
Oxygen Art Centre's Art Mart is an annual fundraising event that is also a great visual art exhibit in itself. The annual event is held each May and hosts local artists' work as volunteers help to show and sell the art. It's an excellent event, always well attended, and is a great chance to grab some local Nelson Kootenay Lake art.
Winter is a quieter time for the visual arts in the Nelson Kootenay Lake area, but we want to mention an important (and fun!) fundraiser for one of our dearest arts centres: the Langham Cultural Centre holds its annual fundraiser each New Year's Day at 12:00 noon: A Polar Bear Swim! If you have the chance to be in or near Kaslo on New Year's Day, you do not want to miss this! Take a plunge, grab a free hot dog, and help support a local heritage landmark that brings excellent arts programming to Kaslo and the area each year.
Ongoing Events
Blue Night Nelson events are recurring events which happen throughout the year hosted by Oxygen Art Centre. In 2014, nine events were held on different Friday nights throughout the year, with local businesses staying open late to host artist openings. These events are extremely well attended and a fun way to experience local Kootenay Lake art.
Visit our events calendar for a listing of all the events in the area.