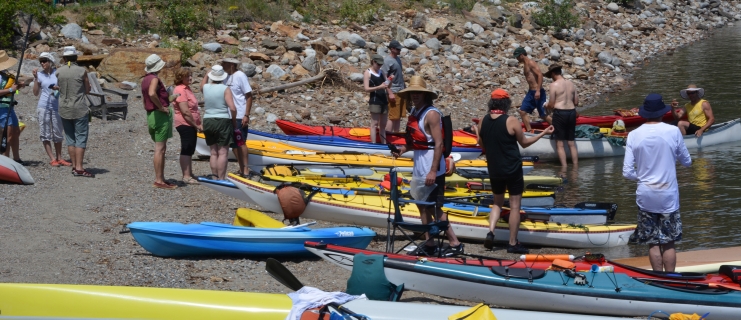 You are here
Paddle Kootenay Lake: Story 5 - Day 4
Woodbury Resort and Marina to Ainsworth Hot Springs
Surprising. That's the best word to describe today. Within the first hour we went from swirling winds and unsteady waves to glass-like settings where we were able to chase the clouds reflecting in the water (not many clouds out there though). With calmer waters the fun began, playing in the boat wakes like the day before, and then WOW — the next encounter was tropical, like being in Costa Rica.

Waterfalls and Caving
Below Ainsworth Hot Springs is a small beautiful waterfall that billows out hot water into Kootenay Lake. We each took turns slowly guiding our boats under the falls and letting the water pound on our heads. Too fun. A visit to the hot springs for a soak and then up to Cody Caves for a 2 hour incredible tour. Our guide, as Kootenay friendly as they come, took us to dark, narrow, seeping passages. With 32 degree temperatures outside the 6 degree caves were welcomed! What a day, full of surprises.
Tomorrow is another day on the water, with 15 scheduled paddlers and 16kms to go from Ainsworth Hot Springs to Balfour. It will be gorgeous going along Coffee Creek and the rock walls, seeing the ferry crossing Kootenay Lake, and moving from the big lake to the west arm. Come paddle with us, or come dine at Dock n' Duck for dinner or visit us up at Kootenay Lake View Lodge. We should be settling in there around 5pm, if all goes as planned.
A Big Thanks
I need to take a moment and thank not only the crew that has been unyielding in their commitment to this initiative, but also the many paddlers, some for a day, and some for the entire week. Thank you for being so easy to paddle with, for joining us, and appreciating the lake and all she has to offer. So far we have had 77 paddlers take in the beauty and joy of Kootenay Lake. There is a special group of five inspiring ladies who are doing the entire week. We'll profile them in a later story, so stay tuned. Each paddler has a story, and I wish we could write about each person, but that would be an entirely different chapter of Paddle Kootenay Lake. Maybe next year.
Follow us on facebook and look at some of the great photos, and what our amazing lake has to offer.