You are here
Beer & Wine
Local & Organic Quality Beer & Wine Made Right Here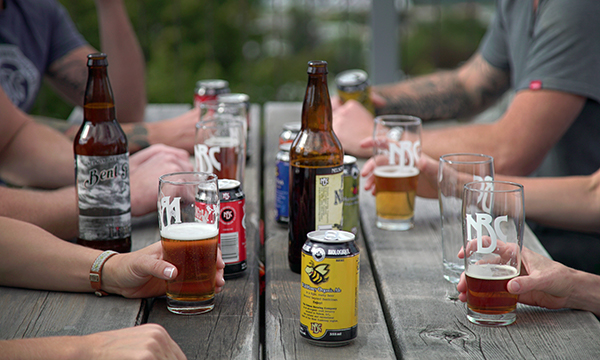 British Columbia Beer is iconic—hoppy but balanced, with nuanced tastes of chocolate or orange. And we're fortunate to have one of the best breweries in British Columbia right downtown in Nelson.
Nelson Brewing Company (NBC)
Located in a heritage building near the fire hall, Nelson Brewing Company (NBC) is one of the first certified organic breweries in BC. Sourcing local ingredients as much as possible, NBC beers are award winning and known province-wide. They are on the drinks menu for many restarants and bars in the region.
Torchlight Brewing
A new addition to the beer market here is Torchlight Brewery, a nanobrewery filling the need for more hyper-local beer goodness. Enjoy their tasting lounge close to downtown, or buy a few to bring home. They've also got a rotating list of beers on tap.
The Savoy Brewing Co.
When you step inside The Falls Music Lounge, you'll notice some big, beautiful glass doors to your right. Behind those doors lives The Savoy Brewing Co. microbrew facility. Using only local ingredients, The Savoy Brewing Co. is serving up several varieties of their own brew available in Falls Music Lounge or their newly opened Farm Fresh Café.
Backroads Brewing Company
A nano-brewery and taproom located in the heart of Nelson on Baker Street. Opening Soon!
Liquor Stores
Nelson has the BC Liquor store, the New Grand Liquor Store, and the Hume Hotel Liquor Boutique with a wide selection of wines from BC and around the world. Kaslo also has a BC Liquor store with a good selection of wines to try, and a very knowledgeable staff.
Restaurant Wine Lists
Distinctive wine lists grace some of the fine restaurants in the region. As one example, the All Seasons Cafe, a quaint alley-way bistro in Nelson across the way from our artisanal florist, has an award-winning wine list full of some excellent vintages.