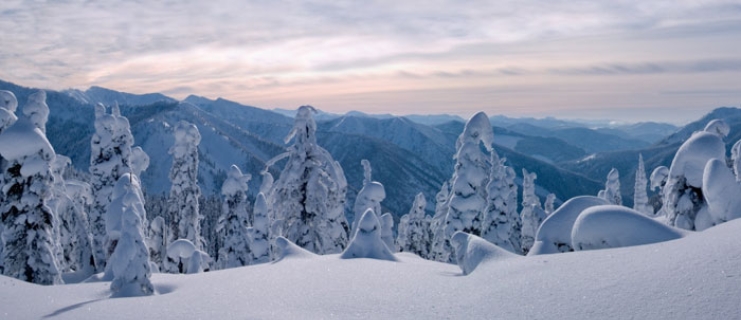 You are here
What a Godzilla El Nino Means to Nelson Kootenay Lake
El Niño
Named by a Peruvian fisherman in the 1800s, it describes a season following detection of warmer-than-usual water in the Pacific near the equator. When temperatures rise by more than .5 degrees centigrade, we've got an El Niño. More than 3 degrees and it's an extreme El Niño.
Right now, we're at 1.5 degrees warmer than normal.
Bring it, Little Boy
The Godzilla of El Niños. As if that makes any sense at all. I guess if you're going to mythologize a popular weather system, you should try to get all the multicultural pop references. And that is exactly what scientists are calling this year's event, according to Vox. So, like an apocalyptic zombie, I'll sally forth and bluntly wreak havoc on the predictions and tell you why science says you should ski in the Nelson Kootenay Lake area (or at Mount Fidelity, but that's not super realistic).
Named for The Christ Child
It's got a fairly ridiculous name, made more ridiculous by its counterpart, La Niña. El Niño refers to the Christ Child...but if you are not a Catholic person from a latin heritage, this may be lost on you, and you may simply think it means "the boy". But an El Niño, whether a "Godzilla El Niño" or not, is not something to take lightly.
A strong El Niño, like the one in 1982 - 1983, or the one from 1997 - 1998 (which inspired Chris Farley in this SNL skit) can do major damage around the world. From drought in Australia, to mud slides in California to wildfires in the south Pacific, it's not really something to ignore.
So, certainly, the upcoming 2015 - 2016 season is going to set records around the world. But what about the Nelson Kootenay region?
The Valhalla Effect
If you're already referencing Godzilla and El Niño in one breath, and you're a scientist, then gosh darn it all, I'm bringing my full-mythological game to this story. Enter Valhalla. Which is, really, where we live.
Since it's not much of a stretch to say that we live in the Nordic version of heaven (okay, it's a small stretch), I'm invoking Skadi and, sure, Ullr, as I explain why the Nelson Kootenay region is the place to be this winter.
We exist surrounded by the Selkirk and Purcell mountain ranges, with large lakes that are the birthplace of stormy cold precipitation. Snow. Mixed with the dry interior air, the proximity to some very large glaciers and the lack of serious wind issues, we exist in perfect conditions for epic powder. We have a mountain range named Valhalla nearby.
The counter effect of our awesome mythologically-based geography on the El Niño means, basically, that we live in a sheltered area almost immune to its effects.
Epic Stability
Since I've just invoked epic Nordic/Germanic mythology, it would be great if I could follow that up with more cold, hard, scientific reasons to show how we're totally protected from all harm by the long arm of Thor and the ancient something-or-other that symbolically protects us from bad weather.
I can't do that. After the solid geographically-based reasoning for why we are not going to be super affected by this year's El Niño, I can offer statistic after statistic that categorically proves that this is undeniably the best place to ski in any year, but especially in a year of such volatility and unpredictable outcomes.
Whenever someone references our area, whether it's for the epic Cat skiing, heli skiing, backcountry skiing or downhill, they reference the numbers:
Baldface is 32,000 acres of terrain, 50 degree pitches, 3,000 vertical foot runs and 20,000 foot days.
Whitewater Ski Resort notes that we average 42 feet of snow per season.
Retallack mentions elevations of 7000 to 8200 feet with 800 year old cedars on runs that can be as long as 4200 feet.
Selkirk Wilderness notes that the terrain is larger than Vail and Whistler Blackcomb combined.
White Grizzly ensures that over 50% of the runs are super steep tree runs, on top of the stats already mentioned.
Bottom line, we're the birthplace of Cat skiing and the Cat Ski Capital for good reason.
What About This Year, Though?
Well, I'll tell you. I've read those statistics year after year, but recently (after hours of digging) came across a few gems: Of all the resorts in the Rockies and the Interior of British Columbia, Whitewater Ski Resort has the highest percentage of epic powder days. Your chances of skiing one of those powder days that people write home about, skip work for, and devote their lives to this downhill affliction are so much higher at Whitewater Ski Resort than anywhere else in what many call the best snow region in the world.
Add to that this gem. It begins on a sober note. The Tyee wrote a great piece asking whether we're at "peak snow". There's a great call to join a non-profit group called POW (stands for Protect Our Winters), and some really good information about how and why we should care about climate change. However, we should maybe also note that, for all the dire predictions in the article, they don't really affect Whitewater much at all. In fact, the predictions for snowfall in our area remain pretty constant for the next 50 or so years.
I'll add in one more set of stats: Whitewater has the highest (by far) chance of 90+ inches of snowfall during winter months (over an 18 year period). It also has (again, by far) the lowest chance of a crappy year (less than 30 inches).
Why is our snow just so good? It has to do with the combination of storms fuelled by Kootenay Lake, bumping up against our mountains, creating serious amounts of snow chilled by some of BC's largest glaciers, and dried by our interior weather. We just can't help it.
Add in the Culture
Finally, I'll reference our culture. We're not much for hyping up something that's not already self evident. The snow report for Whitewater is known for being understated. Culturally, we're an area that attracts and keeps hardy people who really would rather play in the snow. It's my opinion that most people here feel as though if it's not completely obvious to you why you should be here, then perhaps, well, perhaps it's not meant to be.
Sure, we smile a bit more broadly when we reach the New York Times or the LA Times travel sections. Sure, we acknowledge as self evident that we live here because it is a literal slice of heaven on earth. But do we need to spend any extra time hyping it? I would say that pretty much everyone here agrees that this is a negative.
Finally, for the Californians...
True, this year may be a pretty good snow year for you all. As someone whose heart still feels Californian and who sometimes awkwardly straddles both cultures, I will say that some of the best skiing I've ever experienced has been in California.
However, I'll just turn the screws here a little bit: Sure, you can ski Mammoth this year. And then there's Heavenly, which also may get some good snow. And you could easily travel over to New Mexico to Taos and put in a few good runs...but...the US dollar is currently trading at 1.33 Canadian dollars. So, um...there's that as well.
All in all, this is truly the year to ski our area. Whether this is the year you finally stop putting off that Cat skiing adventure you've been saying you'll do every year, or whether you come here to ski Whitewater. We're pretty much ready for an epic year with the best snow conditions imaginable couple with an American exchange rate that makes it all look almost silly it's so perfect.
We hope to see you soon in the cat skiing powder capital of the world.