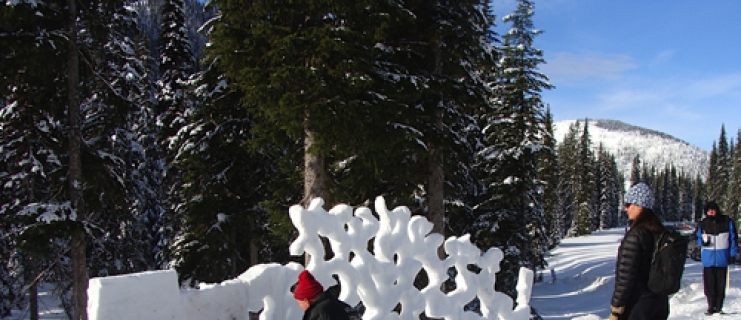 You are here
Weekend Recap: The Kootenay Literary Competition & The Whitewater Winter Carnival
It was a busy weekend in Nelson with the Kootenay Literary Competition, hosted at the Prestige Lakeside Resort, welcoming over 250 people to the event and recognizing the written word by entrants of all ages and locations within the Kootenays. Ten winners were chosen and the top five read a few lines from their award winning works. It is extra ordinary what we create in the Kootenays – congratulations writers, and congratulations Kootenay Literary organizers on a very entertaining and successful event. And most importantly, continue writing everyone! Imagine a world without written word? Imagine. Books are on sale at Otter Books in Nelson or through the KLC website for $6.95. Apex and Busk had groomed trails and sunshine – pretty much a perfect 10 for snow conditions for x-country or skateskiing. The new hut at Busk is welcoming, offering a cozy break from the workout or graceful slide across the well-prepared snow. A night ski at Apex will be fabulous too, but do bring a head lamp just in case you want to venture into Cottonwood or Busk. The moon is about half moon right now, but give it another 7-8 days and the white snow will glisten a golden evening yellow.
The Whitewater Winter Carnival started with a great success on Saturday morning with visitors from all over. Two particularly unique visitors from Fernie and Sandpoint, shared their carnival energy and fairy wishes upon us. (Yes, the Snow Fairy skied in her attire.)
Gericks Cycle and Ski hosted the Summit Cup, a well attended, organized and dynamic 4-person Skier Cross competition. Winners were of all ages and all areas! Loved that first turn – if you made it past that you had a pretty good chance of finishing, pretty good. Congrats everyone for participating. The evening was full of more entertainment, snow sculptures, dining and a torch parade down the mountain.
What's next week? Check our calendar to find out events in the Nelson Kootenay Lake area. http://www.nelsonkootenaylake.com/calendar/