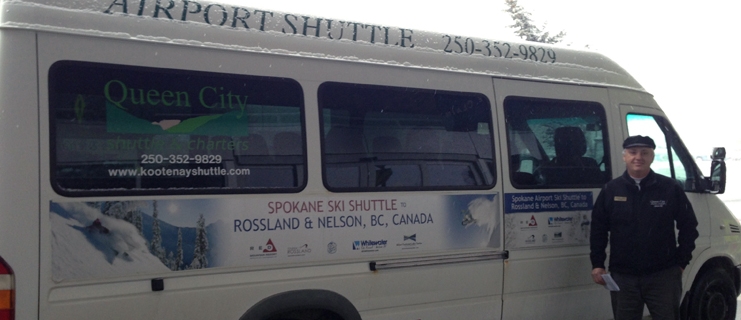 You are here
Queen City Shuttle - First Class
We've all heard the famous post office motto "Neither snow nor rain nor heat nor gloom of night stays these couriers from the swift completion of their appointed rounds." Well, the same can be said of the Queen City Shuttle drivers and their daily winter shuttle from Spokane to Nelson and Rossland.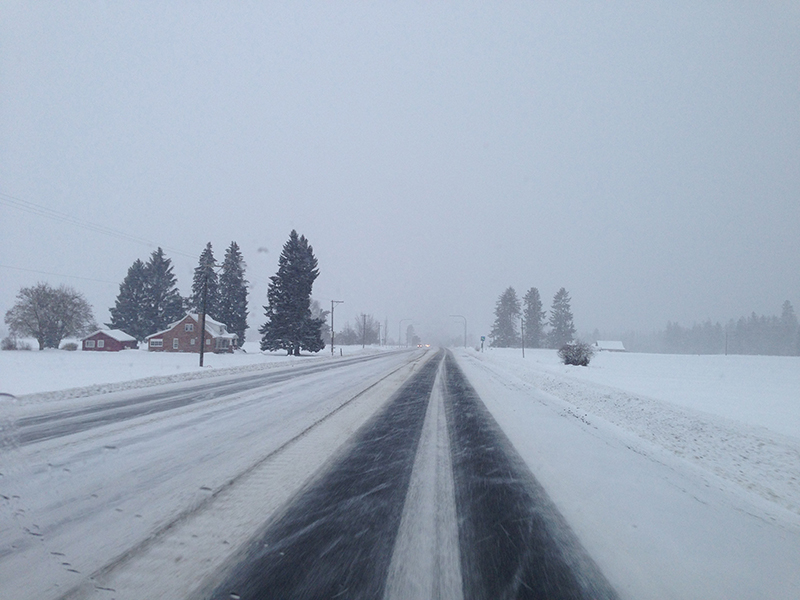 It's winter here. Snow falling, blinding sun, wind gusts, and sometimes sleet. The roads can be challenging, not only due to the weather, but the mountainous terrain. Under these conditions I definitely prefer having a safe winterized vehicle and a professional driver take me safely to my destination, rather than rent an unfamiliar car on unfamiliar roads, that may not have the safest of winter tires.
My first contact with the Shuttle driver was seeing him walking around the airport waiting area with a Queen City Shuttle sign, right on schedule. Perfect, no more looking out the wintery window wondering when it would pull up to the pickup location. David Tocher, our well-humoured driver greeted us, had us fill out the border crossing form correctly, loaded us and our gear into the van, and once on the road shared with us some interesting trivia about the area. "What is Spokane famous for?" Bing Crosby. Who knew! And in 2006 an old theatre was renovated and renamed the Bing Crosby Theatre in his honour.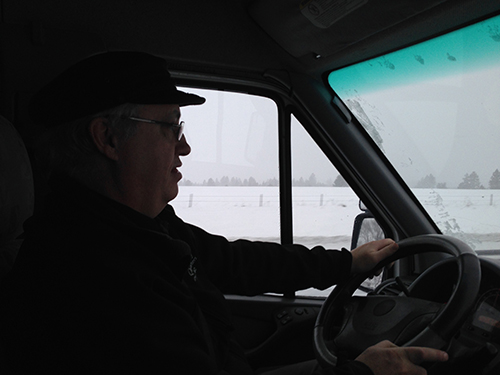 David is about the journey not just the destination. Rather than driving on busy Highway 2 he took a more scenic route, meandering by the river and past old historic buildings, which was actually a shortcut out of town.
Our Shuttle was filled with Americans from Cape Cod (the entire ski club was exploring the Powder Highway, one resort per year); two young exuberant Québécois taking their first ski trip from home to explore the mystical Kootenays and the famous powder of Whitewater Ski Resort; and myself, a local Nelsonite making my way home after some time vacationing in the USA.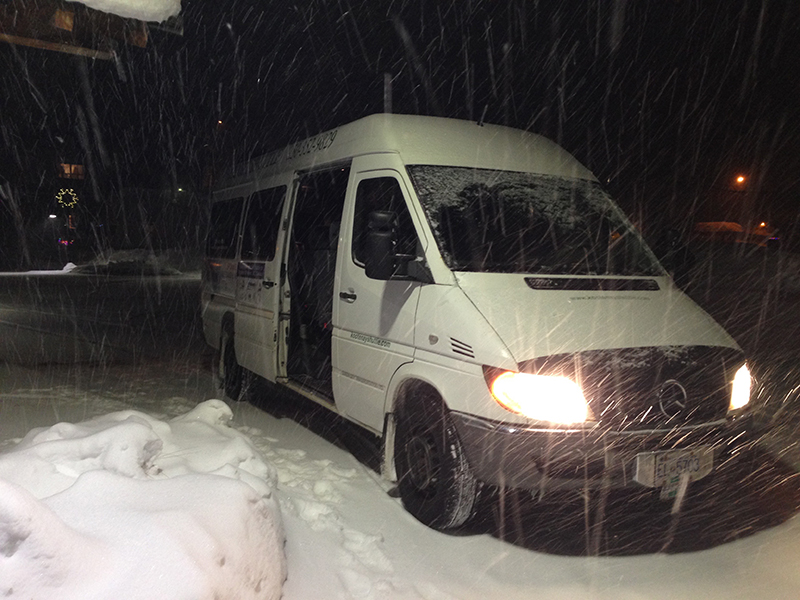 A perk, or perhaps hazard, when driving in this area is wildlife. You may see bears, deer, moose, eagles, coyotes, wolves, crows, etc. But on this trip, we saw a Crane catching a fish, right in the middle of a blizzard. What the heck? Sorry, but I didn't get my camera out fast enough to catch a photo. David commented on my reaction time – a little Canadian sarcastic humour of course.
This was my first time on the Shuttle and I will be taking it again. I think the others on the shuttle felt the same. We had a very pleasant ride, and all chatted and shared stories about skiing, and of course David and I informed them about the awesome bowls and tree skiing at Whitewater, and the food at the lodge – not to be missed.
It's easy to book. Just register online through the Queen City Shuttle booking platform. Enjoy the ride!
Written by happy passenger Dianna Ducs