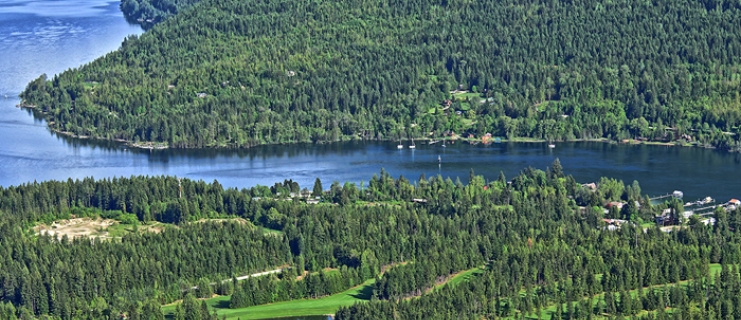 You are here
Plan to Stay and Play Golf This Season
The Nelson Kootenay Lake region offers some of the most scenic golf in the world. With heart-stopping views, undulating greens, and enough risk-reward challenges to satisfy the most discerning golfer, the courses along Nelson Kootenay Lake tempt you to explore a bit more.
And now, you can do so with some exclusive "Stay and Play" packages offered this season.
Eminently Walkable Greens
Golfing in the forested mountainside along Kootenay Lake will take your breath away. You're welcome to use a cart, but the courses are eminently walkable, taking you along spectacular scenery where spotting wildlife as you move from hole to hole is not uncommon. Deer, eagles, and the occasional bear spotting are not uncommon.
Nelson, Balfour, and Kaslo
Courses in the area range from Nelson's nearly-100-year-old course Granite Pointe, to the Balfour Golf Course featuring private lakefront meadows, Eagleview Executive 9-hole course, and the Kaslo Golf Course, a 9-hole course perfectly nestled between the Purcell and Selkirk ranges.
Stay and Play
Nelson Kootenay Lake invites you to stay and play with us this season. Nelson is offering FREE golf when you stay at a preferred partners accommodation, and Balfour has it's accommodation partners with great deals.
You'll be able to combine staying in some of the most iconic Nelson Kootenay Lake accommodations, choosing the hotel or resort that perfectly matches your style and budget.
Then take in a round of golf and fully experience golfing in the Kootenay Lake region. If you've never golfed here, you won't believe the views. If you have golfed with us before, you know what a great deal this is.
Enjoy and Explore Kootenay Lake
While you're here, take in all that is Nelson, Balfour and Kaslo. From the SS Moyie, the oldest intact sternwheeler in the world, to the historic downtown shopping districts and the artisans studios dotted along the highway surrounding Balfour, we've got you covered.
You can spend a day taking the longest free ferry in the world, crossing from Balfour to Crawford Bay, where a community network of artisans invites you to watch them craft their wares as you shop and browse.
And then there's ziplining, hiking, kayaking and SUPing to round out your stay. Lots of Travel Deals to look through to enhance your visit, and of course, you're welcome to spend some time just lounging on our beaches as well.
Book Your Stay Now — and Save
Take a moment to plan your perfect trip with us now, and make sure to take advantage our stay and play deals this season.
We look forward to showing your our region and to helping you see and do all that you can during your stay with us.