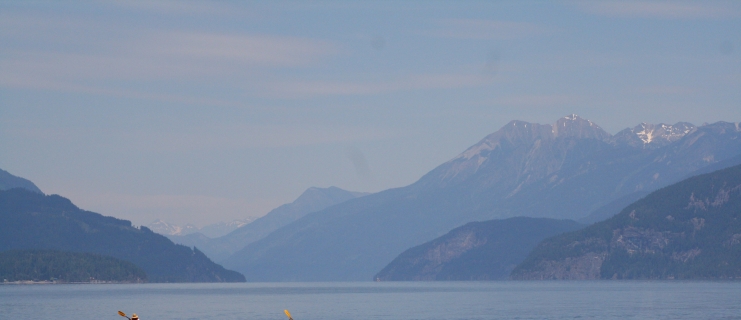 You are here
Paddle Kootenay Lake - We'll Show You How!
We just finished our seven day paddle along Kootenay Lake, paddling from Davis Creek all the way to Lakeside Park in Nelson. Along the way, we encountered some of the best weather we've ever experienced, with perfectly calm waters (most of the time) and a light breeze blowing just enough to keep us refreshed as we moved along the lake.
Kootenay Lake Keeps Things Interesting
It's not always that perfect here, but truthfully, we're spoiled. The lake gives us just enough current and wind to keep things interesting, as she did near Balfour when the wind picked up and waves tossed our boats around a bit.
Most of the time, though, Kootenay Lake is an ideal lake for paddling. As the second largest lake in British Columbia (407 sq km), there are several great places along the lake to rent SUP boards as well as kayaks. In Nelson, however, a new place to rent kayaks and SUP boards is at Nelson Paddleboard and Kayak Rentals. They're located conveniently at the Prestige Hotel, right on the waterfront at the foot of Ward Street, very close to our downtown core.
Choose to Rent a Kayak, Paddleboard, or Choose a Rafting Day!
From their convenient office, you can choose to either rent a paddleboard or kayak for the day — or, if you're feeling like a bit of an adventure, take the plunge and book a kayaking or rafting tour with them along the Salmo River. These tours range from a leisurely float down the river to an exhilarating event through class IV rapids. Take a look at their website for more details on the range of tours offered.
If you choose to paddleboard or kayak, it's super easy to start from the Prestige Hotel and paddle along the lake for a few hours. There are secluded beaches where you can stop for lunch or a swim break, or you can lunch at Lakeside Park at the Rose Garden Cafe. Either choice has benefits. The Rose Garden Cafe is an adorable Lakeside tradition, near the trolley car stop and the playground. They serve almost exclusively locally sourced foods and many of the choices are organic.
Paddle Along Kootenay Lake, With Multiple Beach Stops
If you choose to continue paddling along the lake, however, you'll pass some lovely waterfront homes as you paddle away from Nelson, under the big orange bridge. Without having to cross to the other side of the lake, you have a few choices of sandy beaches along the way that you can stop and rest and have a nice picnic lunch on. They are fairly visible from your craft, and all are easy to access. Nelson's unofficial nude beach, Red Sands, is located near Bealby Point, and is a friendly, low-key spot.
About an hour out of town, Troupe beach is a really popular boat-access beach that is actually a large sandbar that goes straight into the middle of the lake. On weekends, this beach is often quite popular.
There are also rental shops at ROAM, Hellmans and Kaslo Kayaking. Getting on the lake couldn't be easier with all these rental shops to choose from!
We're all still so excited about paddling on Kootenay Lake this summer, and hope you'll be inspired to join us here and try it out! The lake is waiting for you this summer — what are you waiting for?