You are here
Paddle Kootenay Lake: Story 6 - Day 5
Ainsworth Hot Springs to Balfour
Rollin' rollin' rollin'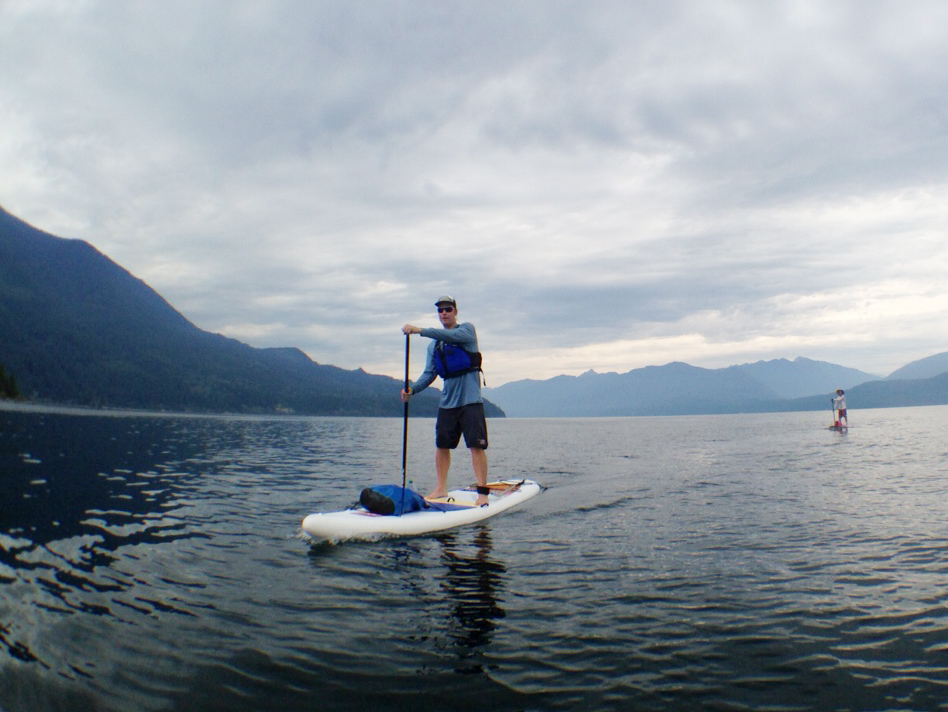 Today was an 8am start, with 10 paddlers, for a 16km paddle to Balfour. I was apprehensive about the day's paddle. I'm not sure what it's like to paddle on the ocean, but I do know that the water at the bluffs by Coffee Creek and Queens Bay can be wild with wind and waves. And so it was, the bluffs were beautifully calm, zen-like, eagles flying high above playing in the sky. But once we came to the rocky point at Queens Bay things changed, it was a big open world of water, wind and waves. Rolling waves came at us relentlessly for the 3kms across the Bay. Our right arms got a good workout fighting against the push towards the shore. We all made it, approaching the bay in different ways: along the shoreline, straight across and others into the middle of the lake, and in their case to ride bigger waves.
We Arrive at the West Arm of Kootenay Lake
The West Arm at Balfour feels protected and calm compared to the bigger mountains, bigger water, and bigger sky of the north end of the lake. I already miss it. It was magical. I think others will miss it too.
We're resting nicely now up at Kootenay Lakeview Lodge, showered up, heading out to play some golf at the Balfour Golf Course and then dinner down at the Dock n' Duck. Life is good.
Tomorrow we are up at 4am to head out fishing. Wish us luck in catching a trout or two! And then back on the boards and kayaks for a 12km paddle to Kokanee Creek Provincial Park. We should get in there about 1pm, if all goes as planned.
Join Our Fun Paddle Race from the Harrop Ferry
We are hosting a paddle race at 6pm from the Harrop Ferry, on the north side of the lake, to Kokanee Park. The race is 4.5 kms long. It's for fun, and we encourage paddlers of all ages and boat types to come enjoy! And then we will be stepping into the final day, paddling to Nelson. Follow us on our GPS Tracker to see where we are and come join us for all of it (8am start) or meet us along the way. We plan to arrive at Lakeside at 1pm.
Check Out Our Photos and Contribute Your Own!
Lots of great photos on our facebook page. And if you paddled, please share your photos with us. We would love to share them out on social media and perhaps even add them to our upcoming mini-documentary.